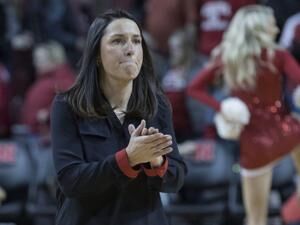 LINCOLN — Amy Williams has her Fox 40 whistle ready whenever she needs it. It just happens to be in her hand instead of her mouth.
She presses a button and produces the whistle sound that bounces around the gym.
"While I have my mask on I can still stop practice," the Nebraska's women's basketball coach said.
NU has taken other steps to conduct practice during a pandemic.
Trainers sanitize balls in between drills. Coaches and players have their temperatures taken and answer an online questionnaire about symptoms before they're allowed to enter the Hendricks Training Complex. If they're experiencing any symptoms, they don't come to practice.
Senior center Kate Cain said they've been tested a couple times, but not every week since they arrived in early June.
And from Cain's vantage point, neither she nor her teammates balked at restarting structured practice last week with coaches. Cain — who contracted and recovered from COVID-19 in the spring when she returned to her hometown in New York — doesn't see any hesitancy, even as players are not wearing masks during practice.
"I personally am not worried about that at all," Cain said. "With strangers it's smart to wear masks, but we're with these people all the time every day. People aren't too concerned to get too close to somebody when we're playing. I can't speak for everyone, but it doesn't seem like anybody on our team is like that. I think we're all just happy to be playing."
Said Williams: "The whole time they've been eager and anxious to get back to campus with the hope they'd be able to start working out together and working with our coaching staff."
Coaches want student-athletes, most of whom live together, sticking together outside of practice. Williams said she doesn't see her team hitting the downtown O Street bars en masse, but if they head out to the lake together, she wants them to maintain social distancing. Cain, who is a "captain intern" this summer, is shepherding the team as well.
"They tell us to be safe and not go into places where there's going to be a ton of people," Cain said. "And we have to make sure we wear our masks."
It's a semi-bubble lifestyle of sorts. A current normal for Husker student-athletes who have been told by their coaches to expect adjustments right about the time a routine starts setting in. Williams uses a baseball metaphor with her basketball team to illustrate the point.
"Let's just be the best at hitting the curveball," Williams said. "There's going to be sudden change, and we know that, and let's embrace the sudden change and be the best in the country at handling everything that comes our way."
Williams keeps a close eye on the coronavirus data nationwide through a variety of apps on her phone. A biology and math graduate from NU in 1998, Williams was on track toward medical school — she even took the MCATs — before embracing a life in coaching. In a different life, she could have been on the front lines battling COVID-19. Now she looks at the pandemic through the lens of a math and science lover.
"I'm very interested, I'm very tuned-in," said Williams, one of the Husker coaches who appeared in a public service announcement released by Nebraska encouraging people to wear masks. "Every day I'm tracking the hot spots, where it's spreading. The problem is, the more I look around, the more you find contrasting and contradicting data. That part can get you frustrated depending on how it's presented. But I'm very interested in knowing. I think if you talked to my husband, I'm more on the 'let's all wear masks, let's stay inside, let's try to be very conservative' because I'm a science-kind of mind. But there are times I probably need to shut it off, put it away.
"And what I've really tried to do is, as much as I'm interested in that, I've just had to take the approach of: The only thing we're certain of is change."
For now, Williams expects Nebraska to play some basketball games in 2020, although Big Ten women's basketball coaches have just begun having conversations about the road ahead. Because there are more than 350 programs in Division I, nonconference "buy" games — in which a larger, power-conference school pays a smaller school to play a road contest — are crucial to the ecosystem of the sport. Smaller programs depend on those payments to fund their athletic department budgets.
In some cases, they're also geographically located near the hometowns of power-conference players. NU is scheduled to play a road game at Manhattan this season because it will serve as a homecoming contest for Cain, whose dad, Tim, is the all-time leading scorer for Manhattan.
Naturally, Cain wants that game to happen.
"I'm hoping things are close to normal but I don't want to say anything because whenever I say something, the opposite happens," Cain aid. "We talk about it as a team: It's just been a summer of adapting to what's going on. Right when you're in the flow, something happens or changes or a new rule gets put in. I'm hoping for the best."