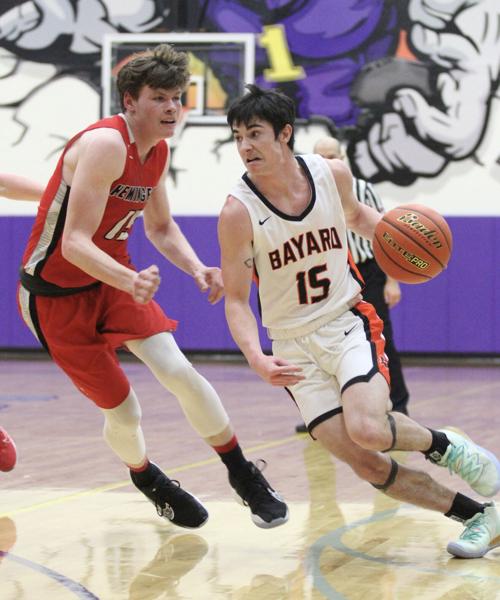 BRIDGEPORT — Morrill County rivals Bridgeport and Bayard will decide the championship of the Class C2, Sub-district 12 Boys Basketball Tournament after both teams posted wins in the semifinal round on Tuesday evening in Bridgeport.
Top-seeded Bridgeport played its starters for just a handful of minutes in an 86-27 victory over Kimball, while second-seeded Bayard used a big fourth quarter to get past Hemingford 55-46. The Bulldogs and Tigers will meet up for the fourth time this season in Thursday's title tilt at 6:30 p.m.
In Tuesday's second semifinal, Bayard and Hemingford combined for 15 lead changes and six ties. The Tigers were responsible for the last of those lead changes when they went on a 7-0 run midway through the fourth quarter. Garret Hopkins drained a 3-pointer to cap the surge and give Bayard a 45-41 advantage.
Hemingford managed to close back within two following Brian Turek's bucket, but Bayard continued to heat up on the offensive end to pull away.
A steal and layup by Trenton Marquez, combined with back-to-back jumpers from Daemon Avilez, increased the Tigers' lead into double figures in the final minute of play.
"It was a good hard-fought game," Bayard head coach Michael Simons said. "This was our third time playing them this year and tonight was our night to come out with the win."
Four different Tigers scored in double figures in the contest. Avilez led the way with a game-high 14 points. Marquez followed with 11, while Hopkins and Trevor Reish finished with 10 each.
"Our senior leadership stepped up," said Simons, whose squad improved to 13-10. "Guys were talking in the huddle saying they weren't going to let us lose this one. Our seniors who were out there on the court in the fourth really helped us go on that run."
Brian Turek paced Hemingford offensively with 12 points. Caiden Hill followed with eight for the Bobcats, who concluded their season with a record of 12-9.
Bridgeport, which improved to 21-2 with its win in the first semifinal, rained in 15 3-pointers against the Longhorns. Of those, 13 were made by players off the bench as Bridgeport head coach Sean Sterkel rested his starters for three and a half quarters.
"It was a game where we were able to get a lot of guys playing time," Sterkel said. "The guys worked hard on passing the basketball, sharing the basketball, defending it, and playing fast. I think they did a good job of doing that."
Bridgeport led 26-9 after the opening quarter and held a 48-17 lead at halftime. Rafi Cantu sank four treys in the first half, while Mason Nichols dropped in three.
The running clock was put into use just a minute and a half into the third quarter as the Bulldogs' advantage went over the 40-point mark.
Four Bridgeport players scored in double figures. Cantu led the way with 19 points, including five 3-pointers. Nichols finished right behind with 18 points and four treys. Austin Kenner followed with 16 points and Cade Loomis ended with 15.
Kimball was led in scoring by Wyatt Cords with eight points.
The winner of Thursday's C2-12 final will earn an automatic berth into the district round. Even with a loss, Bridgeport will play in a district final as the Bulldogs are already positioned high enough in power points.
Kimball (0-16) 9 8 6 4 - 27
Bridgeport (21-2) 26 22 25 13 - 86
Cole Henton 6, Kyle Fraser 5, Christian Allen-Van Pelt 4, Wyatt Cords 8, Mitchell Birkhofer 4.
Cole Faessler 3, Brady Newkirk 2, Kason Loomis 8, Cade Loomis 15, Luis Garza 5, Mason Nichols 18, Austin Kenner 16, Rafi Cantu 19.
Hemingford (12-9) 8 14 11 13 - 46
Bayard (13-10) 8 16 10 21 - 55
Caiden Hill 8, Brian Turek 12, Ethan Specht 1, Zachary Rozmiarek 4, Jack Payne 2, Rick Turek 6, Kenneth Wyland 7, Hunter Wyland 6.