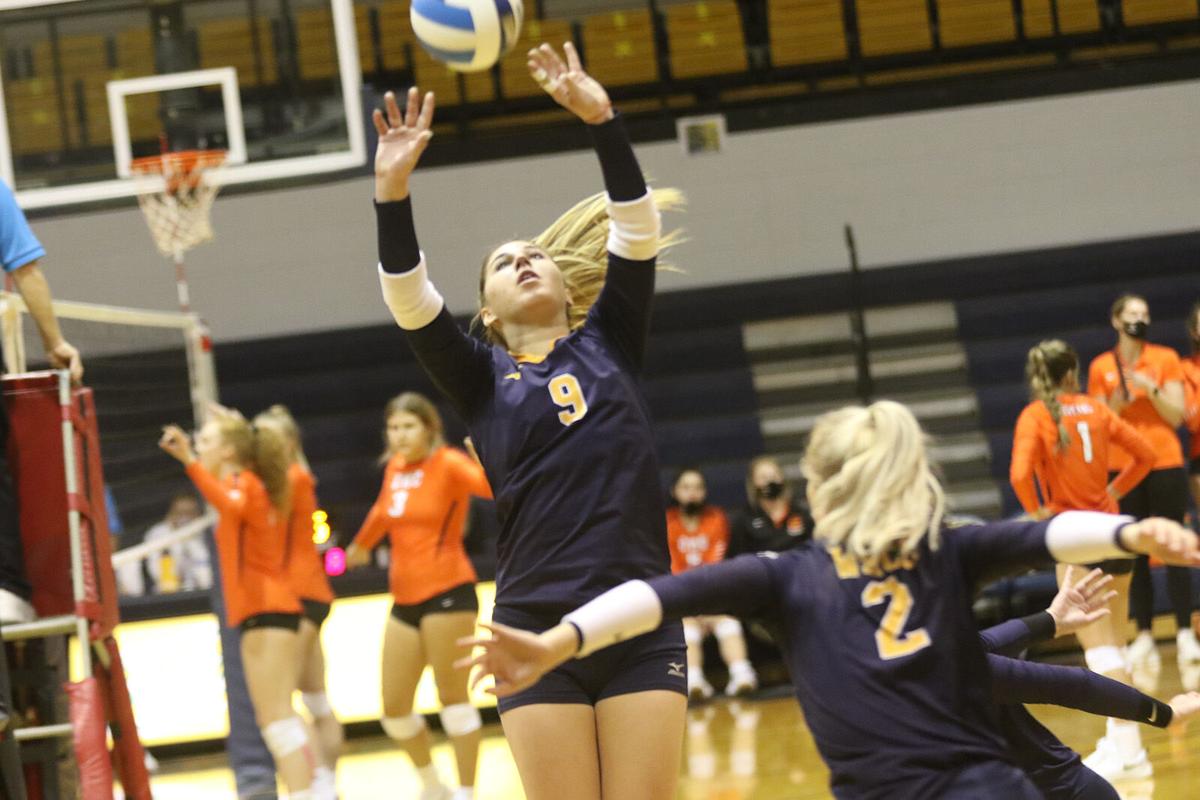 The Western Nebraska Community College volleyball team won their third straight match after posting two impressive wins over Central Wyoming College and Utah State-Eastern in the second day of the WNCC Crossover Classic Saturday at Cougar Palace.
WNCC opened the day by getting 15 kills from Anuhea Kaohi in a 25-19, 25-23, 25-21 sweep over Central Wyoming.
The Cougars rounded out the day with a heart-pounding five-set win over Utah State-Eastern 25-19, 15-25, 25-23, 19-25, 15-11. In the win, Karen Cordero registered a double-double of 29 kills and 14 digs.
WNCC and McCook were the only teams to go 2-0 on the day. McCook handed Eastern Wyoming College its first loss of the season in a thrilling five-setter. The Indians won 23-25, 25-18, 25-22, 22-25, 15-10. McCook then swept past Northwest 26-24, 25-18, 25-10.
Other scores in the second day of the tournament saw Otero top Northwest 31-29, 25-18, 25-21; Central Wyoming drop Trinidad 25-22, 25-16, 25-19; Utah State-Eastern defeat Trinidad 25-10, 25-14, 25-15; and EWC topple Otero 25-16, 25-17, 25-23.
WNCC win against Central Wyoming was a positive start to the day. The Cougars led 12-8 in the first set behind Anabelle Gillen's four service points. Central Wyoming came back to slice the lead to 18-17, but a kill from Cordero and then three points from Andrea Tsvetanova pushed the lead to 22-17. WNCC won 25-19.
The second set saw Central Wyoming go up 4-3 and led 13-11 later on. WNCC finally came back to take a 17-15 lead behind three points from Kaohi. The Rustlers came back themselves, going ahead 22-21 and later 23-22. Kaohi tied the set at 23 and then Alex Hernandez served the final two points for the set win.
The third set was back and forth as well. WNCC trailed just once in the contest at 1-0 and led 5-2 and won 25-21.
Kaohi and Cordero each had double figure kills in the win. Kaohi had 15 kills and six digs, while Cordero had 12 kills and eight digs. Olivia Schaub also chipped in five kills with six digs, while Hernandez had six kills and 13 digs.
Also for the Cougars, Gillen finished with 11 digs, Tsvetanova had five digs and 38 set assists; and Angel Nahinu had two kills and two digs.
The Utah State-Eastern win saw WNCC put three players in double-digit kills. Cordero paced the Cougars on the hitting side with 29 kills followed by 15 from Kaohi, and 10 from Olivia Schaub.
Tsvetanova had a triple-double in the win, tallying 58 set assists, 14 digs, and 14 points. She even had two kills.
Also for the Cougars, Schaub finished with six digs and two points; Cordero had five points; Gillen tallied 28 digs and seven points; Macey Boggs had two digs and a point; Hernandez had six kills and 12 digs; and Nahinu had two kills and six digs.
The match itself was a battle between two teams that have been in the national rankings the past couple years. The first set saw WNCC grab a 12-7 lead and led 16-8 after three Cordero points. UTSE tried making a comeback, slicing the lead to 22-9, but a Cordero kill and then two service points gave WNCC the 25-19 win.
The second set saw Tesvetanova get five straight points for a 5-0 lead. WNCC led 7-2 before Utah State-Eastern had a 7-point service run to give UTSE a 10-7 lead and they went on to win 25-15.
The third set could have gone either way. WNCC jumped to a 9-6 lead behind four Gillen points, only to watch Utah State-Eastern come back to tie it at 23-23. Kaohi stopped the run with a kill and Hernandez served the final point for the 25-23 win.
The fourth set saw Utah-State-Eastern grab a 5-1 lead. WNCC never could get a big service run together only slicing the deficit to two points on a couple occasions, the last time at 19-17. Utah State-Eastern won the fourth 25-19, forcing a fifth set.
In the fifth, Utah State-Eastern led 7-5 until Cordero hammered a kill and then Gillen had six straight service points for a 12-7 lead. WNCC the set and the match on a Schaub kill.
WNCC, 3-0, will next be in action next weekend when they head to the Salt Lake Invite.