LINCOLN — A second former Husker quarterback is finalizing a deal to coach on Nebraska's football staff.
Mickey Joseph, who ran the option at NU in the late '80s and early '90s, is headed to Lincoln to coach wide receivers and can provide immediate recruiting help as an expert evaluator and recruiter of talent, according to a source. Joseph was set to inform his players Thursday evening or Friday morning that he is leaving for NU, and he could be recruiting for the Huskers in the next 72 hours if the deal is finalized. Football Scoop initially reported the development, which The World-Herald confirmed.
Joseph spent the past five years at LSU, where he was part of a national title-winning staff in 2019 and coached current NFL stars Justin Jefferson and Ja'Marr Chase. Joseph, 53, also had the assistant head coach title the past two years for the Tigers, who fired coach Ed Orgeron during the season and officially hired Notre Dame coach Brian Kelly on Tuesday.
Joseph made $500,000 at LSU in 2021 and was scheduled to make $550,000 in 2022.
Originally from Marrero, Louisiana, Joseph has a résumé in coaching and recruiting receivers that is among the nation's best. According to 247Sports, he's signed three five-star prospects, including LSU's top receiver in 2021, Kayshon Boutte, and countless more players in the New Orleans area. In this cycle, Joseph is credited with commits from an offensive lineman and defensive lineman in New Orleans.
Joseph's best recruiting work came shortly after his arrival at LSU, when he successfully persuaded Chase to decommit from Florida and select the home-state Tigers in February 2018. Chase's 2019 season — 84 catches, 1,780 yards, 20 touchdowns — is one of the best in college football history. Chase was the first receiver selected in the 2021 NFL draft.
"Mickey was very vital in Ja'Marr's recruitment," Jimmy Chase, Ja'Marr's father, told Rivals in 2018. "He was the only one who knew how to understand Ja'Marr and how Ja'Marr operates. With Ja'Marr being a high-profile player, he was not your normal high school player. Ja'Marr didn't like all of the attention and wasn't crazy about being harassed. ... Mickey took it slow with him and didn't really talk about football or LSU all the time. That won Ja'Marr over."
Jefferson's numbers that year — 111 catches, 1,540 yards, 18 touchdowns — were nearly as good for a 15-0 team.
After the departure of Heisman-winning quarterback Joe Burrow, LSU's program went off the rails in 2020 and 2021 with 5-5 and 6-6 records. Tiger brass parted ways with Orgeron midway through this season, making Joseph and the rest of the staff free agents.
Nebraska coach Scott Frost fired four of his assistants in early November, including offensive coordinator/receivers coach Matt Lubick and recruiting coordinator/running backs coach Ryan Held. Joseph immediately became one of NU's targets, and the interest was mutual, as Joseph's appreciation for the Husker fan base — particularly its loyalty and persistent support — played a role in his return to Lincoln.
Joseph can fill one half of each role and provides NU with immediate entry points into New Orleans — which produced former Huskers Stanley Morgan and Cethan Carter — and credibility with Nebraska's current receivers. While leading pass-catchers Samori Touré and Austin Allen are moving on, Nebraska likes its young talent, including Omar Manning, Zavier Betts and a trio of freshmen — Kamonte Grimes, Shawn Hardy and Latrell Neville — who redshirted in 2021.
Nebraska has two receiver commits in the 2022 class in Victor Jones and Grant Page, and it's likely the Huskers at least take a shot at current LSU commit Decoldest Crawford, who has more than 2,000 receiving yards in his career. He conducted an in-home visit with Joseph this week, as did Shazz Preston, the top receiver in the state and a top-100 prospect.
Nebraska's newest coach is so ingrained in Louisiana that his Twitter handle is "daboot02," which references the shape of Louisiana. Joseph himself was once a coveted recruit as a Parade All-America quarterback in 1987. He picked Nebraska over Oklahoma.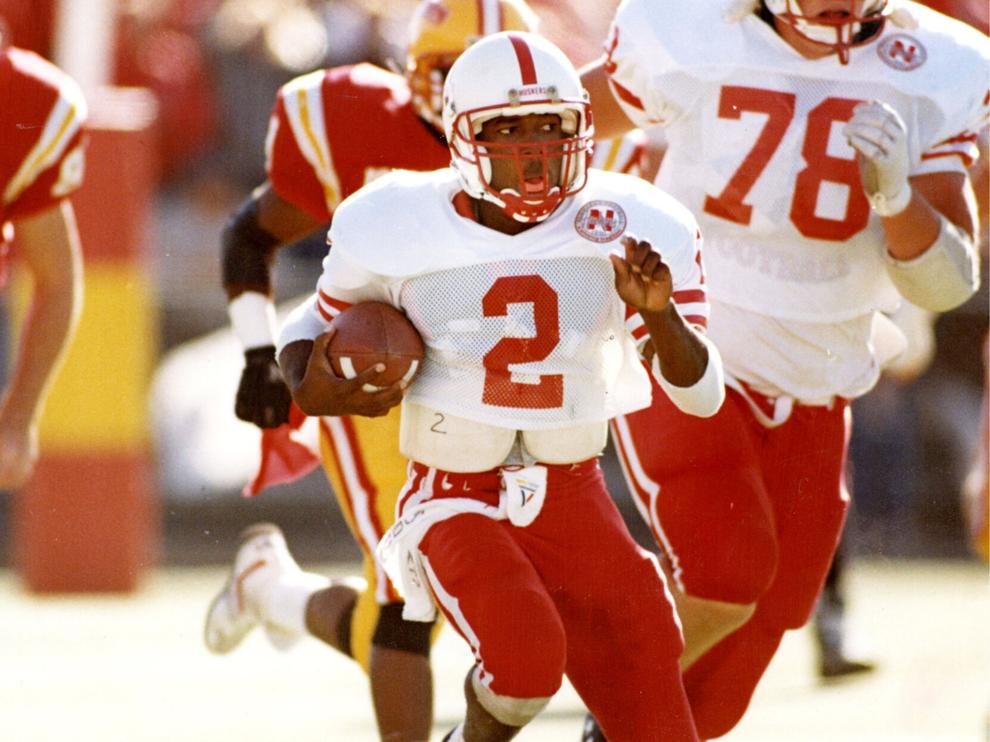 He played 34 career games — rushing for 1,091 yards and passing for 909 — and spent most of the 1990 season as NU's starter.
He suffered a gruesome leg laceration in the 1990 Oklahoma game after a Sooner hit him late out of bounds into OU's bench. In 1991, Joseph initially won a three-way battle for the starting quarterback job but was replaced by Keithen McCant early in the season.
After Nebraska, Joseph plunged into a wide and varied coaching career, including jobs at Omaha North, Wayne State, a variety of smaller schools in the South and a head job at Desire Street Academy in New Orleans. He became head coach at Langston University in 2011 and 2012 before taking jobs at Alcorn State, Grambling and Louisiana Tech. He got the LSU job in 2017.
He was rumored to potentially join NU's staff in 2020, when Frost hired Lubick, but Nebraska sources denied interest in Joseph, saying Lubick was NU's primary target at the time.
Joseph is part of a successful coaching family, as well. Younger brother Vance is the former Denver Broncos head coach who now coordinates the Arizona Cardinals' defense. Another brother, Sammy, coaches running backs at Nicholls State.
Frost still has to hire an offensive coordinator, offensive line coach, quarterbacks coach and running backs coach — one of those could be taken by the coordinator — and potentially a special teams coordinator. NU is being "measured" in its process for an offensive coordinator, according to a source, using interviews and data analysis.