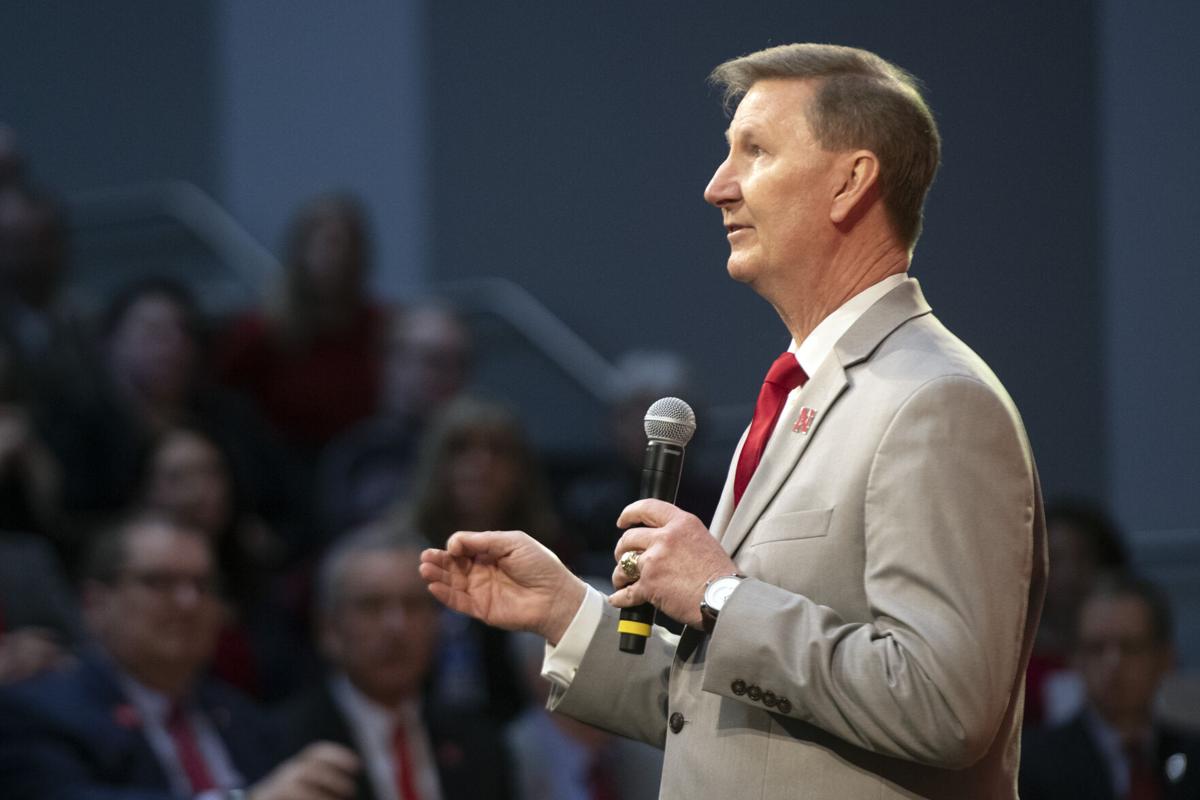 You can't make this stuff up. 
In a bizarre manner, the ongoing Big Ten football saga moved forward Tuesday morning.
KETV NewsWatch 7 is reporting that during small talk on a hot mic before the start of a news conference, University of Nebraska President Ted Carter said an announcement of the Husker football season will come Tuesday afternoon or evening."We're getting ready to announce the Huskers and Big Ten football tonight," said Carter in a conversation with Bob Hinson, director of the National Strategic Research Institute. 
The Journal Star reported Monday night that a decision on the Big Ten season could be revealed as soon as Tuesday, with Oct. 17 as the likely starting date. The Big Ten Council of Presidents and Chancellors voted 11-3 on Aug. 11 to postpone all fall sports. Nine votes are needed to start the season. UNL Chancellor Ronnie Green is Nebraska's representative on the council -- not Carter. 
Asked if either Green or Carter could elaborate on the hot-mic comments, Deb Fiddelke, University of Nebraska-Lincoln's chief communication and marketing officer, said, "When there is any news to share or confirm regarding any Big Ten board decision, it will be announced by the Big Ten. Chancellor Green and AD (Bill) Moos will comment at that time."
Multiple sources told the Journal Star that Oct. 17 is by far the most likely start date. Starting then would allow conference teams to play eight games in a nine-week window, with a conference championship game Dec. 19. The College Football Playoff field is scheduled to be revealed Dec. 20.
The hot mic development essentially continues several weeks of intrigue in Big Ten circles. 
Commissioner Kevin Warren, in an Aug. 19 open letter to the Big Ten community, stated that the Aug. 11 vote by the Big Ten Council of Presidents and Chancellors "was overwhelmingly in support of postponing fall sports and will not be revisited." Warren cited too many medical uncertainties with COVID-19 as well as the amateur status of the student-athletes involved. 
The Pac-12 followed the Big Ten's lead in postponing fall sports, although the Big 12, ACC and SEC pushed forward. 
All the while, Nebraska and Ohio State have pushed for a season both publicly and privately. Buckeyes quarterback Justin Fields has been especially vocal, going so far as to launch an online petition, signed by hundreds of thousands, to play this fall. 
A lawsuit in Lancaster County District Court brought by eight Nebraska football players revealed the Big Ten Council of Presidents and Chancellors indeed voted 11-3 to postpone the football season. The lawsuit as well as pressure from parents from multiple Big Ten programs added to the heat on the conference, most of it stemming from the desire for more transparency from leadership. 
The Nebraska attorney general last week added his name to the list of those seeking transparency. The office of Doug Peterson on Friday issued a letter to the Big Ten notifying Commissioner Kevin Warren that the conference appears to be out of compliance with the Nebraska Nonprofit Corporation Act.
Peterson's letter to Warren states (in part),"in light of recent allegations as to the Big Ten's deliberative process regarding whether to cancel, modify, or postpone the 2020 football season, our office hereby seeks additional information regarding whether the aforementioned deliberations were conducted in accordance with requirements of the Nebraska Nonprofit Corporation Act. …"
Peterson seeks specific information by no later than Sept. 21, including all information, opinions, reports and statements that went into the conference's decisions concerning the 2020 football season.
Peterson's action came on the heels of two Big Ten head coaches — Ryan Day of Ohio State and James Franklin of Penn State — levying harsh criticism on the leadership of Warren. 
Be the first to know
Get local news delivered to your inbox!