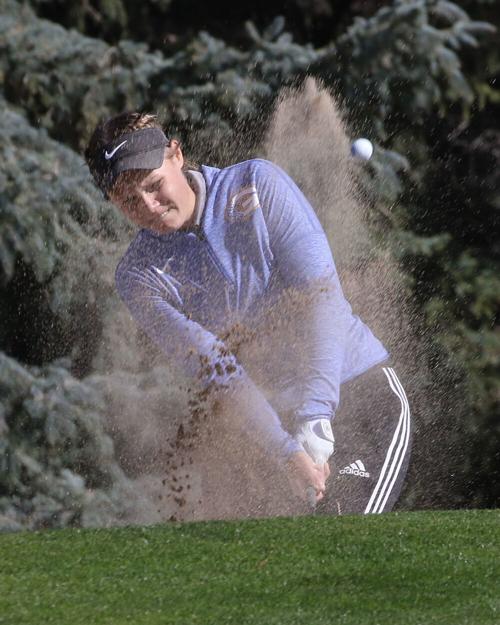 Gering's Madi Schlaepfer ended her high school golfing career last fall with a runner-up finish at the Class B state golf championships, and now she is taking those golfing skills to the collegiate level and doing just fine.
Schlaepfer started her freshman year in amazing fashion at William Penn University in Iowa, helping her team win the first competition of the fall.
"For my first collegiate golf tournament I played well," Schlaepfer said. "It was a hot one, and the nerves were flying so I think I played well. Although I struggled at times, I held in there and shot 79."
William Penn has an experienced team so there were a lot of nerves as Schlaepfer stepped onto the William Penn golf course when she headed to the Oskaloosa, Iowa, college. 
"Collegiate golf is different than high school. There is practice with the team but more practice outside of the team times is important if you want to be a successful athlete," she said. "It is going to be a very key thing to being successful in college athletics."
The first meet divided the 18-member team into three teams with five players on each team along with other teams for competition. Schlaepfer was on the A team. Her team won the William Penn Invitational with a 317 total. Schlaepfer finished second on the team with a 79, while her teammate, Olivia Lange, a freshman from Germany, shot a 77.
Schlaepfer said there is a lot of competition on the William Penn squad.
"WPU's women's golf team brings a very competitive atmosphere to the course," she said. "Everyone practices hard and goes out outside of the group practices. Each and every one is pushing each other to be the best."
The fall season for the Statesmen golf team is like a warm-up to the spring season when they will have regionals and nationals. Schlaepfer said this is the time to really get adjusted to the collegiate game as well as the different golf courses in the Midwest.
Already, though, Schlaepfer has seen improvement in her game, and it is just not on the playing course.
"I have improved a good amount from this summer," she said. "I would spend pretty much every day at the golf course whether it was 30 minutes or five hours. I feel like my short game and mental game improved the most."
The hardest part of the collegiate game is qualifying for a tournament and sometimes that can get intense.
"I think the hardest part of college golf is the qualifying," she said. "We have to play qualifying to earn a spot on the team. Qualifying can be frustrating if you are not having the best day on the course."
That is why Schlaepfer is taking every fall tournament in stride and putting her best foot forward. The WPU golf team will next be in action Sept. 13-14 at the William Penn Classic.
"My goal for the fall season is to play as many tournaments as possible and see some type of improvement," she said. "If I can improve in at least one area of my game I will be happy."
For Schlaepfer, though, the hardest part playing golf at the four-year level is being away from family. But, at the same time, she is learning something new plus making a new family in Oskaloosa, Iowa.
"The college life is a little hard. It is hard being away from my family because I was so close to them," she said. "It is making me a more responsible person. I did not expect it to be anything like it is. I think the hardest part of being away from family and friends is just not having them to go to when you are bored. It's not as easy to get to them from here."
The best part is making new friends from different parts of the United States and overseas. The WPU roster has 18 golfers on the squad, including one from Germany and others from the east coast to the west coast with points in between.
"I think it is cool meeting people from other parts of the USA and overseas," she said. "It makes me a little more grateful that I am only 10 hours away from home and not a whole country."
Schlaepfer has grown up around golf and has been a fierce competitor for the Bulldogs where she was a state medalist all four of her high school years. She also broke the school record with a score of 67 and also was part of a team school-record score of 320.
Golf, though, is not the only thing she was known for at Gering. She was a student athlete as well. She was class Valedictorian, involved in National Honor Society, an NCPA honoree and an academic all-state honoree.
At William Penn, Schlaepfer is majoring in elementary education with a special education endorsement.
Schlaepfer's advice to all the young golfers that hope to play at the collegiate level is to make sure your heart is in it because college is intense.
"Advice I would give to high school golfers is if you are planning to go to college to golf, make sure your heart is in it. If your heart isn't in it, you won't be able to buy into a team or yourself," she said. "You have to be able to buy into a team and yourself. Once you get to college, practice is also a lot more intense, making you challenge yourself more. That is why if you are not completely buying into it, it will be a struggle."
For Schlaepfer, her heart is in it, and she is leading her dream of playing golf and wishes to continue playing after college, hopefully professionally.
"I am not sure I have a best part of my golf game at the moment because the best part changes every day; I play making it fun and challenging," she said. "I just plan on taking my golf career as far as it takes me. I would love to continue after college, but I might also be done after college. Depending on what I feel is right at the time is probably where I will end up."
Other College Athletes' Highlights
 Alliance High graduate Emerson Cyza is having a strong sophomore year for the University of Nebraska-Kearney volleyball team early on, helping the Lopers to a 4-0 start to the season. This past weekend, UNK captured two convincing wins over Wilmington (Delaware) and No. 27 Gannon (Pennsylvania) in a classic in New York. Cyza, who transferred to UNK from the University of Wyoming, had 11 kills to lead the team in the win over Wilmington. Cyza also had eight kills in a win over Molloy, and seven kills in a win over American International. UNK will next be in action Friday when they host Chadron State College and Southern Nazarene.
 Former Gering High and WNCC volleyball player Olivia Schaub has the Northwestern College volleyball team out to a 9-0 start this season. In their last match on the court against Evangel, Schaub finished with 13 kills with six assist blocks in a five-set win. Schaub already has 28 kills on the season with 10 assist blocks. The Evangel match was her best in the nine games by Northwestern. The Red Raiders' next match is a contest on Tuesday at Bellevue University in Omaha.
 Scottsbluff three-sport standout Emma Foote is helping the Hastings College volleyball team this season as a freshman. Foote has appeared in seven of the 13 matches for Hastings so far this fall. Foote is listed as a defensive specialist/libero on the team. She has 10 digs with four ace serves. Hastings will next be in action Wednesday when they travel to face the College of Saint Mary.
 Mitchell High graduate Josie Jenkins, who is a freshman on the Lake Region State College volleyball team, has seen action in all 10 matches this season for the junior college squad. Jenkins has played in 29 of the team's 32 sets and had 11 kills this season along with 40 digs. Jenkins and her Lake Region State team are 4-6 on the season and will be in Scottsbluff Sept. 17-18 for the Wyo-Braska Invite where they will face Casper, Central Wyoming, McCook and Western Wyoming at Cougar Palace.
 If anyone has information on what former Wyo-Braska student athletes are playing and doing in college, please send a note to Mark Rein at mrein@wncc.edu or text to 308-631-0459.