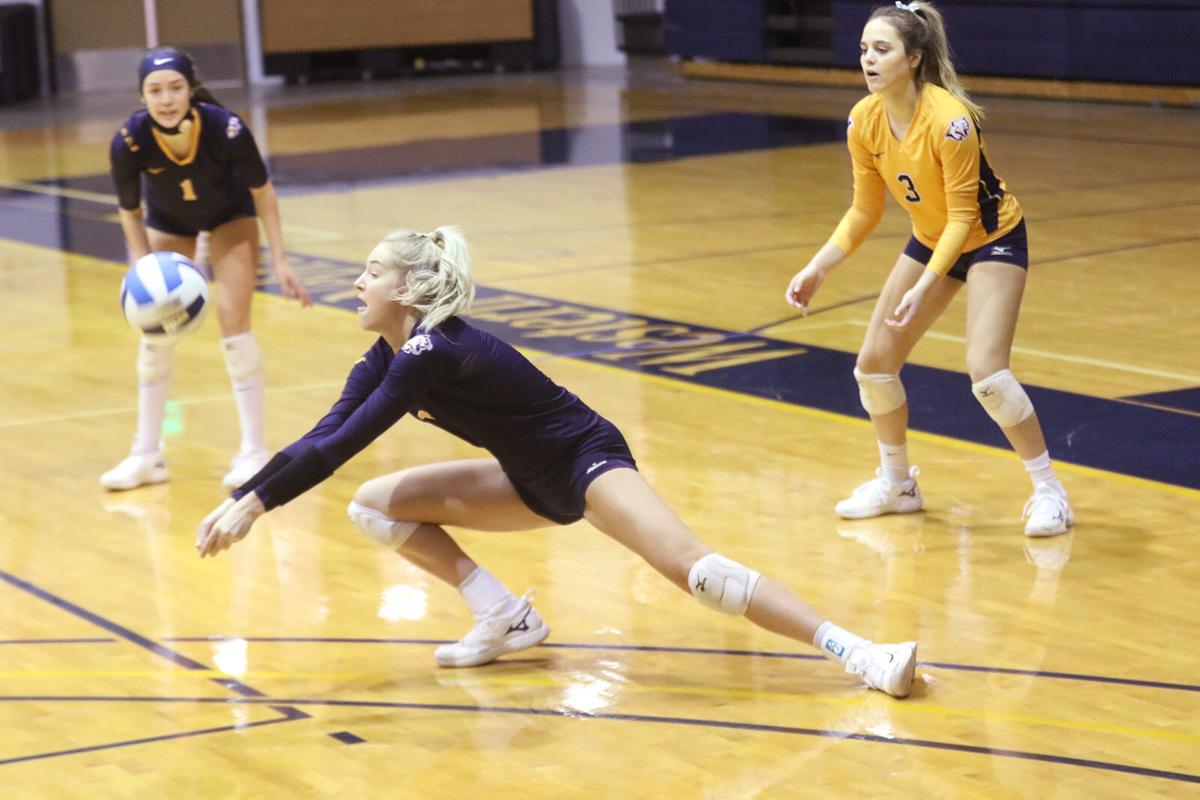 The Western Nebraska Community College volleyball team opened the season with a split of matches Friday in the WNCC Crossover Tournament.
The Cougars opened the season with a four-set defeat to Eastern Wyoming College winning the first set 28-26 and then dropping the next three 25-18, 25-20, 25-22.
WNCC rebounded to earn a split on the day with a sweep over Northwest College 25-13, 25-13, 25-16.
WNCC sophomore Olivia Schaub said they were tense at first and then warmed up in the second match.
"I thought we were pretty tense at first," Schaub said. "It took us a while to relax, but once we were comfortable, we started playing a lot better. After a full year of not playing, I thought we played pretty well. We have a lot to work on still, but I believe we will have a really fun season playing together."
WNCC will have two more matches Saturday at Cougar Palace in the tournament where they will play two competitive teams. The Cougars will face Central Wyoming College at 10 a.m. and Utah State-Eastern at 3 p.m. Central Wyoming went 1-1 on Friday, falling to McCook in five sets 25-22, 25-20, 28-30, 21-25, 8-15, and then rebounded with a 25-12, 25-12, 25-16 win over Otero.
Utah State went 2-0 on the day with a four-set win over Otero 25-19, 25-143, 23-25, 25-23, and then swept McCook 25-19, 25-20, 25-21.
Eastern Wyoming was the other team that went 2-0 on the first day. After topping the Cougars, the Lancers defeated Trinidad 25-14, 25-20, 25-12.
WNCC's first game against EWC was a battle. The Cougars trailed 22-20 in the first set and were facing set point at 24-22 the Cougars went up 25-24. The first set was tied at 26 when Karen Cardona hammered home a kill and Macey Boggs got the winning service point.
The Cougars started the second set hot, leading 5-1 behind four Schaub points. WNCC led 11-10 when EWC went up 14-11. The Lancers led 19-16 and later 23-17 and cruised to the 25-18 second set win.
The third set was a battle early. The Lancers started with a 3-0 lead and never trailed in the set, winning the third 25-20.
The fourth set was close at the beginning once again. WNCC led 10-8 on a Cardona kill and led 17-14 after two Andrea Tsvetanova points. Things changed as the Lancers went up 19-17 on four service points. WNCC tied the set at 20-20, but never could get the lead as EWC won 25-22.
Cardona paced the Cougars with 19 kills with eight digs. Schaub had seven kills with 13 digs, while Anuhea Kaohi had five kills and five digs.
Also for the Cougars, Tsvetanova had a double-double with 10 digs and 26 set assists. Boggs tallied 10 set assists, six digs, and two aces, and Gillen with six digs.
Alex Hernandez finished with three kills and 19 digs, Angel Nahinu had four kills and two solo blocks, while Arianna Mitchell had three kills and three digs.
WNCC got back on the win path with an impressive win over Northwest led by Cardona with a double-double of 13 kills and 12 digs, while Kaohi tallying a double-double with 12 kills and 13 digs.
The Cougars also got another double-double from Tsvetanova with 13 digs and 27 set assists.
Also for the Cougars, Schaub had four kills and four digs, Gillen had 11 digs and four set assists, Hernandez had six kills and six digs, and Nahinu had three kills.
WNCC looked sharp in the game. Northwest led 5-3 before Schaub hit a kill and then served five points for a 9-5 lead. WNCC went ahead 15-9 on two Tsvetanova points and pushed the lead to 23-12 after Hernandez had five points and cruised to the 25-13 first set win.
The second set saw Kaohi help WNCC to a a 7-3 lead after three points and led 10-4 after two Gillen points and two Cardero kills. WNCC pushed the lead to 17-6 after Tsvetanova had five points and went on to win 25-13.
The third set saw Northwest bolt to a 6-3 lead, but Cardero stopped the scoring spree with a kill and then served four points for an 8-6 lead. WNCC went up 18-10 on four Gillen points and cruised to the 25-16 win.