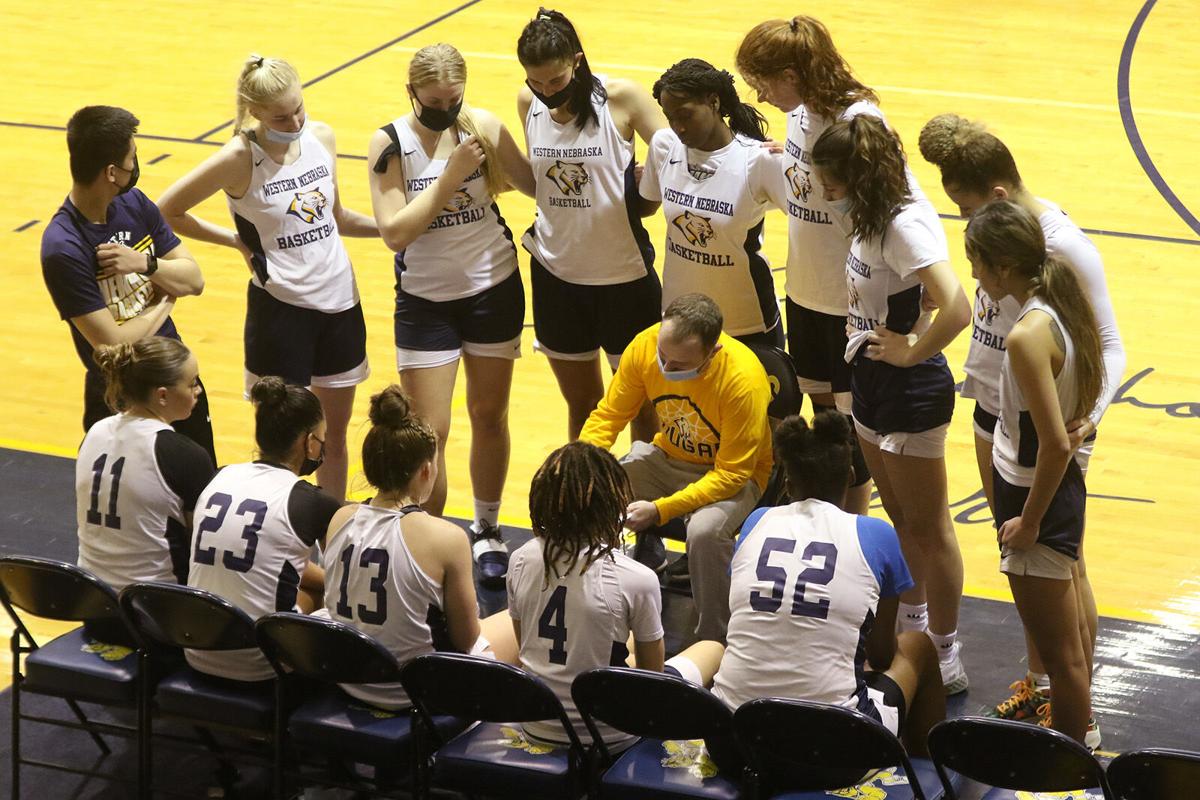 The Western Nebraska Community College women's basketball team had an extremely long off-season without a game and everybody is ready to open the season this week as the No. 15 ranked team in the NJCAA pre-season polls that were released Tuesday.
It has been a trying time for the women's basketball team as they last played in the Region IX championship game last March, falling to Casper College. Still, the Cougars 28-2 record earned them a No. 7 seed and a first-round bye into the national tournament. WNCC never got to compete at nationals as the tournament was canceled because of the pandemic that hit 10 months ago.
With that being said, the Cougar women are looking forward to opening the season for real when they host Central Wyoming College Wednesday at 5:30 p.m. at Cougar Palace. Fans will be limited to around 575 fans or 50 percent capacity. Fans are also required to wear masks and gates will open 30 minutes before tipoff of the first game.
WNCC head coach Chad Gibney, who is in his fifth year at the helm, said the team is definitely anxious to get going.
"I think everyone is extremely excited to be able to compete and get back on the floor," Gibney said. "It has been a long time since a lot of our players had an opportunity to play in a real game. I know everyone is looking forward to it."
The Cougars will enter the season as one of the favorites to compete for a regional title and try for a fifth-straight berth to the national tournament. WNCC enters the season ranked 15th while last year's Region IX champions, Casper College, is ranked 12th.
WNCC enters this season with a team that has plenty of talent. The Cougars have just two returners back from a year ago in 6-foot-3 center Lidsey Mahoukou from France and 5-10 guard Maddy Campbell from Australia.
Gibney also brought in three transfers that will help bolster the sophomore leadership. They three transfers include Shanti Henery, a 5-8 guard from Wichita, Kansas; Bella Sparaco, a 6-0 forward from Denver; and Ashley Panem, a 5-10 guard from Broomfield, Colorado.
Henery played last year at Mineral Area Community College in Missouri, while Sparaco played last season at Iowa Western Community College. Panem came to WNCC from Florida Gulf Coast University, the same school that former Cougar TK Morehouse is now playing at.
"This is a brand new group and there aren't a lot of known entities going into the year," he said. "We will have to continue to establish roles, guarantee to have people step up that have had less experience then we had prior."
On paper, though, this team would seem to have all the talent to make a run at a fifth-straight national tournament experience. Along with the five sophomores that saw college experience last year, the Cougars have a very potent freshmen class.
The freshmen are led by a pair from Wyoming and Nebraska. The two Nebraska products include Alejah Douglas, a 5-5 guard from Omaha Northwest High along with local product Yara Garcia, a 5-8 guard from Scottsbluff.
The two Wyoming players come from Cheyenne East High School. Ky Buell is a 5-7 guard while Madison Blaney is a 6-foot forward from an East team that went 23-3 a year ago.
Other players that will also make an impact for the team's depth and talent include Martrice Brooks, a 5-7 guard from Springfield, Illinois; Payton Fields, a 6-0 guard from El Paso, Texas; Yanely Duenas, a 5-4 guard from Wendover, Utah; Isabelle Cook, a 6-0 forward from New Zealand; and Emma Johnson, a 6-3 center/forward from Ft. Collins, Colorado.
Any given night a different player could come up big and that is one of the positives Gibney sees with this year's team.
"I think we have 13 players that are capable of helping our team," he said. "It will be who just steps up and who makes the most correct plays."
WNCC won't have an easy early schedule either and the streak to win 20 games in a season, something the Cougars have accomplished for the last 33 years, will be tougher considering the team is only 22 regular season games.
WNCC opens the season Wednesday when they host Central Wyoming College followed by a trip to Central Wyoming College over the weekend to face the Rustlers once again and also Western Wyoming Community College.
Then, next week, the Cougars will have home games on Tuesday against Eastern Wyoming College, a team that beat the Cougars in a scrimmage on January 5, and then the College of Southern Idaho, a team that is ranked 22nd in the pre-season polls.
Gibney said it would be great to duplicate last year's success, but they are just taking it one game at a time.
"We are just trying to get out of the first weekend without two losses," he said. "It will be hard. We play CSI, Casper twice, Otero twice, and Eastern Wyoming twice. Losing twice is going to be hard."
Just like past years, WNCC finds ways to win and this year is no different. Gibney said the goal is to compete for a regional title. WNCC has a chance to host the regional tournament if they win the south sub-region this year, which will be held in April.
"It is like anything where our goals are the same every year," he said. "We want to compete for region championships and compete to go to the national tournament."
Gibney the goal right now is just to play good basketball and success will follow.
"Obviously, we want to play really good basketball this year," he said. "I think everybody knows that we have an opportunity to have a successful team. I think we have made some successful steps from the scrimmages. We think we can have a nice year."
2021 Cougar Women's Basketball Schedule
Date Opponent Location Time
1/20 Central Wyoming Cougar Palace 5:30 p.m.
1-22-23 Central Classic Riverton, Wyo. TBA
1/26 Eastern Wyoming Cougar Palace 5:30 p.m.
1/28 College of S. Idaho Cougar Palace 5:30 p.m.
2/2 Laramie County Cheyenne, Wyo. 5:30 p.m.
2/3 Casper Casper, Wyo. 5:30 p.m.
2/9 Eastern Wyoming Torrington, Wyo. TBA
2/11 Central vs. NW Cougar Palace 5:30 p.m.
2/12 Central vs. Lamar Cougar Palace 1:30 p.m.
2/12 Northwest Cougar Palace 5:30 p.m.
2/13 NW vs. Lamar Cougar Palace 10 a.m.
2/13 Central Nebraska Cougar Palace 2 p.m.
2/15 Laramie County Cougar Palace 5:30 p.m.
2/19 McCook Cougar Palace 5:30 p.m.
2/24 Northeastern Cougar Palace 5:30 p.m.
2/26 Lamar Lamar, Colo. 5 p.m.
3/5 Otero Cougar Palace 5:30 p.m.
3/6 Trinidad State Cougar Palace 2 p.m.
3/12 McCook McCook, Neb. 4:30 p.m.
3/19 Otero LaJunta, Colo. 5:30 p.m.