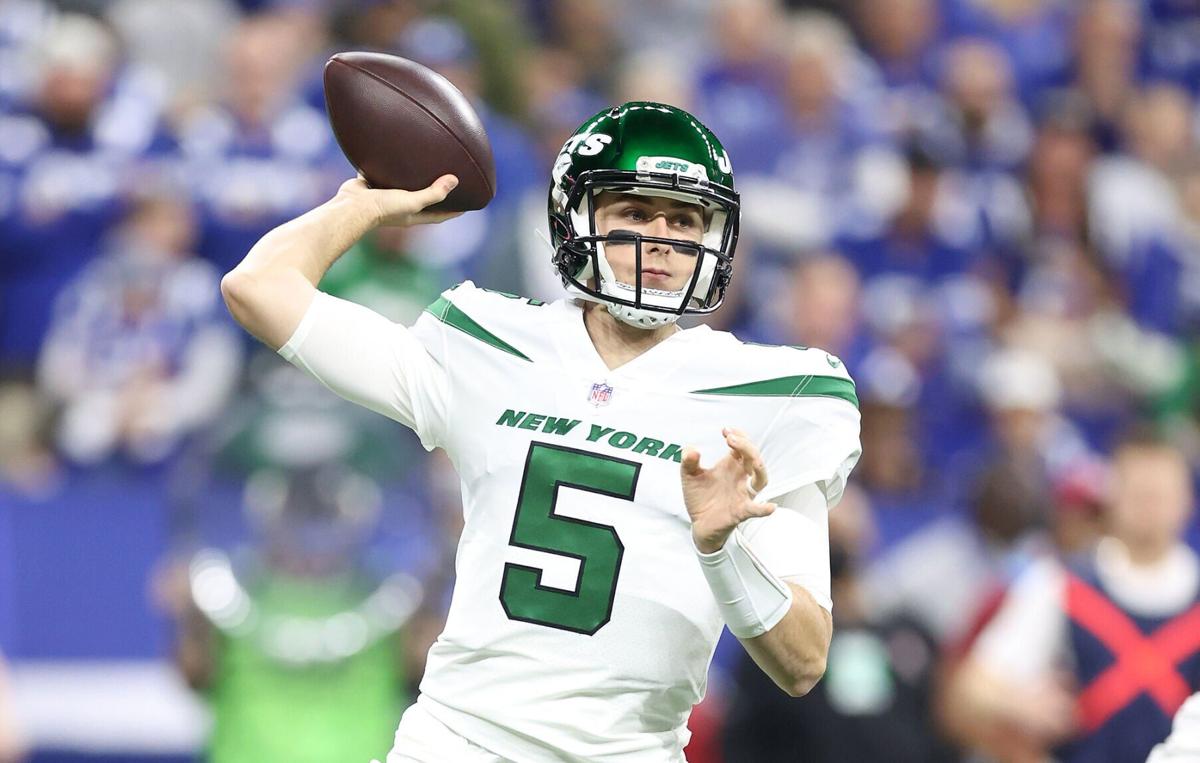 NEW YORK — When Mike White walks into the Jets locker room he still hears his teammates chanting his name.
Sounds similar to what White heard from the fan base in Metlife Stadium after he threw for 405 yards with three touchdowns against the Bengals in an upset win.
"I told my guys it's gonna stop at some point, right," White said with a chuckle on Thursday.
It might stop whenever Zach Wilson becomes the starter again.
Sometimes when you have two potential starting quarterbacks it can ruffle the dynamic within the locker room. Or even between the two quarterbacks.
But not with this pair. White and Wilson's friendship has stayed intact despite the hype White has received.
"Doesn't even need to be talked about," Wilson said. "That's the coolest part is we both understand that this is part of business football, and we both understand that. I want to play, he wants to play. This is just how it is. So it's like what's the point of butting heads when we can help each other out? I think we all benefit from the situation. ... I was pumped for him when he played. He's pumped for me when I'm playing."
Wilson added that White is the person he's closest with on the team. And the energy has been reciprocated from White's view.
"I don't think it's been awkward for a second," White said. "I think he's been so supportive, and he's been awesome. And it hasn't changed our relationship one bit, and it won't."
The former BYU star suffered a sprained PCL against the Patriots in Week 7 and has been rehabbing the injury for the third straight week.
This week was the first time he's practiced since the initial injury and is still knocking off the rust — the Jets estimated his rehab to return timeline would be between two and four weeks.
"I'm definitely not 100 percent still," Wilson said. "That's why I'm going through this practice to just try and get back to feeling normal, going through everything, because when you take a couple of weeks off and you don't run, even this week is a big feel week for me as far as just having the knee feel like normal. A little bit of scrambling and moving around, it doesn't feel 100 percent there and that's why we're doing a lot of this."
And while White has been the starter, Wilson has valued the opportunity to watch another quarterback run the offense.
"It's almost just as beneficial as playing. ... I would say the biggest thing that I took away is just getting used to the NFL game," Wilson said. "You start to see our same plays getting run over and over again against different teams and kind of how certain things play out against certain coverages or when someone plays something this way."
White has performed well in his eight quarters and Robert Saleh has left the door open for White to keep the job.
But White is focused on the moment, not if he's the Jets long-term starter.
"I operate on a week to week basis, and this week, I'm the quarterback for the team," White said. "So my job is to be prepared and go out there and help execute the offense. Next week we'll cross that bridge when we get there. Whatever job the team gives me, that's what I'll do to the best of my ability."
Wilson isn't worried about when he'll become the starter again. He believes his time will come. But in the meantime he's supporting his best friend.
Last time we saw White, he threw a touchdown in the first quarter against the Colts. But suffered a forearm injury that ended his Thursday Night Football appearance.
But White is back and ready to go. He's set to start against the Bills who have an elite defense. They're first in yards allowed per game (262.6), points (14.8), and passing yards allowed (177).