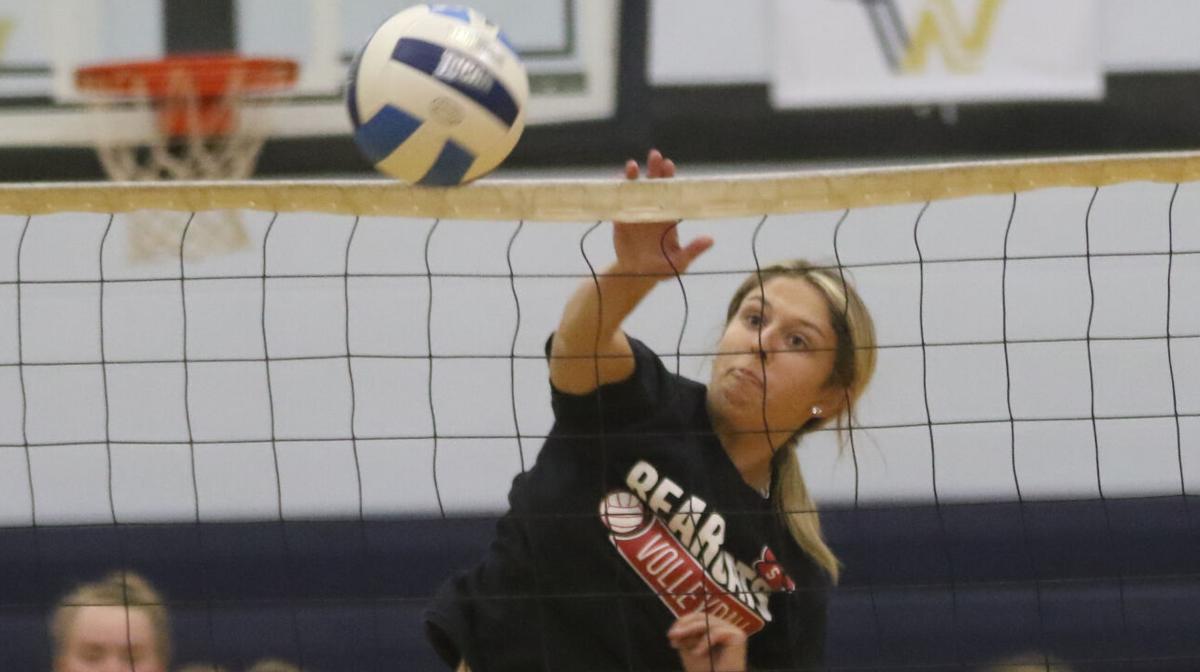 It might be hard to find Scottsbluff's Emma Foote on the volleyball court Saturday night in the West Nebraska All-star volleyball match at Scottsbluff High School.
Foote will be on the court battling in the all-star game, her second in as many weeks after playing in an all-star soccer match last weekend.
Foote, though, will be doing it without wearing her familiar number 5 jersey. Instead, she will be wearing number 99 when the game tips off at 2 p.m. on Saturday, June 12 at Scottsbluff High School.
"Five was already taken, Kyla took No. 5, and my coach messaged me. I just picked the last one and it was 99," Foote said. "It is just a goofy number. It is kind of weird but different for sure."
Gering's Kyla Knight also wore No. 5 in high school and selected that number before Foote.
"I did swipe it from Emma," Knight said. "Sorry, Emma."
Foote said she will likely be donning a new jersey number when she plays volleyball at Hastings College next year.
"I love volleyball and I am getting ready for the next level," Foote said. "I am super excited."
For Knight, wearing No. 5 will be bittersweet. She won't be playing volleyball in college. Knight will be pursuing a degree in early childhood education at Chadron State College.
"This is really special to me because it is my last experience playing volleyball," Knight said. "So, I am really excited to be a part of this."
For the cross-town rivals, this is an exciting time for them as both were selected to play in the all-star game.
"It is awesome. I have been playing against these girls for years growing up and now I am playing with them. It is just a really different and cool experience and I get to talk to them the rest of the week and play with them on Saturday," Knight said.
Knight said her focus on her last competitive volleyball game is to enjoy playing just one more time.
"I think my focus on the court is to have fun and be competitive," Knight said.
Both players said the West team is starting to build friendships and unity already after the first day of practice.
"The make-up of the team is we have all the girls from the west that did outstanding in their high schools on our team," she said.
For Foote, the team is meshing well.
"We had our first practice with the chemistry definitely there," she said. "We have a lot of strong personalities. We are friendly, joking, and I think we will get along very well on the court."
The West practiced Wednesday morning at Western Nebraska Community College with media day in the middle. The West practiced early afternoon and the practices saw a more relaxed opening day of practice.
The East did some team-bonding things and did the usual hitting, passing, and setting drills. The East even did a fun activity of reverse hitting where the object was to hit the ball under the net instead of over.
All-in-all, it will be a fun time for the 30 West Nebraska All-star volleyball participants and coaches.
Knight said she is going to savor the experience.
"I am just lucky to have this experience and I am lucky that they chose me," she said.
Cambrea Vogel, Crawford; Jayla Brehmer, Gordon-Rushville; Milan Coggins, Ogallala; Kyla Knight, Gering; Morgan Jaggers, Sidney; Maddie Lake, Garden County; Jenna Curtis, Ogallala; Josie Jenkins, Mitchell; Jocelyn Varval, Hay Springs; Emma Cogdill, Chadron; Karly Sylvester, Sidney; Anika Burke, Chadron; Emma Foote, Scottsbluff.
Head Coach: Julie Smith, Sidney; Assistant Coach: Lisa Hughes-Merritt, Hay Springs.
Chiara Richeson, Gothenburg; Jadeyn Bubak, Arnold; Kali Staples, Broken Bow; Aleya Hueftle, Bertrand; Trinity Christophersen, Brady; Alivia Knoerzer, Elwood; Halle Jacobsen, Broken Bow; Jaycee Widener, Maywood; Haylee Sandman, Wauneta-Palisade; Sam Moore, Mullen; Ashley Brown, Elm Creek; Emma Schall, Broken Bow; Acelyn Klein, Medicine Valley.