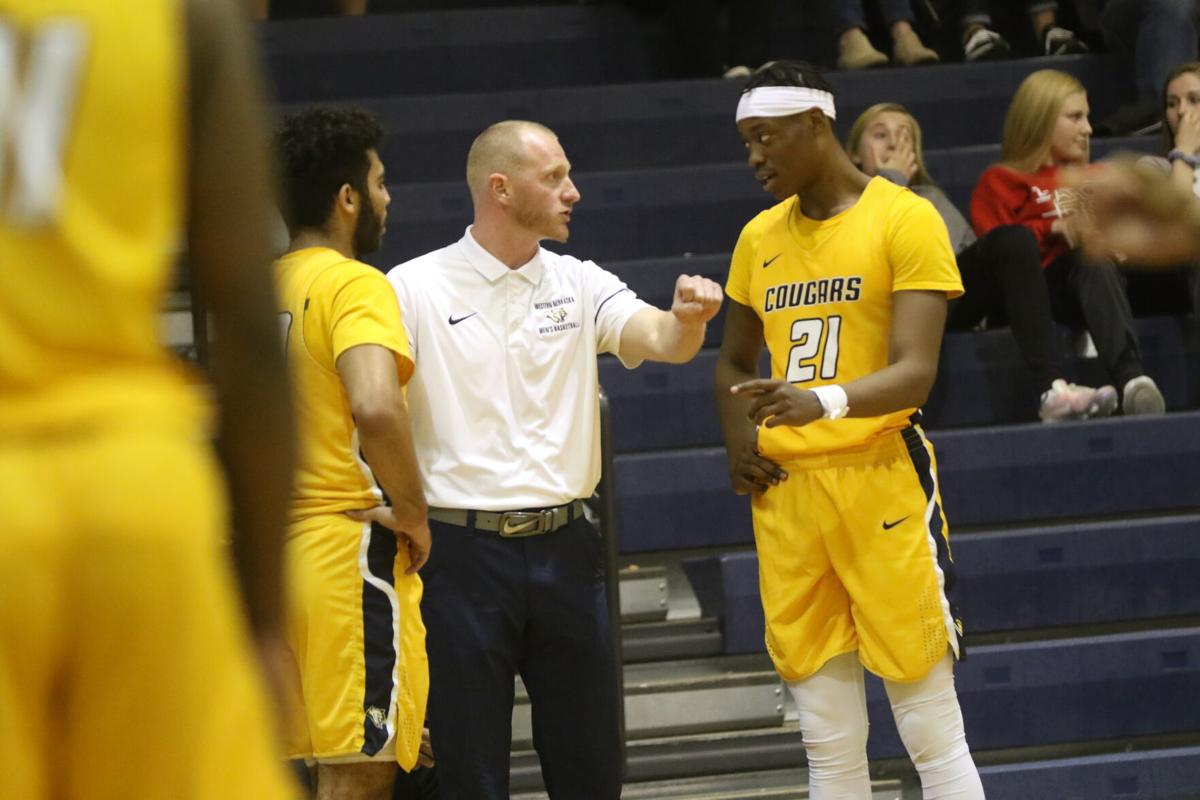 Western Nebraska Community College men's basketball coach Cory Fehringer will be heading back to his home state of Colorado to become an assistant coach at the University of Northern Colorado.
Fehringer's coaching mentor Steve Smiley was named the head coach of the men's basketball program at NCAA Division I UNC earlier this year.
Fehringer said he hasn't lived in Colorado for the last 13 years having coached and played college basketball in Nebraska and North Dakota.
"It was 13 years ago that I went away from Colorado and went away from home," he said. "I grew up with Greeley somewhat in my backyard, traveled there to play baseball when I was 11 and 12 years old. I went fishing, hunting, camping in the mountains located right outside of Greeley. I get to take my boy to the same ponds. I get to catch trout in some of the same lakes and camp in the same campgrounds. I am a believer in Steve Smiley and what he is trying to build as far as the culture in the locker room. I align with the mission we are trying to make on these student athletes. First thing, professionally, I couldn't ask for a better situation then going to the University of Northern Colorado right now."
Fehringer graduated from Sterling High School in 2003 and played two years at Northeastern Junior College. NJC won 58 games during that 2-year span including winning the regional title in 2005. Fehringer then spent one year at Colorado State University before playing his senior season at Hastings College.
Fehringer started his coaching career as an assistant at Hastings College before being an assistant at Dickinson State University. Fehringer took over the head coaching job at Dakota State College in 2012 before coaching two years at Williston State.
Fehringer was hired as the WNCC men's basketball coach in 2016 guiding them to a 91-39 record in four years, including a Region IX title in 2018. The regional title was the team's first since 2001.
Fehringer said it is going to be a pleasure to coach with Smiley at UNC.
"I call him a teammate of mine. I think we have been professional teammates for over a decade now," Fehringer said. "He recruited me out of Northeastern Junior College to play at Black Hills State College. As soon as I began my coaching career, he asked me to come out and work camps with him to help get my coaching legs underneath me. I have always leaned on him for a shoulder and a phone call to talk when facing challenges in the coaching world. I really believe in him as a believer in Christ, as a husband, father and as a basketball coach. We will continue to seek the best version of ourselves, and I think coach Smiley is the best person to bring out coach Cory when it comes to my coaching career and when it comes to being a father to Lawrence James and taking care of my family."
The move to WNCC four years ago was a perfect fit for Fehringer, who was two hours from his family.
"God's timing was perfect. Four years ago where I was at in my life and what my family needed and desired, it was Western Nebraska Community College," he said. "Everything I needed at that point in my life was located at Western Nebraska Community College and a chance to lead a program with tradition and history and what Western Nebraska has done athletically across the board. To be close to home and close to my father, and now I believe God's timing now for me is the right place and time is in Colorado in Greeley with coach Smiley and with coach Reed and coach Green and the Bears."
Fehringer becomes the second WNCC coach to coach the Bears men's basketball team. Former Cougar coach Ron Brillhart was the head coach of the Bears in the 1980s when UNC was a Division II program.
Former Cougar Trent Harris graduated from UNC this past season, where he was one of the Bears top 3-point shooters.
Fehringer said they have had a lot of good players come through Cougar Palace the last four years and many are playing Division I basketball including Scottsbluff graduate Dru Kuxhausen, who is at McNeese State, and Teddy Allen, who led the NJCAA in scoring a year ago, is now at the University of Nebraska.
"Coaches get opportunities because they have good players. Coaches win games because they have good players," Fehringer said. "I can't be more thankful to all the young men that took the floor of Cougar Palace and went on the road to win games at CSI, and to have the trust and commitment they showed in our program. I just say thank you to all those Cougars."
Fehringer said he has many memories while in Scottsbluff that last four years and it is a special place.
"To this community, Panhandle proud is something we really believe in. I understand what it is like to work in a blue-collar community now because of Western Nebraska," he said. "We didn't create the identity of 'Protect the Palace' because of the locker room, the mentality of 'Protect the Palace' became a reality due to the Panhandle pride. We protected this place and fought for you. We had fun for you and we put everything we needed to win and these players understood the expectations was to give this community what they deserved. That is the hardest working group of young men across the country."
With Fehringer leaving, assistant coach Billy Engel will serve as the interim head coach. Fehringer said Engel is ready and was glad that the college gave Engel the job.
Many of Fehringer's assistants are coaches in different aspects and Fehringer is proud of all his coaching pupils.
"I can't be more proud of Coach Engel to be the head coach at Western Nebraska and Coach Baez to be the lead assistant at Laramie County," he said. "Along with Coach (Rylee) Hernandez the head guy at Williston State and Coach (Sean) Sterkel to be the head coach at Bridgeport High School. I feel really blessed to be supporting and around these young men that are now being coaches in their own rights."
Be the first to know
Get local news delivered to your inbox!