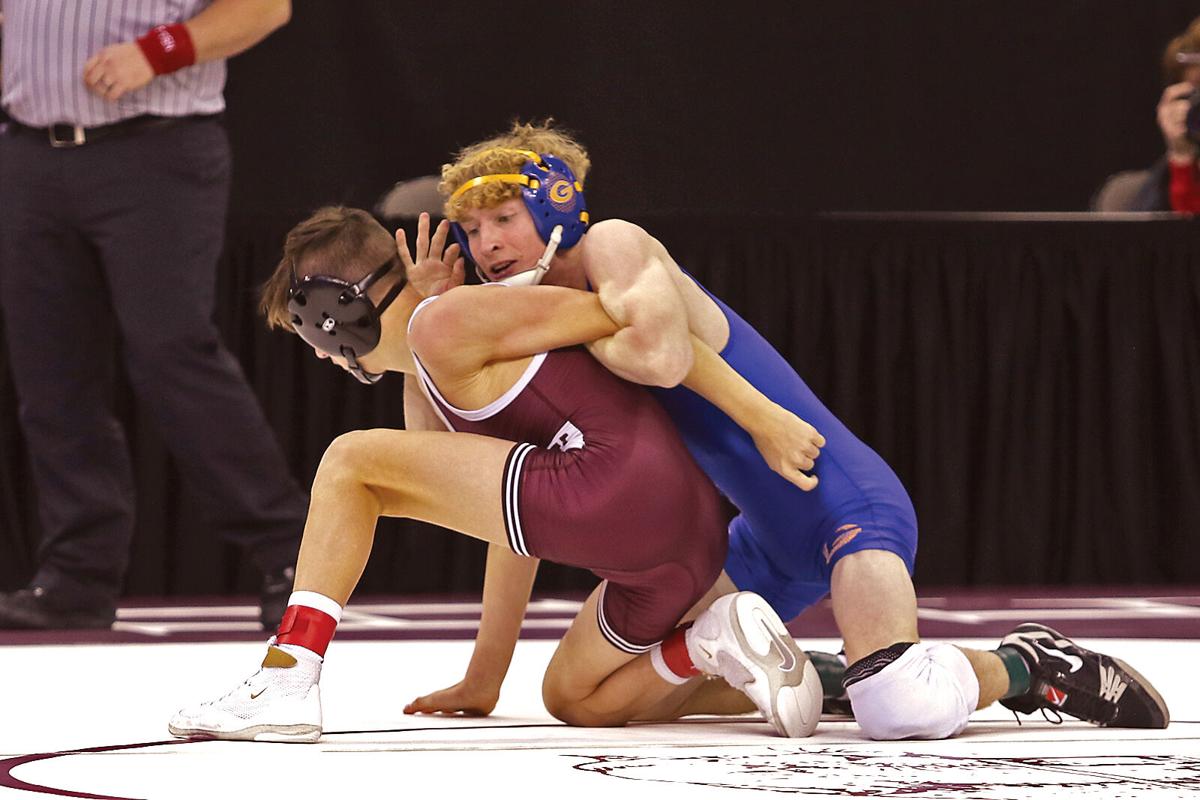 OMAHA — The Gering wrestling team has a 12.5 point lead over Beatrice going into the second day of the NSAA Wrestling State Championships in Class B.
The Bulldogs have seven wrestlers still vying for medals including six in the semifinals.
Gering coach Jarred Berger said his team came out a little stiff in the first round.
"The first round you know we didn't look so hot. We had some tough matches. I think kids were just nervous, some jitters. There's a lot of pressure on these guys to go out and perform," he said.
Berger said his team kicked into high hear in the quarterfinals.
"We wrestled really well in the second round," he said. "The plan was to get six in the semis, and, hopefully, get as many as we can in the finals. That's how you win a (team) title."
In the first round, Ashton Dane took a 5-1 decision over Waverly's Garrison Brehm before pinning Beatrice's Gavin Vanover in 2:50 in the quarterfinals.
Quinton Chavez seeks his third state championship after earning a 3-2 decision over Bennington's Connor Ritonya in the first round.
"He's a two time state champ, so people give him their best shot," Berger said. "We knew this kid was tough and he's a solid wrestler. He was was tough to take down, but at this point in time in the tournament, a wins a win. He just kept pushing through."
In the second round, Chavez downed Northwest's Grady Arends 6-1 to advance to Saturday's semifinals.
Berger said Chavez has faced some tough opponents so far, and will the rest of the way.
"(The match against Arends) was the matchup two years ago for the state title," he said. "In tomorrow's semis he has the state finals matchup from last year, so he's got he's got a gauntlet to go through, but man he's ready."
Paul Ruff is a step closer to again facing Scottsbluff's Paul Garcia in the 126-pound championship match. Ruff won a 12-0 major decision over Fall City's Wyatt Olberding. Ruff won by tech fall over Omaha Skutt's Drew Cooper in the quarterfinal round.
Berger said Ruff is in peak form in the tournament.
"He's focused," he said. "We talked about taking one match at a time and not overlooking anybody. He had two kids who were good wrestlers. He just went out and wrestled his match. He got some big wins and got some bonus points in both matches, so that's huge for the team."
Garcia dominated his first two opponents of the tournament. Garcia won a 23-9 major decision over Platteview's Aiden Riha, and a 20-5 tech fall over Norris' Chase Eggleston.
Tyler Nagel picked up two decisive victories in the first day of the tournament. Nagel pinned Reed Patera, of Platteview, in 59 seconds, and won 9-2 over Columbus Lakeview's Kevin Dominguez.
Nate Rocheleau pinned his way to the semifinals with wins over Northwest's Colton Ruff (3:28) and Platteview's Bryar Nadrchal (2:41) as he seeks his second state title.
Jacob Awiszus dominated his first row opponents of the tournament. Awiszus won by pinfall 47 seconds into his match with Columbus Scotus' Ben Kamrath. Awiszus pinned Plattsmouth's Camerohn Aughenbaugh in 3:44 in quarterfinal action.
The Bulldogs' Jordan Shirley is still in contention for a third-place finish. Shirley was pinned in the first round by Wahoo's Isaiah Foster. Shirley rebounded with a pin in 39 seconds on Omaha Gross Catholic's Cooper Franks in the first round of the consolation bracket. He, then, pinned Hastings' Hunter Anderson in 4:31.
For Sidney, Austin Munier took an 11-6 win over Columbus Lakeview's Andon Stenger, and by pinfall in 3:03 over Beatrice's Bryce Karlin in the quarterfinals.
Brady Robb won both of his first day matches. Robb won 11-5 over Wayne's Reid Korth, and pinned Wahoo's Cooper Hancock in 2:34.
Alliance's Asa Johnson and Philip Halstead are still in medal contention.
After falling to Blair's Charlie Powers in the quarterfinals, Johnson earned a 17-4 major decision over Gering's AJ Stone in the consolation bracket.
Halstead dropped in the quarterfinals to Pierce's Michael Kruntorad. He rebounded with a 7-2 decision over Beatrice's Jarrett Koch.
For Chadron, Daniel Wellnitz defeated Scottsbluff's Mychaia Moss 6-1 in the consolation bracket to continue his quest for a state medal. Sawyer Haag rebounded from a first-round loss with a pin in 4:34 over Elkhorn's Brody Schmeilau and a 3-0 decision over Norris' Joao Crotao.
In Class C action, Bridgeport has two wrestlers moving on to the semifinals.
In the first round, Damien Bell pinned Milford's Jack Chapman in 4:32. Bell took a 12-06 decision over Tommy Lokken, of Wilber-Clatonia, to advance to the semis at 138 pounds.
Damien Bell (Bridgeport) 40-6 won by fall over Jack Chapman (Milford) 38-14 (Fall 4:32)
At 160, Steven Menke pinned Hartington Cedar Catholic's Conner Hochstein in 1:52 in the first round. Menke downed Bryce Reed, of Cross County/Osceola, 13-6 in the quarterfinal round.
At 152 pounds, Trevor Widener won a 6-0 decision over Aquinas Catholic's Ethan Schmid. In the second round, Widener took North Bend Central's Ethan Mullally to overtime. Mullally won 5-4 in sudden victory to send Widener to the consolation bracket.
Mitchell's Nathan Coley also moves on to the semis after pinning both opponents in the first two rounds. Coley pinned St. Paul's Nathan Scheer in 5:13, and won by pinfall in 4:51 over Aquinas Catholic's Coy Meysenburg.
Gordon-Rushville's Jace Freeseman and Taylon Pascoe are still vying for state medals.
Freeseman was pinned by Arlington's Hunter Gilmore in 1:42 in the opening round. He rebounded with a 3-1 decision over Milford's Trent Stauffer in the first round of the consolation bracket.
Freeseman won by a 10-1 major decision over Fillmore Central's Aiden Hinrichs.
Pascoe lost a 13-3 major decision to Caden Egr, of Yutan, in round 1. Pascoe edged Fort Calhoun's Grant Nixon 5-4 in the consolation bracket.