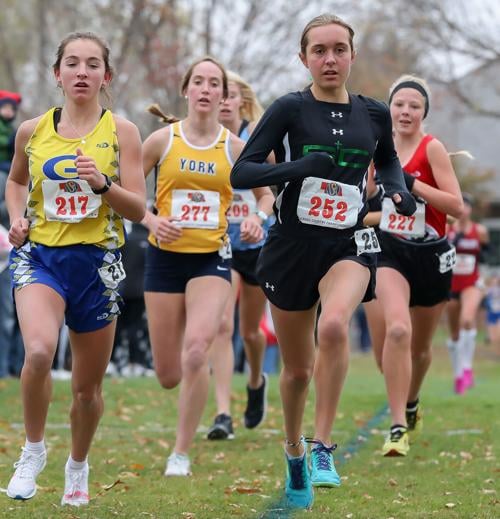 KEARNEY – Maddie Seiler sailed through the Kearney Country Club course in running to a state title with a blistering sub-19-minute, personal record time in the 5,000 meters.
The Gering sophomore captured first with an 18 minute, 55.8 second win, just 17 seconds in front of the second place runner Omaha Skutt's Jaedan Bunda.
"It feels great," Seiler said in winning the Class B individual state title. "I have to give credit to my team and my coaches because I would not be where I am today without them. This is definitely a team win for me and my girls."
The Bulldogs girls finished 8th in the team standings, a year after winning the state team title in 2019.
Seiler becomes the fourth Gering runner to win an individual title and the first since 2006 when Libby Edigar took home the top spot. The other two state champions include Sara Ensrud in 2003 and Sonja Reis in 1983.
Seiler said she ran a good race today on a course that has plenty of hills.
"I had a PR today which I am very pleased with considering this is a hilly course," Seiler said. "I felt great the whole race. I really didn't take the lead until about almost the third mile and I took off from there."
Seiler was one of two Panhandle runners that finished in the top 10 individually. Scottsbluff senior Brooke Holzworth finished eighth in the individual racing, picking up a Top 10 finish.
Seiler said that is great to have two Panhandle runners in the top 10 and it shows a lot about the runners out west.
"It definitely says that western Nebraska is tough competition and we know that not a lot of schools from the east look at us [seriously]," she said. "What some of us girls did today they will be looking out definitely."
The Class B race was a tight finish as the top four girls were all withing 30 seconds of each other. Seiler said she knew it was going to be a battle before the race even started.
"I went into the race knowing four girls were up to win the state title," she said. "I needed to have a mindset that I could hammer this course out knowing that there were girls who love to compete just as much as I do."
Seiler ended on top just ahead of Skutt's Bunda. McCook's Samantha Rodewald finished third in 19:19.5 while York's Kassidy Stuckey took fourth in 19:27.7. Bunda is the only senior of the foursome. Seiler and Rodewald are sophomores while Stuckey is a freshman.
Gering's road to taking eighth as a team showed the depth of the Bulldog team. Gering finished with 113 points. Seward won the team title with 55 points followed by Elkhorn with 57 and Omaha Skutt with 84.
Gering's runners after Seiler's winning time saw junior Shailee Patton take 38th (21:10.8), sophomore Jadyn Scott finishing 48th (21:30.9), sophomore Madison Herbel finishing 55th (21:38.8), and junior Anna Rawlins taking 82nd (20:50.3).
Scottsbluff girls also had a strong showing. Holzworth capped off her high school running career with the top 10 finish. Other Bearcats that did well include Kaylee Charbonneau, a sophomore, taking 42nd (21:21.1), and junior Sunny Edens taking 75th (22:35.0).
Seiler said that she will have the same goals for next year.
"My goal next season is to compete even harder than this year and go sub-18," she said.
Class B Girl's Team Scores
1, Seward 55; 2, Elkhorn 57; 3, Omaha Skutt 84; 4, Blair 86; 5, Omaha Duchesne 87; 6, McCook 87; 7, Elkhorn North 104; 8, Gering 113; 9, Norris 136; 10, Lexington 153; 11, Omaha Mercey 158; 12, York 173.
Class B Girl's Top 15 Individuals
1, Maddie Seiler, Gering, 18:55.8; 2, Jaedan Bunda, Omaha Skutt, 19:12.3; 3, Samantha Rodewald, McCook, 19:19.5; 4, Kassidy Stuckey, York, 19:27.7; 5, Britt Prince, Elkhorn North, 19:47.4; 6, Madeline Yardley, Elkhorn, 19:52.4; 7, Tandee Masco, Seward, 19:57.3; 8, Brooke Holzworth, Scottsbluff, 19:59.3; 9, Keegan Beisel, Seward, 20:05.6; 10, Ashley Hedquist, South Sioux City, 20:11.7; 11, Anna Youell, Omaha Mercy, 20:17.3; 12, Corinne Mead, Elkhorn North, 20:19.2; 13, Hailey Amandus, Blair, 20:20.0; 14, Sienna Dutton, McCook, 20:21.5; 15, Abigail Metschke, Elkhorn, 20:22.5.
Gering's Peyton Seiler takes third at state
Gering senior Peyton Seiler capped off his high school running with a third-place finish at the Class B state championships in Kearney.
Seiler finished behind two Omaha Skutt runners and was close to picking up a meet championship just like his sister, Maddie, did the race before.
Seiler finished the race in 16 minutes, 40.6 seconds. Skutt's Isaac Richards won the individual title with a 16:22.0 time, just ahead of his teammate Ryan Zavadil (16:38.2) and Seiler.
Gering's only individual state champion was Dan Wilder back in 1970.
As a team, Gering did well, finishing in seventh place with 111 points. Skutt won the team title with 27 points, which was way in front of second place Lexington's 75 points and Plattsmouth's 78 points.
After Seiler, Gering had plenty of good performances.
Senior Tyler Nagel finished 30th (17:37.8) followed by senior Jack Franklin in 41st (17:49.3). The Bulldogs also got a 50th place from sophomore Eli Marez (17:52.5), a 59th place from senior Logan Andrews (18:09.9), and junior Logan Moravec in 77th (19:08.2).
Scottsbluff had just one competitor at state and that was freshman Hans Bastron in 66th place (18:27.9).
Class B Boy's Team Scores
1, Omaha Skutt 27; 2, Lexington 75; 3, Plattsmouth 78; 4, Mount Michael Benedictine 81; 5, Hastings 83; 6, Norris 103; 7, Gering 111; 8, South Sioux City 114; 9, Bennington 126; 10, York 152; 11, Elkhorn 153; 12, Seward 212.
Class B Boy's Top 15 Individual
1, Isaac Richards, Omaha Skutt, 16:22.0; 2, Ryan Zavadil, Omaha Skutt, 16:38.2; 3, Peyton Seiler, Gering, 16:40.6; 4, Jaydon Welsh, Hastings, 16:46.3; 5, Samuel Campin, Plattsmouth, 16:48.4; 6, Elmer Sotelomunoz, Lexington, 16:48.7; 7, Mesuidi Ejerso, South Sioux City, 16:50.2; 8, Jack Sorensen, Mount Michael Benedictine, 16:50.8; 9, McCoy Haussler, Omaha Skutt, 16:53.3; 10, Kaleb Wooten, Plattsmoth, 16:57.4; 11, Colin Pinneo, York, 16:59.8; 12, Jonathan Lopez Chojolan, Hastings, 17:00.7; 13, Caden Keller, Northwest, 17:03.0; 14, Keaton Miller, Bennington, 17:03.3; 15, Conrad Schroeder, Waverly, 17:07.1.
Be the first to know
Get local news delivered to your inbox!