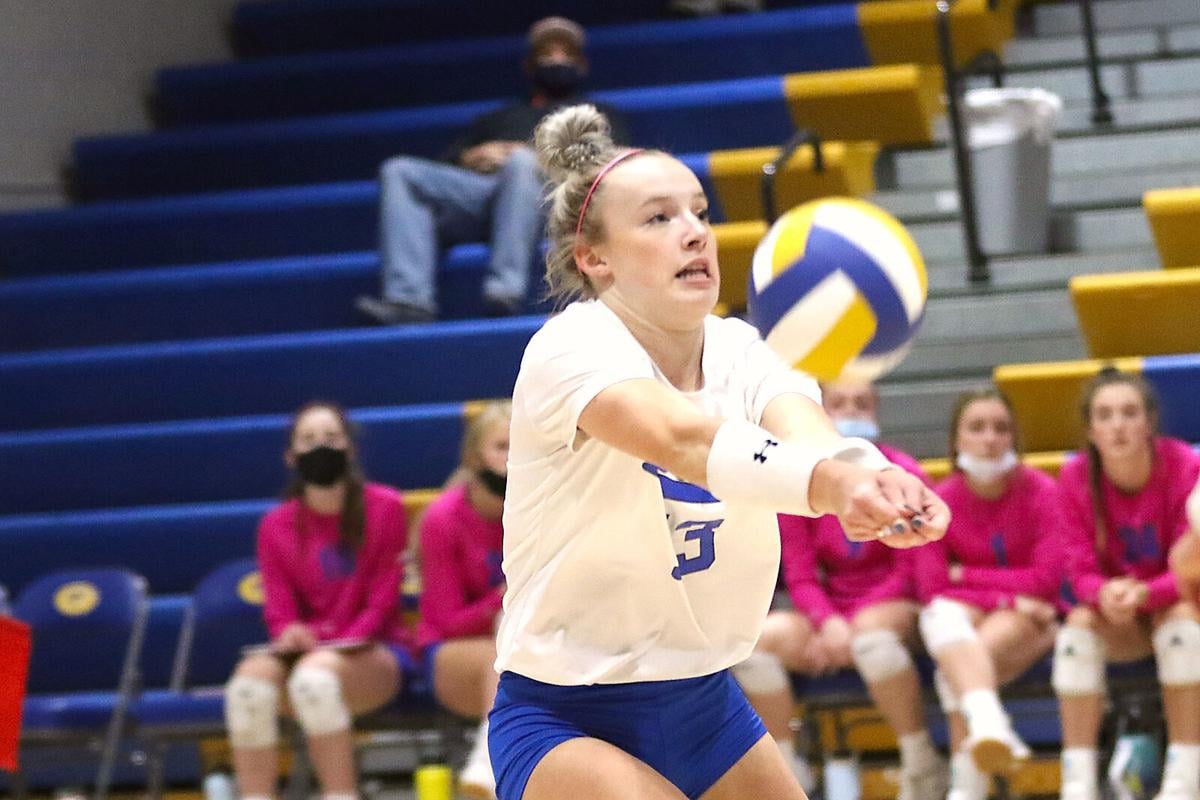 Maddie Ray finished with 15 kills and 11 digs and the Gering volleyball team swept past Scottsbluff 25-22, 25-20, 26-24 in action Thursday at Gering's Holliday Family of Companies Dome.
The Gering team had a balanced offensive attack as six players tallied kills. Macey Boggs distributed the ball with authority in the win, registering 22 set assists. Boggs also had 12 digs and three kills.
"We are working on all of our hitters running hard and getting up and swinging when they can," Cochran said. "Macey is doing a really good job of distributing them the ball to where it should be.'
Cochran said this was a good win for her squad in a sparse crowd that was limited to immediate family members only.
"I thought the fans we had in here tonight were great," she said. "They were loud and it felt like a packed gym. We are just thankful for the opportunity to still be playing. We are just really thankful for the parents and fan support that were able to be in here and we are grateful every day that we can be in our gym."
Cochran said the girls definitely played well to get the win against a talented Scottsbluff team.
"We hung really tough," she said. "We stuck in that serve receive and tried to get as many balls up to the front row that we could. We played a really tough game tonight. Scottsbluff played awesome tonight. They dug up a lot of stuff we hit over there and we really had to dig in and keep swinging away. It was a good match."
Scottsbluff coach Leslie Foral said her team played alright, but had to many little miscues at the wrong time that cost them.
"It definitely wasn't our best match," Foral said. "We were inconstant. We had hitting errors, serving errors, and our serve receive was not there at times. I think when you combine all those along with our blocking was inconstant, it really is tough to win. I am super happy with the way the girls fought. I don't think, across the board, came ready to play."
Overall, though, it was a battle between the two cross-river rivals.
"It was more-so that our errors came at the wrong time," Foral said. "We would just get over the hump and get on a little streak, and then we have a miss serve. Our errors came more so in the timing."
The first set started with Scottsbluff taking an 8-4 lead after four Cali Wright points. The Bearcats pushed the lead to 16-11 after Emma Foote served five points. Gering came back after a kill by Carliegh Pszanka and then three points from Sydney Winkler to take an 18-17 lead.
The lead jumped back and forth with Scottsbluff leading 20-19. Boggs changed al that with a setter kill and then served three points for a 23-20 lead. Pszanka finished off the first set with a kill and the 25-22 win.
The second set was a battle for the first half as the two teams were knotted at 9-9. Gering then went up 15-9 after five points from Winkler and led 18-13 after a Kyla Knight kill. Scottsbluff battled back as Foote served three points to bring the Bearcats to within one, 18-17. Gering went back in front 24-19 and won 25-20.
Gering had a slow start in the third set as well. Scottsbluff jumped to a 7-6 lead after two Foote points and led 18-16 after two Tierra West points. Scottsbluff pushed the lead to 21-18 after a Izzy Wright points. Maddie Ray changed that with a kill and then Boggs served four points for a 23-21 lead.
Scottsbluff came back to tie the third set at 23-23 after back-to-back Foote kills. Gering went back in front at 24-23 only to let Scottsbluff tie things at 24. Kennie Gable served the final point to give Gering the 26-24 win.
After Ray's 15 kills for the Bulldogs, Knight and Pszanka each had seven kills followed by four each from Cami Newman and Alex Gonzalez-Orozco. Gable finished with 31 digs and three aces while Winkler and Gonzalez-Orozco each had 13 digs.
Boggs finished with a double-double on the night with 12 digs and 22 assists. She also had two aces and three kills. Ray also had three blocks in the win.
Scottsbluff was paced by Foote and Payton Burda each with eight kills. Quincy Johnson tallied five kills while Paige Home and West each had three.
Megan Bewley had 10 set assists while Gracee Micheal had 16 set assists and seven digs. Cali Wright finished with 20 digs while Izzy Wright had five and Foote had four.
Be the first to know
Get local news delivered to your inbox!