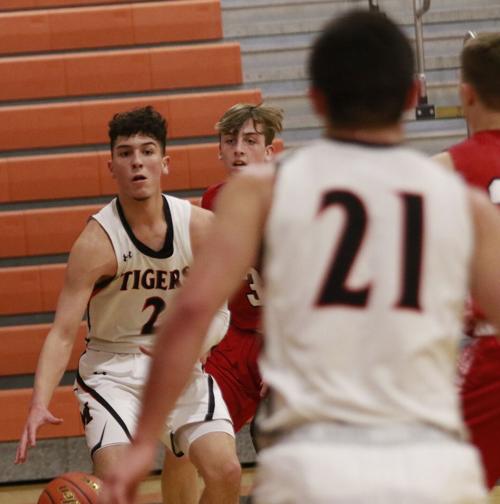 MITCHELL — The Mitchell boys basketball kept its poise to take a comeback win over Sidney, 72-64.
With 3:57 left in the fourth quarter, senior Francisco Barrios buried two free throws to give Mitchell its first lead of the game at 61-59.
Sidney jumped out to an early lead taking a 16-12 lead in the first quarter of play. Sidney scored 18 in the second to maintain a slim 34-31 lead going into halftime.
Both teams put up 19 points in the third helping the Raiders maintain its three point lead at 53-50 heading into the final frame.
A big fourth quarter for Austin Thyne and Barrios helped the Tigers put up 22 points in the quarter. Thyne puts 11 of his game-high 28 points in the fourth, and Barrios scored six all from the charity stripe including the two that gave Mitchell the lead.
After Barrios gave the Tigers the lead, Thyne extended the lead to 63-59 scoring in the paint and drawing a foul, but failed to nail the free throw.
Connor Hartzler scored with 2:35 left to play to bring Sidney to within two points at 63-61.
Jaron Anderson hit a key free throw with 2:25 to play giving Mitchell the 64-61 lead.
Sidney was called for charging on its next two possessions that help swung the momentum for Mitchell the rest of the way. Mitchell scored the last seven points — all from the free throw line — to close out the win.
Thyne led Mitchell with 28 points and Barrios scored 17.
Sawyer Dickman had 20 points to lead the Raiders. Dylan Gunkel also scored in double figures for Sidney putting up 11 points in the contest.
Barrios said his team never once doubted itself as they battled back.
"Everyone on the team is strong," he said. "We know what we can do."
Barrios said the Tigers got off to a slow start.
"We just came out a little, a little soft, I would say, tonight, we just didn't have the energy. Through the second half we just built (our energy) back up. We just started rolling, and once we got there we knew that we could get it done."
Mitchell is back in action on Thursday as they host the Torrington Trailblazers. Sidney travels to Bridgeport on Thursday.
Mitchell 12 19 19 22 — 72
Sawyer Dickman 20, Zak Burke 8, Wyatt Heckenlively 4, Jaeden Dillehay 6, Micah Schneider 4, Connor Hartzler 8, Dylan Gunkel 11, Cam Leeling 3.
Francisco Barrios 17, Austin Thyne 28, Francisco Alvizar 2, Jaren Anderson 8, Carter Reisig 9, Rylan Aguallo 8.