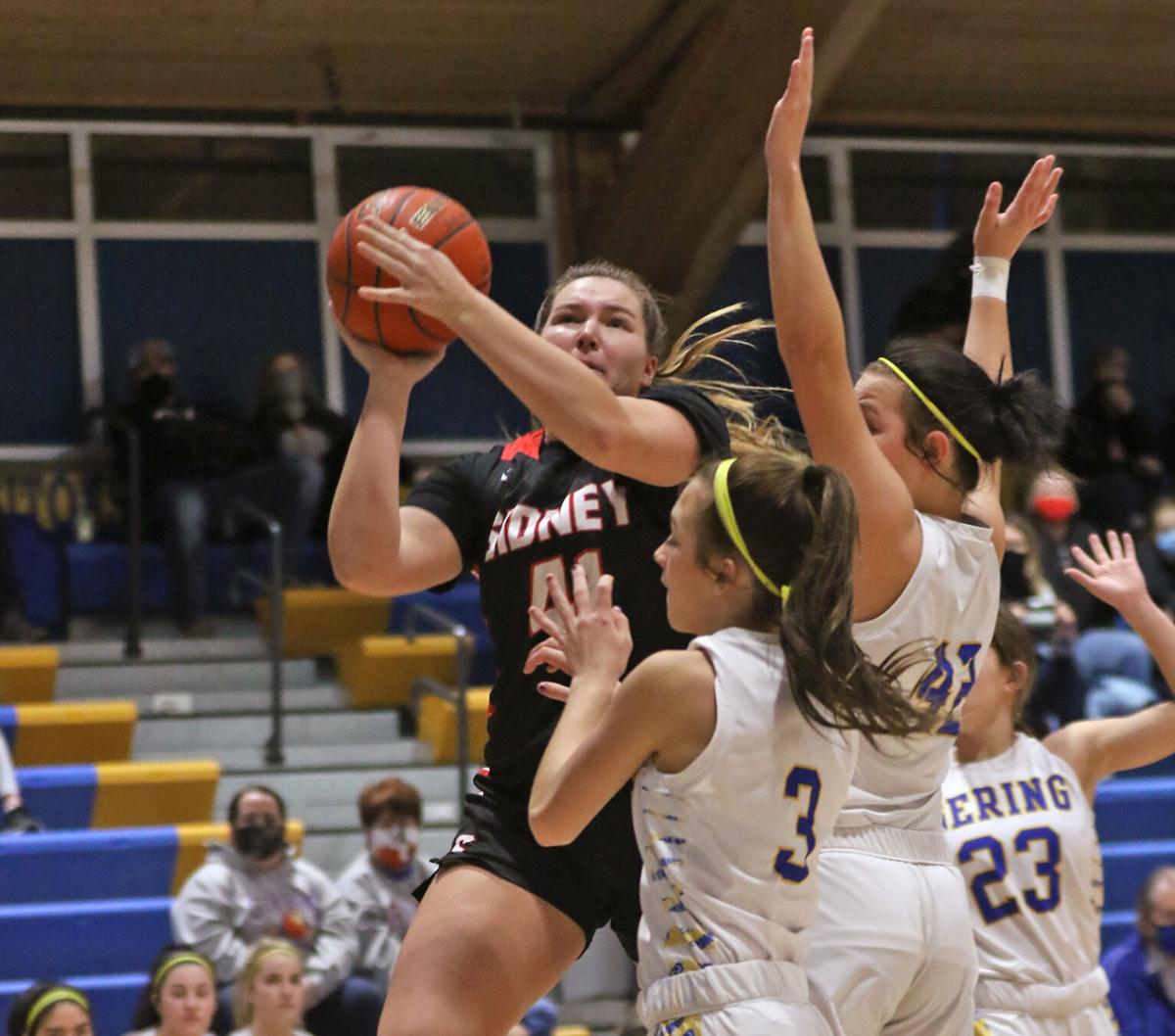 The Sidney girls used an 11-0 run in the second quarter and then held off a Gering comeback in claiming a 51-43 win Friday evening at Gering High School.
Sidney had a balanced scoring attack with eight players reaching the scoring column with three in double figures. Alecca Campbell led the way with 13 points followed by Karly Sylvester and Morgan Jaggers each with 10 points.
Sidney coach Tyler Shaw said his team had the runs when they needed to preserve the win.
"I thought we did some good things offensively and defensively at times," Shaw said. "We did a decent job of attacking the rim at times. We kind of got a little loose in the fourth quarter with the ball and Gering capitalized on it. But in general, I am proud of the girls' effort in sticking together in a tough win at a tough place to play."
Sidney's win was highlighted with a strong second quarter where they offset a Gering 12-11 lead after a Sydnee Winkler trey and went on an 11-0 run to lead 22-11 that was highlighted by a 3-pointer by Jaggers and an old-fashioned 3-point play by Campbell to lead 28-18 at halftime.
Shaw said that 11-0 run was crucial.
"That 11-0 run was a nice run for us," Shaw said. "That was awesome to see the girls come together and play together."
Gering coach Steve Land said his team had a breakdown in the second quarter and that proved to be the difference in the game.
"We talked to the girls after the game about that where we can't give up that," Land said. "I think we were unorganized on offense for a short time and they capitalized getting some fast-break points. They hit a three during that stretch. That is when it [the game] separated. We maintained it and had a furious run at the end, cutting it to seven points and we could have cut it to five or four. They took a timeout and regrouped."
The first eight minutes was a battle. Sidney took a 5-1 lead on buckets by Campbell and Jaggers. Gering bounced back to get three points from Cloey Fries and a bucket by Carleigh Pszanka for a 6-5 lead. Sidney went on a 5-0 run to lead 10-8 after one.
Gering came out in the second quarter and took a 12-11 lead on Winkler's trey before Sidney's 11-0 run that helped the Red Raiders lead 28-18 at halftime.
The third quarter saw Sidney jump out to a 35-22 lead before Gering went on a 6-0 run behind four points from Fries and a bucket by Winkler to cut the deficit to 35-28. Sidney led 37-29 and finished off the third period on a 6-0 run that saw a bucket by Jersie Misegadis and four free throws to lead 43-29.
Gering made a run in the fourth quarter, outscoring Sidney 18-10. The Bulldogs sliced the lead to seven, 44-37 on a Madison Seiler trey. Sidney answered right back on buckets by Jaggers and Reese Riddle to lead by 11, 48-37. Gering fought right back slicing the lead to 48-41 on a Seiler steal and bucket. Late in the game, Seiler got the Sidney deficit to six points, 49-43 on a steal. Sidney sealed the win with two free throws by Sylvester.
While Sidney had three players in double figures, Gering had just one. Winkler led the Bulldogs with 14 points followed by Fries with nine and Seiler with seven.
Sidney will be back in action Saturday when they host McCook before traveling to face Mitchell on Tuesday.
Gering was scheduled to travel to Newcastle, Wyoming, on Saturday, but that game was canceled. The Bulldogs will next be in action Friday when they host Gordon-Rushville followed by a home contest against Campbell County that they added on Saturday.
Brynna Ross 5, Morgan Jaggers 10, Reese Riddle 6, Reagan Biesecker 3, Alecca Campbell 13, Jersie Misegadis 2, Emilee Wieser 2, Karly Sylvester 10.
Sydnee Winkler 14, Kiara Aguallo 4, Cloey Fries 9, Brylee Dean 3, Jaslyn Ybarra 1, Madison Seiler 7, Carleigh Pszanka 5.