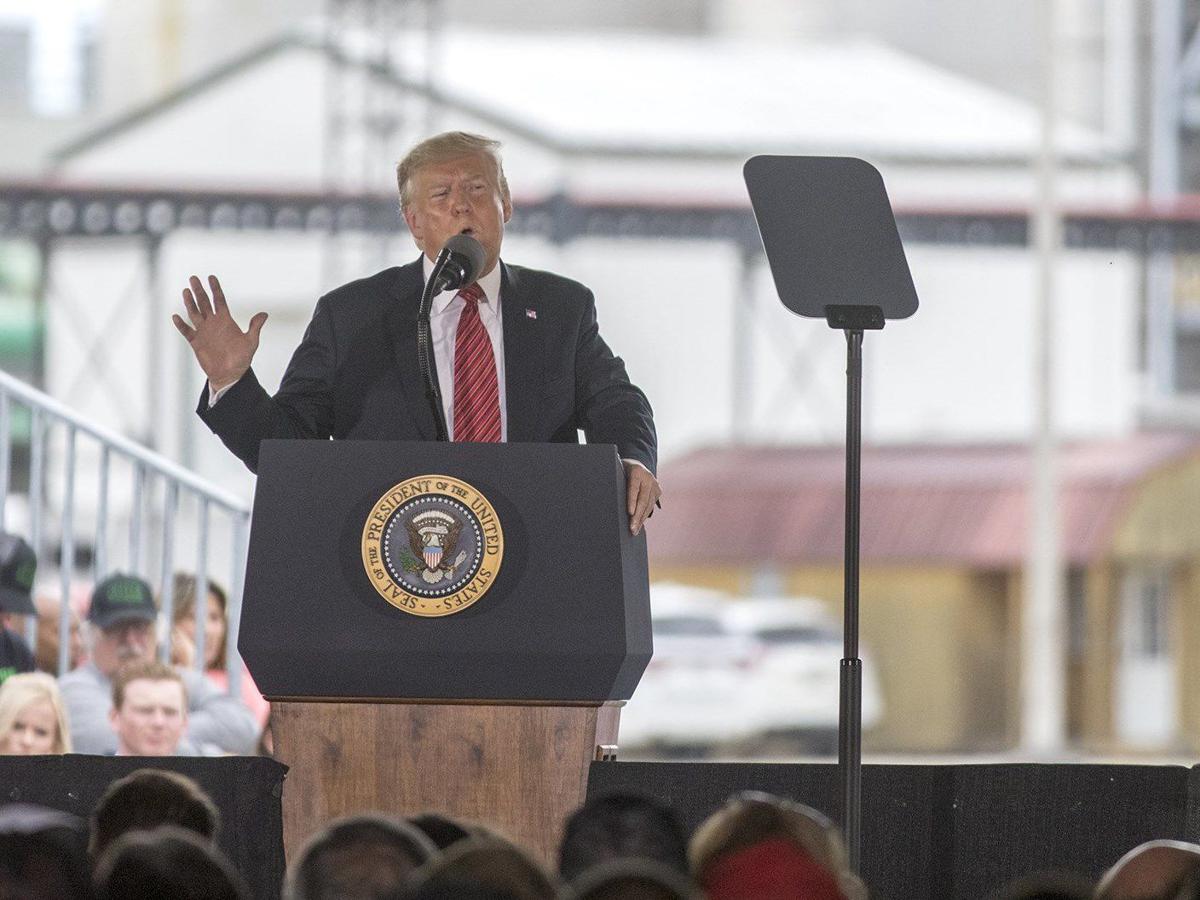 LINCOLN — To hear President Donald Trump tell it, Big Ten football wasn't coming back this fall without his involvement.
What's more, he wasn't going to get involved until his challenger in the upcoming election, Joe Biden, ran an ad on Aug. 28 featuring empty Big Ten football stadiums with the tagline "Trump Put America On the Sidelines."
Trump, speaking Thursday on a sports radio show called Outkick, said the ad was "a lie."
"I saw the ad and that's actually what got me into gear," Trump said.
Four days later on Sept. 1, Trump was on the phone with Big Ten Commissioner Kevin Warren and tweeting to the world that Big Ten football was "on the one-yard line."
The league returns to play Oct. 24. According to all members on a league conference call Wednesday, the key reason revolved around scientific advances related to daily antigen testing. Big Ten doctors believe that will reduce the infectiousness among players and eliminate the need for rigorous contact tracing because the tests are sensitive enough to detect COVID-19 before people become contagious.
"For me, it wasn't about political pressure, money, lawsuits, or what everyone else was doing," said Northwestern University President Morton Schapiro, chair of the Big Ten Council of Presidents and Chancellors. "It was the unanimous opinion of our medical experts that evolved over the course of weeks."
Trump's take? Big Ten football was "dead" until his phone call.
"It was dead, it was totally dead," Trump said on Outkick. "And I told my people, 'Look, we've got to call, who am I going to call, who's the head of it?' And it turned out it was Kevin Warren, who really turned out to be very open about it. And I said, 'Kevin, look, we'll help you with testing, we'll get you everything that you need, but you've got to get it back for those states, those states want it.' They're real football states, as you can understand, and great teams."
When asked directly about the call Wednesday, Warren largely sidestepped the question.
"It was productive and interesting," Warren said. "My whole focus here, as I understand, what was important for me, when we postponed the season, my No. 1 focus was what could we do collectively, what we could do in a transparent manner, and what I can do personally to create an environment to allow our student-athletes to get back to playing the sports they love in a healthy and safe manner. It was a productive call, and I'm always interested and willing to help, regardless of the level that they can help in. I had a good conversation and a very respectful conversation."
On Wednesday and Thursday, Trump referenced assistance from his director of the Office of Public Liaison, Tim Pataki, who over the last several weeks made more than "300 calls" — to whom, Trump didn't make clear. Pataki is a former Ohio State lacrosse player who set up the call between Trump and Warren, according to the New York Times. In the Times interview conducted late last week, Warren said he wanted to "listen, to learn and reiterate that the most important item that the Big Ten Conference continues to focus on is the health and safety of our student-athletes."
Trump said in the Outkick interview that he reviewed testing options with Warren on the call, including some the Big Ten already knew about. The league has purchased enough tests — set to be delivered to league schools no later than Sept. 30 — to monitor athletes, coaches and support staff on a daily basis. The Big Ten did not announce the company from which it purchased tests.
As Trump took credit over the last 48 hours — and gave some credit to Warren — several journalists bristled. A USA Today sports columnist wrote the Big Ten "got played" by Trump.
"Whether they like it or not, Trump is going to take a political victory lap at their expense," Dan Wolken wrote. "It's going to be part of his stump speech going forward. It's almost certainly going to come up later this month at the presidential debates. When Big Ten football happens every Saturday, you can be sure the Twitter account of the commander-in-chief is going to be a font of self-congratulations."
The Big Ten includes many key swing states in the upcoming 2020 election, including Iowa, Michigan, Wisconsin, Pennsylvania, Minnesota and Ohio. Poll analysis from FiveThirtyEight indicates that Trump leads in Iowa and Ohio while Biden leads in the other four. All of them remain up for grabs, though.
In a recent interview with The World-Herald, UNL political science professor John Hibbing said there's a small chance Trump could get a boost if the Big Ten returned to play.
"To take one probably unlikely hypothetical, if it really did appear that Trump rode in on the white horse and saved Big Ten football, I suppose in a super-close race — as we expect a lot of these states to be — it could potentially make a difference," Hibbing said.
No one in the Big Ten had indicated Trump saved the league's season. Trump is saying it, though.
"We did it, we absolutely did it," Trump said. "If we didn't get involved, you wouldn't even be talking about Big Ten right now. They had no chance of playing, they weren't going to play."
Be the first to know
Get local news delivered to your inbox!