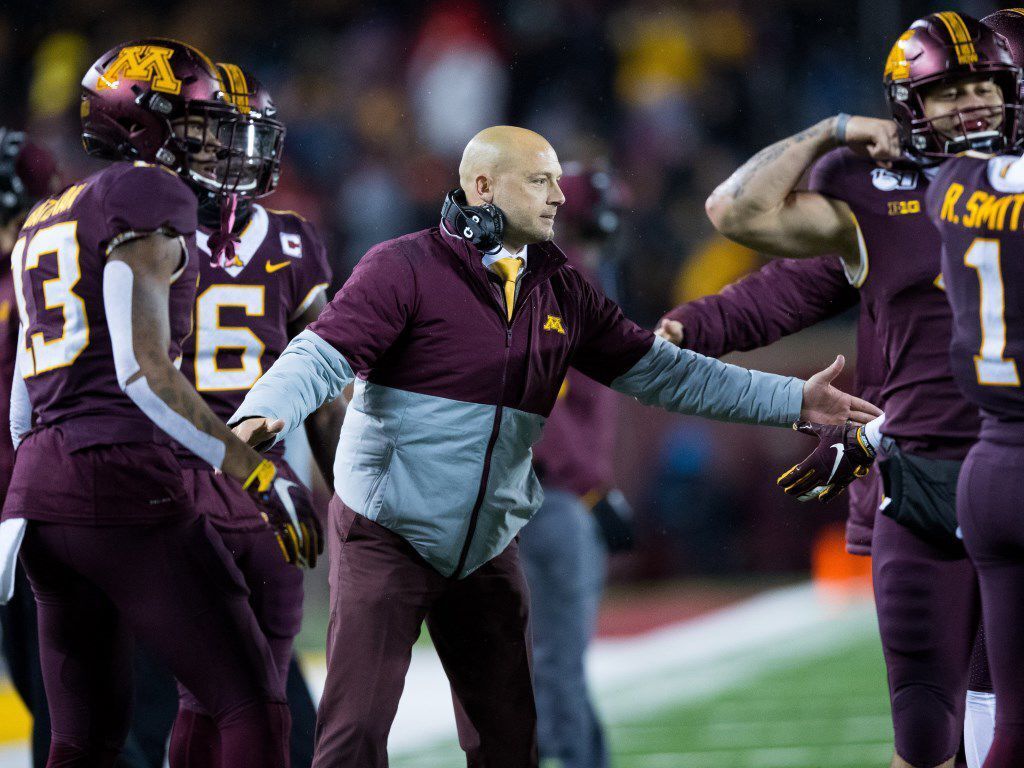 LINCOLN — Friday Nights with (P.J.) Fleck. Are you ready?
The Big Ten is. Of its five Friday night games, Minnesota got three.
The Gophers have won 13 of their last 15, and Fleck — who said two months ago every member of his team agreed with the Big Ten's decision to postpone the season — is a nice promotional poster for a league that hired its own PR firm after weeks of criticism from both ends of the COVID-19 spectrum.
Fleck is reliably quotable in a multi-level marketing kind of way. He's a fan of league commissioner Kevin Warren, who once worked for the Minnesota Vikings. He has a lot of catchphrases, but the central idea — Row The Boat — has a powerful backstory related to the death of his infant son.
The old school Big Ten was Woody and Bo. The 1990s and 2000s were defined by five Heisman Trophy winners and a series of NFL-ready quarterbacks. Recent years, and into the next decade, have been about the new-school head coaches. James Franklin. Ryan Day. Scott Frost. Pat Fitzgerald. Jim Harbaugh, sort of. And Fleck, who gets Harbaugh and Michigan at home in Week One on ABC.
Six days later, Minnesota heads to woebegone Maryland for an ESPN primetime game. On Nov. 13 and 20, players will have to bring their hand-warmers as the Gophers host Iowa and Purdue in back-to-back Friday night tilts.
How did the Gophers get a third Friday night game on Nov. 20? Hard to say. Nebraska wanted that spot (when it hosts Illinois) to coincide with the start of finals week the following day. The Minnesota-Purdue game is on BTN. It's fair to assume Huskers-Illini may end up on that network, as well.
Perhaps it pays to be kind to the Big Ten. Minnesota quarterback Tanner Morgan on Aug. 17 commended the conference because it "actually put player health and safety first, like they said all along."
The state reported 564 cases on Aug. 17. It has been over 1,000 cases daily for the last week. The daily antigen testing procedures should be good enough to eliminate the kind of outbreaks that have hit Baylor this season — so long as Minnesota players don't contract the virus while out and about.
A featured spot on Big Ten Friday night football would suggest the league is counting on Minnesota to stay clean.
The Gophers appear to be in flux related to some of their players opting out of the season. Fleck hinted to the likelihood of it on Oct. 5 without naming names. One player he got back, receiver Rashod Bateman, traded in his No. 13 jersey for No. 0 to show Minnesota's zero-tolerance policy for racism.
"With everything going on in the world right now with social injustice, I feel like it was very important for me to use my platform while I can," Bateman said on BTN. "And I was blessed to have it."
Fleck underlined how Bateman can change a game.
"Having him in there is critical," Fleck said during a press conference. "It's critical to have a player like that where (defenders) have to focus on. They either got to put more people in the box to stop the run, or put another person over him and to take him out of the box to stop him in the pass game, which I think Rashod benefited a little bit of last year."
Indeed it became hard for defenses to cover Bateman like the premier receiver he is. The Gophers ran the ball so well — especially in league play — that safeties had to drop down to defend the run. Once a defense did that, Minnesota had two elite pass-catchers — Bateman and Tyler Johnson, now in the NFL — to exploit what remained.
Johnson's departure should mean more attention on Bateman, at least at first, with extra opportunities for the tight ends and receiver Chris Autman-Bell. Morgan, at quarterback, spun it well last season.
With Wisconsin's quarterback situation in question — senior starter Jack Coan is on crutches after foot surgery — Minnesota may become the trendy pick in the West. Its hardest crossover game comes right out of the chute, at home. Win there, and the other crossover, Maryland, shouldn't be much of a challenge.
Minnesota's Friday night showcase slot indicates the TV partners, and the league, view Fleck and his Gophers as viable championship candidates.
» Ohio State quarterback Justin Fields has all the physical tools. Now he wants to be "coach on the field."
"I want to know why Coach (Ryan) Day is calling certain plays on down and distance, or why he's doing 'this' in this particular situation," Fields told reporters. "So just talking to him, and asking him those questions, I feel like I'm able to learn more that way and think more like him. … I'm just trying to ask as many questions as possible."
» Nebraska coach Scott Frost isn't so sure Big Ten defenses will struggle the same way ACC and SEC defenses have to start the 2020 season. (The Big 12's defensive struggles are annual and persistent.)
"There's a lot of really good defenses in our league, so we'll find out in a couple weeks," Frost said.
The Big Ten had four of the nation's top 10 scoring defenses in 2019.
» Iowa's last three starting quarterbacks — Jake Rudock, CJ Beathard and Nate Stanley — were all darn good. The Hawkeyes seem to believe Spencer Petras can be just as good.
"We're really pleased with what we know about him, what we have seen of him on the field, off the field, the way he works with his teammates," Iowa coach Kirk Ferentz said in a press conference last week.
Iowa probably has its best collection of backs and receivers in years.
"Outside of the quarterback where we're inexperienced, our skill positions are experienced and we feel good about the guys playing there and hopefully we'll have a balanced attack," Ferentz said.
---
The 2020 Nebraska football schedule
Be the first to know
Get local news delivered to your inbox!