LINCOLN — The cloud of devastation and uncertainty was overwhelming as student-athletes sobbed in a hotel lobby in Lexington, Kentucky, attempting to come to terms with what just happened.
Nebraska rifle coach Rachel Martin said she wondered what caused this distraught and heartache as she walked through the lobby.
Her team worked tirelessly to get to the 2020 NCAA Rifle championship, hosted by the University of Kentucky. Specifically, NU rifle had to adjust to a new coach, losing teammates along the way, and had to rebuild a completely different, but better, team dynamic, according to Martin.
"They, 100%, earned their spot to be there," Martin said.
She looked at her phone after stepping into the elevator and there it was.
Her players rode the bus back to Lincoln fighting back tears of disappointment and heartbreak. Little did they know, this bus would drop them off in a world where the coronavirus pandemic would change everything.
Most people are familiar with the COVID-19 protocols unique to football and basketball. However, there are 10 spring Olympic sports at Nebraska that tend to fly under the radar. Each sport has specific rules and regulations to keep their student-athletes safe.
Before entering The Husker Bowling Center, like most UNL athletic facilities, each student-athlete is required to complete a survey on EDGE10, an app that monitors COVID-19 symptoms, and get their temperature taken.
The brand-new facility displays the national titles Nebraska's bowling team has won since 1990. It also allows the ten athletes and staff members to spread out and prohibits other University students access while the team is practicing, unlike the previous facility.
"Sometimes when they're actually on the lane bowling, they might pull their mask down below their nose, but the rest of the time, they're basically wearing their mask the whole time," said NU Bowling coach Paul Klempa said.
When it comes to traveling to competitions, Klempa said, his team takes a bus and is able to social distance while wearing masks. Ingredients for the student-athletes to prepare their own breakfast at the hotel are provided. After a day on the lanes, dinner will either be delivered to the hotel or curbside delivery.
The Nebraska Rifle team is also following the same guidelines of not eating in restaurants like they did in previous seasons.
Just like bowling, rifle is a sport that is low risk, meaning there is no contact and the likelihood of the athletes contracting the virus from another team is lower than a high-contact sport like basketball.
Neither the rifle nor bowling team had a student-athlete test positive for COVID the entire fall semester.
For safety purposes, each student-athlete is spaced out while shooting rifle, thus minimizing the changes in the sport when it comes to COVID-19 protocols, according to Martin.
The lanes at the Nebraska Rifle Range, which is located in the lower level of the Military and Naval Sciences building, are roughly four feet apart, according to Martin. One-inch thick, gray plastic dividers have been placed between the student-athletes because they are unable to shoot with their masks on.
Other facilities have a full six feet between the athletes along with clear dividers.
"Most other ranges, you can see each other which is hard sometimes when we're practicing and the girls are used to kind of being in their own bubble," said Martin, who holds the highest air rifle score in Nebraska history. "It's a different range and they actually have to deal with some distractions from the people."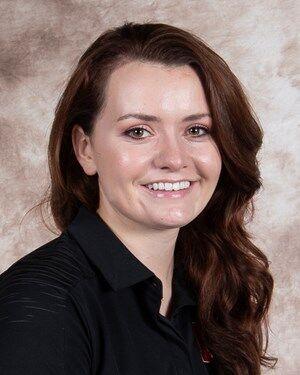 The six student-athletes don't share their equipment, reducing the possibility of spreading COVID.
"Rifle is a very customized sports so each girl has their own rifle that has very specific settings to their body type, their fitness level, even just mentally how they like to shoot," said Martin, who is in her second season as Nebraska's rifle coach after coaching at Army West Point.
Most UNL teams receive COVID-19 Antigen tests at least three times a week along with tests three days before competitions. All teams must follow Big Ten and the University's protocols but rifle has another set of protocols to abide by.
"We were in an interesting position this year, because, technically, we are not a Big Ten sport," Martin said. "So within rifle, we set our own conferences so we're part of the Great American Rifle Conference. But since Nebraska is a Big Ten school, we have been following Big Ten guidelines."
Martin said she is extremely grateful for the team's athletic trainer, Julie Tuttle, who ensures the team is following all of the safety measures.
Unlike rifle and bowling, Nebraska's gymnastics teams have more safety precautions due to opposing teams regularly using the same equipment during meets.
"Our student-athletes, obviously are tested, so theoretically, they're all negative. So it's just our student-athletes touching the equipment without sanitizing it," said Husker women's gymnastics coach Heather Brink. "And then when we switch events, then we sanitize everything. And then the next team can use the sanitized equipment at that time."
During meets each team uses their own set of mats that they carry with them from event to event, according to Brink. They also have separate chalk bowls and wear masks when they aren't competing.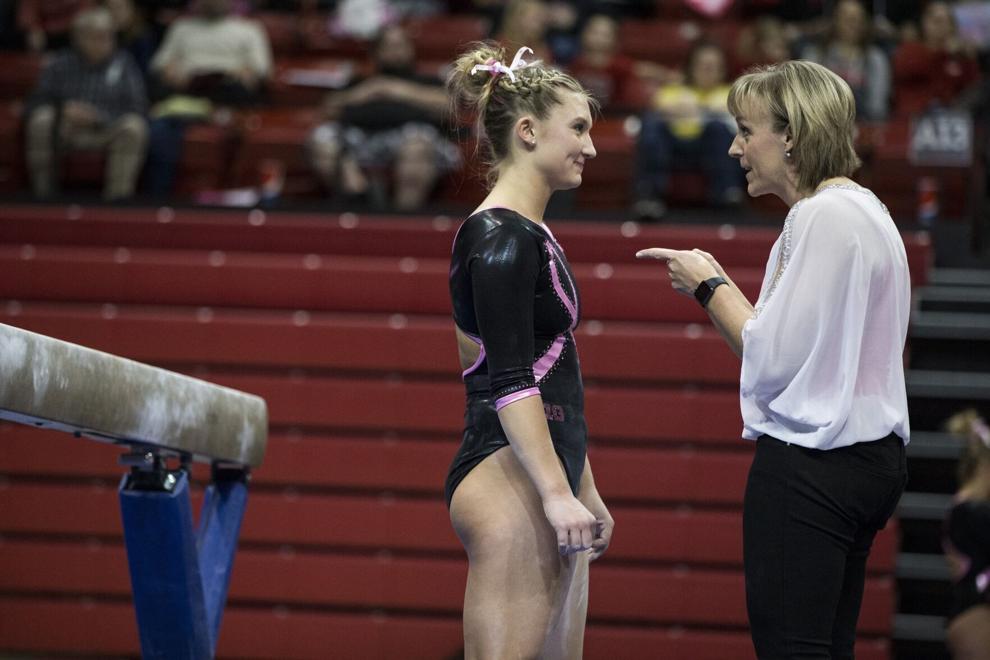 Nebraska's women's gymnastics team received their schedule less than two weeks before their first meet, resulting in the coaches and gymnasts doing preparations now that would usually be done in September, Brink said.
Typically, each women's gymnastics team competes in the Big Ten tournament, which will remain the same. However, whether the team competes during the day or the evening (preferred) depends on their win-loss record.
The Big Ten just held a meeting with the women's gymnastics coaches to discuss adjusting this requirement because of the potential for cancellations due to COVID protocols. Brink said she thinks there will be some mitigation and additional rules.
As for rifle's NCAA championship requirements, there are no adjustments even though some teams were able to compete in the fall.
"There were some teams that got to travel and compete and basically start their regular season," Martin said. "So they started getting scores on the board that would contribute to the qualifying for the championships. We were not allowed to travel or compete."
Martin said she still feels confident that her team, which broke multiple schools records last season, will be able to qualify despite having 70% of their normal season.
The NCAA changed the rule requiring all bowling teams to have competed in 15 competition days to be eligible for the NCAA tournament to four competition days, according to Klempa.
For many months, some teams, like rifle and bowling, were only allowed to practice without knowing when their next competition would be.
"Six months of straight practice is enough to drive you crazy after a while because you need that outlet that only competition provides," Klempa said. "So we've done a couple virtual scrimmages where they're not official."
Martin said her student-athletes are grateful for the opportunity to compete after months of "all work and no play."
"When you get to compete as an athlete, that's a huge reward," Martin said. "Because it is fun and you get to test yourself, and you get to figure out what else you need to work on."
Overall, each team is very thankful for the opportunity to be competing, no matter what that looks like, and for all the people who have dedicated themselves to keeping others safe.
"Be thankful that we've been given this opportunity by the University to go and travel and represent them and compete," Martin said she tells her team. "And then be thankful and respectful for all the staff to do that -- coaches, nutritionists, sports psychologists, athletic trainers, nurses.