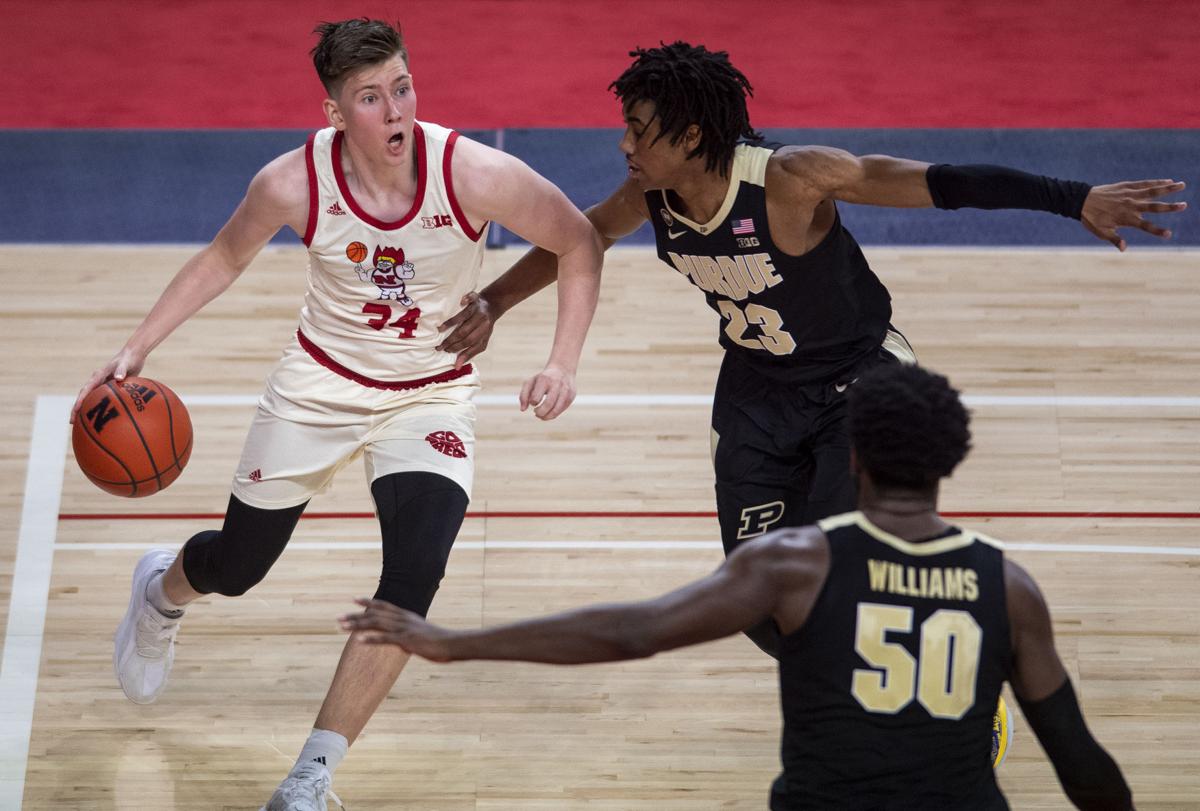 This couldn't have been how Thorir Thorbjarnarson saw his senior season going.
Nebraska has struggled. And the guard from Iceland has struggled right along with the Huskers.
After a breakout junior season in which he was one of the few bright spots in Fred Hoiberg's first year at NU, Thorbjarnarson was poised for an important role as the Huskers upgraded talent and playmaking around him.
He was set to be a floor-spacing shooter, a threat as a smart cutter and a solid defender who was always in the right spot. But after starting Nebraska's first seven games, Thorbjarnarson moved to the bench. His shot struggled. Nebraska's losses piled up.
Long a fan favorite, Thorbjarnarson was on a path to see this season end in an empty Pinnacle Bank Arena. Perhaps he would be on the court late in a game at the end of the season, wondering what happened.
"When things are not going great, you sometimes tend to lose confidence a little bit," Thorbjarnarson said Saturday night. "Your mind kind of starts going somewhere."
But as Nebraska has reached a point where there is little to play for but pride and building for next season, Thorbjarnarson has begun to turn a corner.
Over his last five games, the 6-foot-2, 202-pounder is shooting 45% from three-point range. In Nebraska's latest contest, he scored a season-high nine points on a season-high three three-pointers in a season-high six attempts.
As Nebraska's bench rallied the Huskers to a second-half lead against the Boilermakers, it was Thorbjarnarson in the middle of everything. In addition to his nine points, Thorbjarnarson had four rebounds, four assists, two blocked shots and a steal.
For a while, he looked like the Thor of old.
"I've been here for a long time. And something that you learn is that you've got to always stay ready. No matter how much you play, or what game you get in, you've always got to be ready," Thorbjarnarson said Saturday night.
"Especially with this season and how it's gone — after COVID we're coming back, we're playing day after day after day, so we've always got to be ready. You never know when your opportunity is going to come, and I think my mindset is, when I'm on the court, I've got to show that I belong on the court."
It's been work to stay ready. Prior to the recent five-game stretch, Thorbjarnarson was 6-for-32 from three-point range, including 1-for-11 in Big Ten play. One year after he spent most of the season shooting north of 40% from three-point range before finishing at 37%, Thorbjarnarson's struggles to find his offense were laid bare.
Now, as Nebraska (5-15, 1-12 Big Ten) prepares to host Penn State at 7 p.m. Tuesday, Thorbjarnarson might finally be emerging as the player Nebraska needed.
"He works, guys. He's a guy that's in the gym a lot," Hoiberg said after the Purdue game. "I had a good meeting with him ... and just told him to keep his confidence and keep looking for opportunities. It was great to see him be aggressive out there."
Thorbjarnarson's 22 minutes against Purdue were his most since playing 24 against Michigan State on Jan. 2. 
And if Nebraska is to salvage something from whatever remains of this season, it very likely could be Thorbjarnarson who helps the Huskers get there.
"Every minute I get, try to get out there and make plays, and I think tonight I got open a little more, and I think I got a little more confident in the game. So I was just looking to create," Thorbjarnarson said. "I've just got to keep building on that, and we've got to keep pushing forward as a team, and we've got to get some wins."