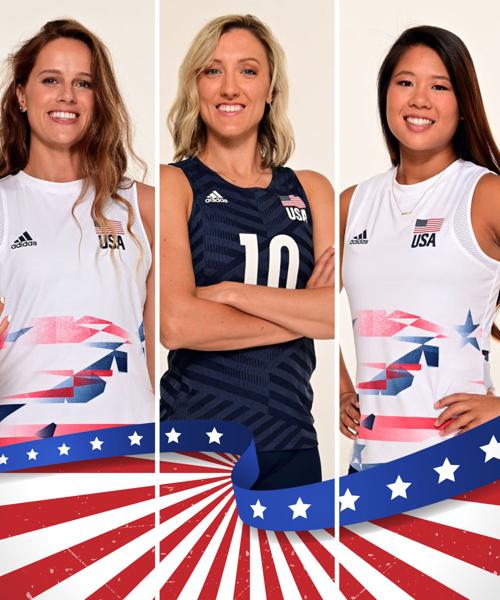 John Cook's motto for the Nebraska volleyball program is "dream big," but what's happening now didn't even seem possible to the Husker coach.
For the Olympics in 2016, and again this year in Tokyo, Nebraska got three former players on the United States women's national team when only 12 make it.
Cook wouldn't have expected there to be three Nebraska players on the team again for another Olympics.
"To have three of the 12 players for two Olympics in a row is pretty epic for a volleyball program," Cook said. "Think about that, that's one quarter of the team."
During the 2016 Games, when the U.S. squad won the bronze medal, Nebraska's Jordan Larson, Kayla Banwarth and Kelsey Robinson were on the team.
This year, Larson and Robinson made the team again and are joined by Justine Wong-Orantes. Nebraska is the most represented university on the team. The U.S. libero for the two straight Olympics will be a Husker, with Banwarth first and now Wong-Orantes.
Just four times in the past 20 years (six Olympics) has a college volleyball program had three players on the U.S. team. Twice it was Nebraska. The others were Long Beach State (2004) and Hawaii (2008).
Nebraska has had a player on the team in five of the last six Olympics — Allison Weston (2000) and Nancy Metcalf (2004) were the others.
Only one college program has put more players on the Olympic team since 2000. Stanford players have 10 appearances, and Nebraska and Long Beach State nine apiece.
The Americans' first match is Saturday against Argentina at 9 p.m. Central. The medal matches are Aug. 7.
Each of the Huskers on the team this season took a different path to the Olympic team, and only briefly crossed paths at Nebraska. Before becoming Larson's Team USA teammate, Wong-Orantes only knew Larson as the volleyball star brought in to hand out the All-America awards during a banquet at the Final Four in 2015.
Larson grew up in the state, was a star in college nearly from the start, and has been one of the best players in the world at both the professional and national team level for the past decade.
"Jordan, she's a once in a generation player," Cook said.
Larson is one of just 13 players to make the U.S. Olympic volleyball team at least three times.
"Justine is such a great story," Cook said. "Remember, we were the only school to offer her a scholarship, and here she is going to represent USA."
Robinson only played one season at Nebraska after transferring from Tennessee. She had one of the great seasons in program history as the Big Ten player of the year in 2013.
When Robinson came to Nebraska, she thought her future after college may be as a professional beach volleyball player. But her time at Nebraska helped her improve her all-around skills and see the potential she could have to play pro volleyball indoors.
"When she came here her whole thing was she was going to go beach," Cook said. "I had her talk with (U.S. coach Karch Kiraly) about going indoor, and she did. Now she's made a lot of money, and she's going to her second Olympics."
Wong-Orantes says it's special to be on a team with three other Huskers.
"I learned a lot in my years at Nebraska, and I think it's opened a lot of doors for me," Wong-Orantes said.
While three players being on the team being from Nebraska isn't a huge emphasis among the U.S. players, Larson can imagine how much it means in Nebraska.
"I think it just goes to show the excellence of the program, and how we continue to produce talent," Larson said. "I think John knows what it takes to be at this level, and that's being an all-around player."
Larson also thinks Nebraska's passionate volleyball fans have helped the U.S. players be ready for the pressure-packed moments during the international tournaments. Larson calls it "failure recovery."
Larson played when the Huskers played at the NU Coliseum, where the 4,000 fans were packed in close to the court and it got really loud. Robinson and Wong-Orantes played at the Devaney Sports Center, where 8,000 spectators attend most matches.
"The crowd also sets you up for success," Larson said. "When you're playing in front of 8,000 the pressure is on, right? People are watching. Are you going to show up, and how are you going to respond in that environment? I think it's about failure recovery and how you perform at a high level in front of a lot of people. I think that sets you up for success on the big stage."
In addition to the three Huskers for Team USA, Sarah Pavan is playing beach volleyball for Canada in the Olympics for the second time.