Is Kayla Caffey the first substitute teacher at a middle school to be asked to sign an autograph?
She certainly has to be on a small list of people in that role to do so.
But it's not every day when one of the stars from the Nebraska volleyball team shows up at your school, so it created a stir of excitement when Caffey walked through the doors at Schoo Middle School in Lincoln last spring to work as a substitute teacher.
Volleyball is a big part of Caffey's life now as a middle blocker for Nebraska, one of the top programs in the nation. The Huskers get 8,000 fans for their matches, and many games are on TV. Caffey will have opportunities to play professionally after college. This may be her final season playing for the Huskers, or she could return for one more season.
But education is in Caffey's future. She plans to be a teacher at the elementary or middle school level. Down the road she may like to be a school administrator.
Caffey has already earned her degree in elementary education from Missouri, where she played before transferring to Nebraska in the summer of 2020. She did her student teaching while she was in Columbia, Missouri.
And now she's on her way to earning her master's degree in teaching, learning and teacher's education. Her focus is early literacy.
Caffey always wanted to find a profession where she could help people. Caffey's mom is a teacher at Chicago Public Schools, and Caffey spent a lot of time in the classroom helping her.
And once Caffey started visiting schools as a college student, she knew she was in the right place.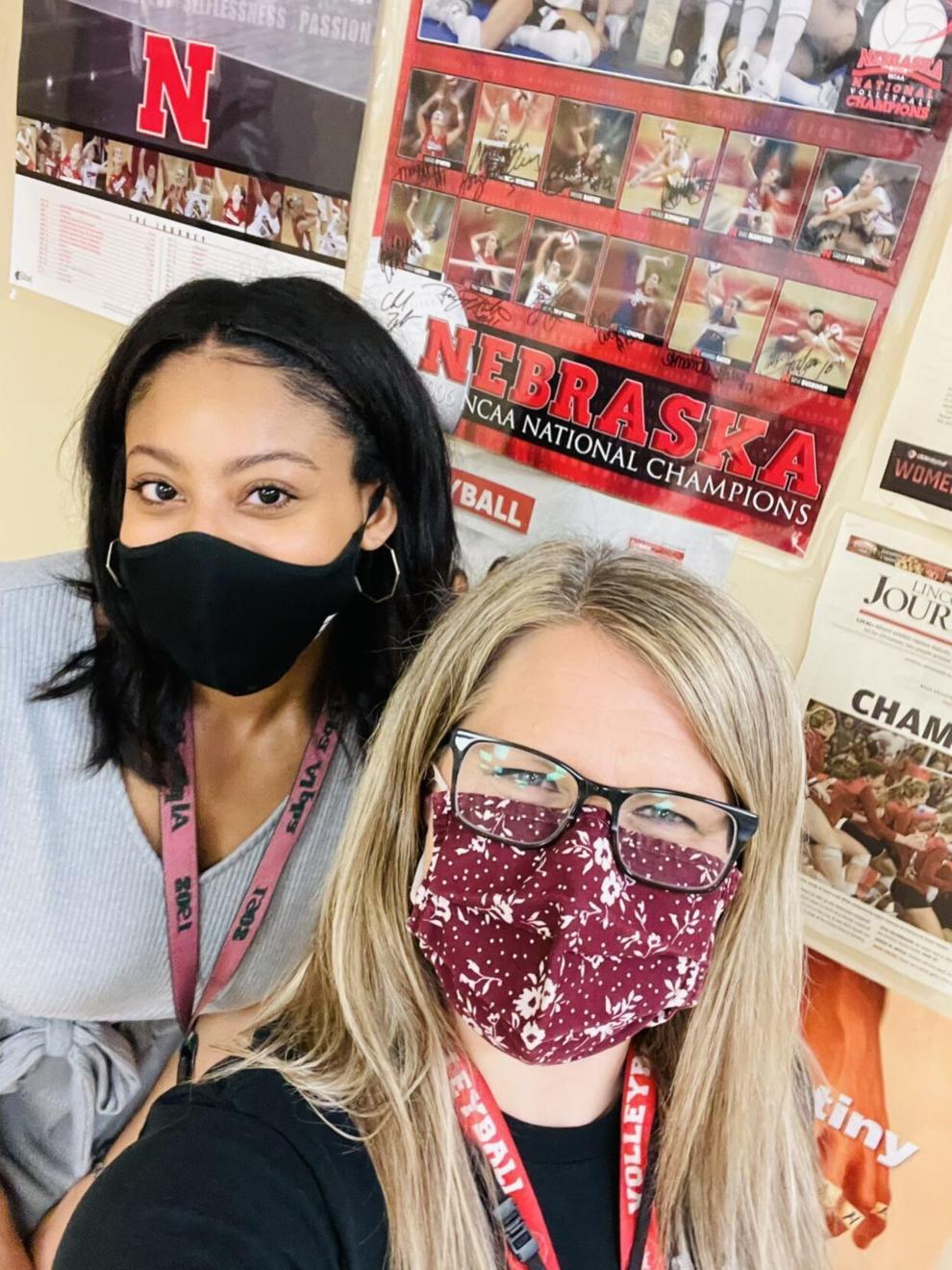 "I knew that was what I wanted to do for the rest of my life," she said.
Last spring, Caffey was a substitute teacher at four schools in the north and central part of the city — McPhee Elementary, Pershing Elementary, Park Middle School and Schoo.
"The season was over, and I missed being in the classroom," said Caffey of taking on some part-time work. "The whole time that I was at Mizzou, that's part of their program. They want to make sure that you're in the classroom."
Some of the students at Schoo already knew who she was.
There are some skills in volleyball that are more difficult to recognize and appreciate.
But what Caffey does is pretty easy to see and exciting. She jumps really high, and then seems to hang in the air looking where to hit. Then she does so quickly, hard and with great success. She's ranked No. 7 in the Big Ten Conference for hitting percentage.
At Schoo, students asked Caffey to sign autographs.
"It's crazy," Caffey said. "Everyone knows who I am, so it's kind of weird. I'm not really like the teacher, like Miss Caffey. I'm more like, 'Ah, that's Kayla Caffey the volleyball player.' It's lots of autographs and pictures in between classes. But it's really fun, too. I just feel really warm and welcomed here in Lincoln when I go into a building."
Caffey was a substitute teacher for about 10 days last school year.
She taught science, math, English and PE. Like other teachers, she was teaching both remote and in-person students, which was a new challenge.
Her student teaching was in a second-grade classroom. But after working at Schoo she may consider being a middle school teacher. She felt comfortable there.
"The culture was a very diverse group that I found at Schoo," Caffey said. "And that's something that I want to do. I want to teach in urban settings with diverse populations."
Now Caffey has a special spot in her heart for Schoo, and has donated some sports apparel to be used by the students there.
Briefly
* With four matches to go in the conference season the Big Ten title is still very much up for grabs. Nebraska and Wisconsin are tied for first place at 13-3, with three teams (Purdue, Penn State and Minnesota) each just one match back. Nebraska still has to play three matches against top-15 teams — No. 15 Penn State on Friday, and No. 5 Wisconsin and No. 6 Purdue next week.
* Nebraska's Lexi Sun was named to the CoSIDA Academic all-district second team. She carried a 3.51 undergraduate grade-point average and has a 3.67 GPA in her graduate program (integrated media communications).