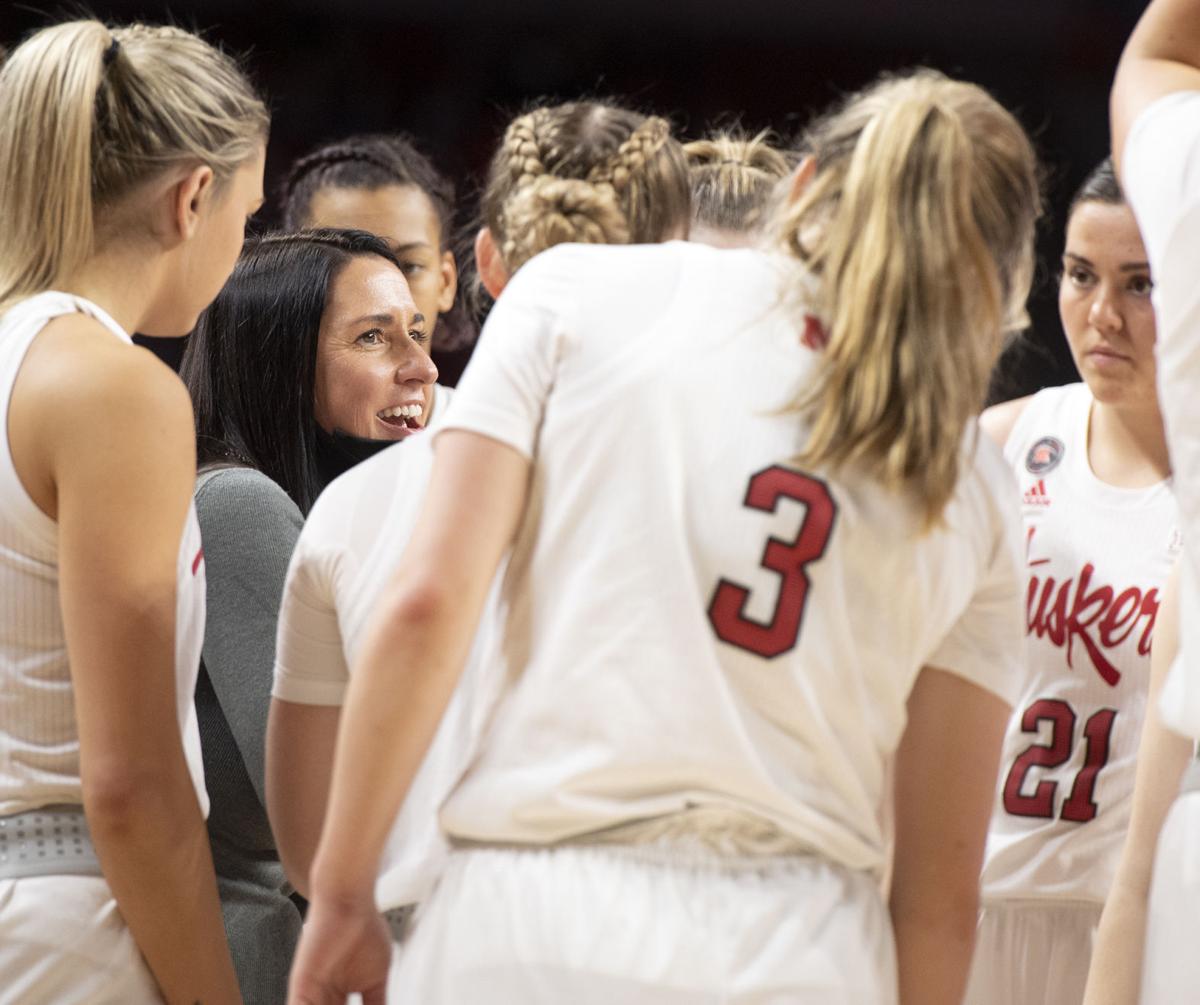 There are only a few people in Nebraska who have coached women's basketball in the Big Ten Conference.
Amy Williams has, so the Husker coach knows what's coming in a few weeks when Nebraska starts an 18-game Big Ten schedule in a conference that currently has five ranked teams — Maryland, Indiana, Iowa, Michigan and Ohio State.
Williams knows not to get as excited about Nebraska's 5-0 record and string of 100-point games to start the season as some fans are. While Nebraska is trending to be better than last season's 13-13 squad, bigger challenges are ahead.
But Husker fans are having fun now, and there's nothing wrong with that. About 2½ weeks into the season, the Huskers lead the 340 teams in NCAA Division I in four categories — scoring offense (95.6), scoring margin (45.6), defensive rebounds (36.4 per game) and assist-to-turnover ratio (1.9).
"A little early, I think, to be talking about all of those standings in statistical categories," Williams said. "But we are excited about how we handled the five-game homestand."
In ESPN's way-too-early NCAA Tournament projections, Nebraska is in, but the Huskers are on the bubble. Nebraska isn't receiving any votes in the Associated Press poll.
Nebraska's wins have come against opponents that are a combined 4-19, and none of Nebraska's first five opponents currently have a winning record.
But the level of competition is about to go up when the Huskers play two games this weekend in a tournament in San Diego. The Huskers play Drexel (3-1) at 6 p.m. on Friday. They'll play either San Diego (3-1) or Fresno State (2-2) on Saturday.
Drexel will be Nebraska's first opponent this season that qualified for the NCAA Tournament last season.
Nebraska plays undefeated Wake Forest next week.
Jaz Shelley, Nebraska's second-leading scorer (11.2 points), says the Huskers are eager to prove themselves against stronger teams.
"I think we're all super-excited for these games coming up," Shelley said. "I think Creighton was a really good test, and we know that we can fight now. That's really going to help going to San Diego. … These games right now are good to get our confidence up, but these tough ones are the ones we want to play."
Nebraska has had a size advantage in a few of its games, and has had success with a strong inside-outside game.
"So say they're guarding our shooters, we can always go inside and the bigs know it's their time to work," Shelley said. "Or if the bigs are getting double-teamed, then we have the shooters on the outside. We think we do that really well."
More so than a few lopsided wins, Williams is excited about Nebraska's rank as No. 2 in the nation in assists per game (22.4). And that Nebraska's balance on offense means that nine different players already have at least one game scoring in double figures.
"I think our team chemistry really helps us out a lot," sophomore guard Ashley Scoggin said. "We always know if one of us doesn't have something, we're constantly moving and we constantly have multiple options."
Even when the opponents get better, Williams is confident the Husker can still win because they've bought into what has needed to happen in each game to be successful.
In different games those need-to-wins area have included rebounding, transition defense and three-point defense.
"We've proven ourselves in these first few games that we can adjust to the things that we need to be great at and still be successful," Williams said.
During its first five games Nebraska has also got a lot of playing time for its bench players. During last week's 113-58 win against North Carolina Central five players off the bench played about 17 minutes apiece — nearly a full half.
Nebraska's bench players have gained a lot of experience and confidence during the first two weeks of the season, Williams said.
"There are some things that game minutes only can teach," she said. "For our players and our bench and everybody to be getting those game minutes to kind of learn those lessons, it's a really valuable thing."