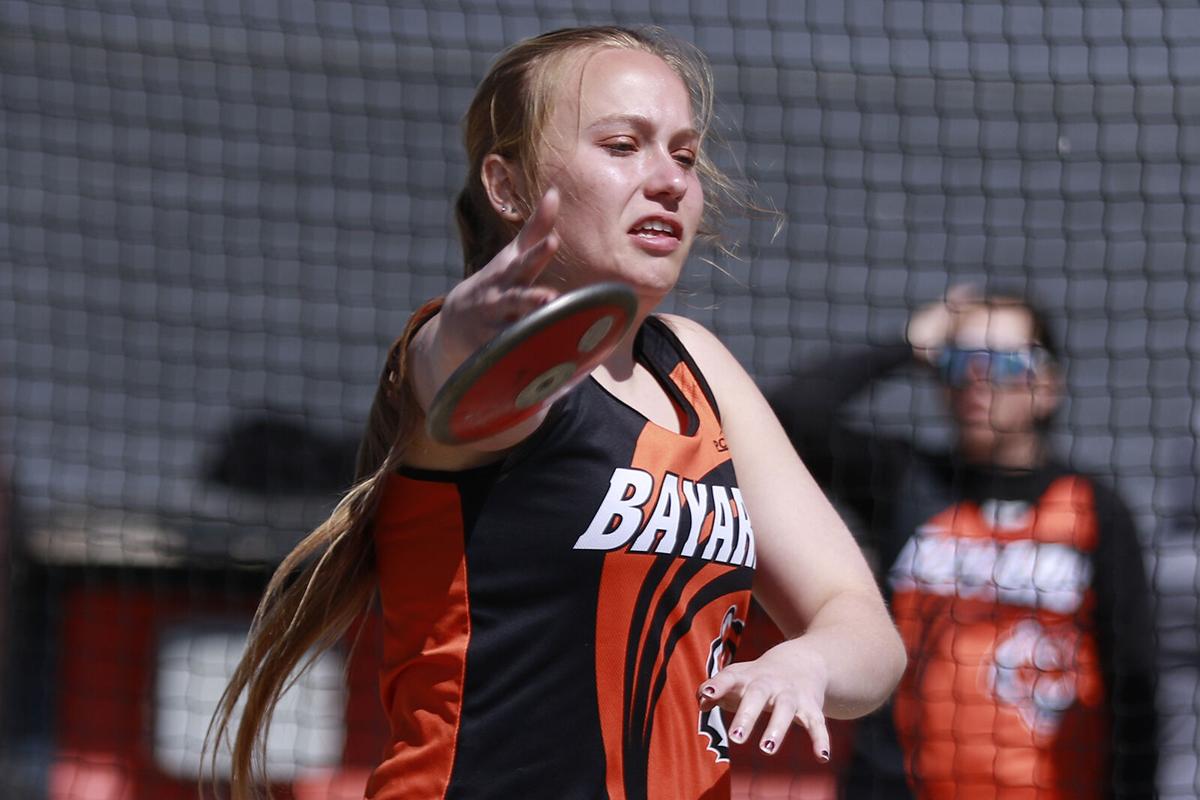 BAYARD — The Leyton boys and Burns, Wyoming, girls claim the team titles at the Bayard C-D Invitational on Saturay.
The Leyton boys edged Burns 80-72. The Warriors got first-place finishes from Zackry Henke in the shot put, Dominick Russ in the long jump and the 4x100-meter relay team of Matthew Shepard, K.J. Bush, Mason Reimers and Russ. Henke also claimed third in the discus.
Justin Ernest finished second in the 800 with a time of 2:10.27 and Scout Gamble finished third in the 110 hurdles.
Emma Gonzalez took first place finishes in the 1,600 and 3,200 to lead the Burns girls team. Gonzalez finished the 1,600 in 5:41.31 and ran the 3,200 in 11:54.42.
Rylee Ward and Jaden Gipfert finished first and second in the 100-meter hurdles. the 4x800 relay team of Layne Burnett, Gonzalez, Madison Thompson and Saria Eklund finished with the top time at 10:54.65. Ward also claimed the pole vault title clearing 8-feet, 6-inches.
The Bayard girls finished second behind first place finishes by Dani Harter in the 100 and 200, and Joslyn Hopkins ended second in the triple jump.
7. Lingle-Fort Laramie 50
4. Lingle-Fort Laramie 43
100 Meters Varsity - Finals x
1, Cade Goings, 11.84, Gordon-Rushville, 2, Caden Lewis, 11.94, Morrill; 3, Ryan Clapper, 11.97, Southeast; 4, Javon Coyle, 12.06, Potter-Dix Public; 5, Cooper Hill, 12.10, Lingle-Fort Laramie
200 Meters Varsity - Finals x
1, Ryan Clapper, 23.85, Southeast, 2, Daemon Avilez, 24.39, Bayard; 3, Brian Turek, 24.41, Hemingford; 4, Mason Reimers, 24.53, Leyton; 5, Javon Coyle, 24.71, Potter-Dix Public
400 Meters Varsity - Finals x
1, Kyland Fuller, 53.12, Lingle-Fort Laramie, 2, Elijah Jackson, 53.78, Gordon-Rushville; 3, Jace Freeseman, 54.20, Gordon-Rushville; 4, Brant Fullmer, 54.80, Southeast; 5, Cooper Hill, 54.99, Lingle-Fort Laramie
800 Meters Varsity - Finals x
1, Kyland Fuller, 2:09.88a, Lingle-Fort Laramie, 2, Justin Ernest, 2:10.27, Leyton; 3, Colby Stockton, 2:10.84, Burns; 4, Thomas Muldoon, 2:11.97, Potter-Dix Public; 5, Jace Freeseman, 2:13.08, Gordon-Rushville
1600 Meters Varsity - Finals x
1, Colby Stockton, 4:59.83, Burns, 2, Michael Christiansen, 5:11.56, Garden County; 3, Myles Wilson, 5:12.40, Lingle-Fort Laramie; 4, Thomas Muldoon, 5:13.28, Potter-Dix Public; 5, Jarhett Anderson, 5:27.70, Hay Springs
3200 Meters Varsity - Finals x
1, Myles Wilson, 10:59.04, Lingle-Fort Laramie, 2, Michael Christiansen, 11:07.34, Garden County; 3, Hunter Miller, 11:52.63, Bayard; 4, Luke Ott, 12:00.03, Morrill; 5, Connor Cluff, 12:18.25, Kimball
110m Hurdles - 39" Varsity - Finals x
1, Bryce Seier, 17.37, Morrill, 2, Jared Anton, 17.93, Potter-Dix Public; 3, Scout Gamble, 17.97, Leyton; 3, Aydon McDonald, 17.97, Gordon-Rushville; 5, Gage Mintken, 19.53, Hay Springs
300m Hurdles - 36" Varsity - Finals x
1, Dillon Christiansen, 45.23, Garden County, 2, Scout Gamble, 45.95, Leyton; 3, Bryce Seier, 46.93, Morrill; 4, Donovan Fillmore, 47.39, Gordon-Rushville; 5, Brandon Paxton, 49.07, Potter-Dix Public
4x100 Relay Varsity - Finals x
1, Leyton — Matthew Shepard, K.J. Bush, Dominick Russ, Mason Reimers, 46.37; 2, Burns — Matt Ashworth, Cody Hape, Conor Manlove, Jackson Kirkbride, 46.38; 3, Potter-Dix — Luke Kasten, Ben Johnson, Javon Coyle, Donnie Moench, 46.59; 4, Southeast — Reece Robertson, Ryan Clapper, Dawson Mullock, Brant Fullmer, 46.72; 5, Gordon-Rushville — Cade Goings, Donovan Fillmore, Mac Ballard, Elijah Jackson, 46.83
4x400 Relay Varsity - Finals x
1, Gordon-Rushville — Jace Freeseman, Ellis Livingston, Mac Ballard, Elijah Jackson, 3:43.18; 2, Garden County — Dillon Christiansen, Colton Holthus, Zeke Christiansen, Cole Coss, 3:49.09; 3, Bayard — Quintin Hassel, Christian Leonard, Jack Kildow, Trevor Reish, 3:51.01; 4, Leyton — K.J. Bush, Gabriel Tretter, Chance Carter, Justin Ernest, 3:51.33; 5, Potter-Dix — Brandon Mendoza, Thomas Muldoon, Gunnar Oleson, Brayden Kasten, 4:06.33
4x800 Relay Varsity - Finals x
1, Gordon-Rushville — Jace Freeseman, Frankie Johns, Robert Reina, William Costello, 9:06.95; 2, Garden County — Zeke Christiansen, Gunner Roberson, Colton Holthus, Michael Christiansen, 9:19.67; 3, Leyton — Justin Ernest, Chance Carter, Brenton Abbott, Gabriel Tretter, 9:24.33; 4, Potter-Dix — Thomas Muldoon, Zach Rotert, Brayden Kasten, Brandon Mendoza, 9:31.02; 5, Burns — Clay James, Aiden Kupec, Colby Stockton, Dylan Ashworth, 9:46.28
Shot Put - 12lb Varsity - Finals x
1, Zackry Henke, 44-00.75, Leyton, 2, Wade Pollock, 42-06.00, Burns; 3, Michael Morgan, 42-02.50, Morrill; 4, Isaiah Guerue, 41-05.50, Morrill; 5, Jonathan Borges, 39-10.25, Leyton
Discus - 1.6kg Varsity - Finals x
1, Wade Pollock, 139-00.50, Burns; 2, Isaiah Guerue, 131-10, Morrill; 3, Zackry Henke, 125-06, Leyton; 4, Kenneth Wyland, 120-11, Hemingford; 5, Michael Morgan, 114-06, Morrill
High Jump Varsity - Finals x
1, Luke Kasten, 5-08.00, Potter-Dix Public, 2, Daemon Avilez, 5-08.00, Bayard; 3, Cody Hape, 5-06.00, Burns; 4, Scout Gamble, 5-04.00, Leyton; 5, Ben Johnson, 5-02.00, Potter-Dix Public
Pole Vault Varsity - Finals x
1, Ethan Specht, 11-00.00, Hemingford, 2, Conor Manlove, 10-06.00, Burns; 3, Daemon Avilez, 10-00.00, Bayard; 4, Jared Anton, 9-06.00, Potter-Dix Public; 5, James McGinnis, 9-06.00, Kimball
Long Jump Varsity - Finals x
1, Dominick Russ, 19-06.75, Leyton, 2, Cooper Hill, 19-05.00, Lingle-Fort Laramie; 3, Cole Coss, 18-11.00, Garden County; 4, Ellis Livingston, 18-04.00, Gordon-Rushville; 5, Mason Reimers, 18-02.00, Leyton
Triple Jump Varsity - Finals x
1, Jackson Kirkbride, 40-06.00, Burns, 2, Cole Coss, 38-04.00, Garden County; 3, Christian Allen-Van Pelt, 37-08.00, Kimball; 4, Grant Logsdon, 37-00.00, Southeast; 5, Elijah Jackson, 36-08.00, Gordon-Rushville
100 Meters Varsity - Finals x
1, Dani Harter, 13.54, Bayard, 2, Brooklin Hess, 13.80, Morrill; 3, Maddy Saul, 14.02, Lingle-Fort Laramie; 3, Emma Short, 14.02a, Southeast; 5, Axi Benish, 14.03, Leyton
200 Meters Varsity - Finals x
1, Dani Harter, 28.57, Bayard, 2, Mia Skinner, 28.87, Hay Springs; 3, Dalli Anders, 29.04, Crawford; 4, Axi Benish, 29.54, Leyton; 5, Cambree Schmaltz, 29.59, Bayard
400 Meters Varsity - Finals x
1, Jillian Brennan, 1:00.93, Crawford, 2, Mia Skinner, 1:01.58, Hay Springs; 3, Axi Benish, 1:05.35, Leyton; 4, Natalie Speckner, 1:05.98, Lingle-Fort Laramie; 5, Jayla Brehmer, 1:06.04, Gordon-Rushville
800 Meters Varsity - Finals x
1, Haley Johnson, 2:40.54, Gordon-Rushville, 2, Gabby Twarling, 2:43.75, Hay Springs; 3, Madison Swanson, 2:44.51a, Crawford; 4, Britney Klein, 2:45.33, Sioux County; 5, Kierra Miller, 2:45.40, Bayard
1600 Meters Varsity - Finals x
1, -, Emma Gonzalez, 5:41.31, Burns, 2, Natalie Speckner, 5:46.78, Lingle-Fort Laramie; 3, Layne Burnett, 5:53.89a, Burns; 4, Kierra Miller, 6:15.56, Bayard; 5, Carlye Kresl, 6:28.68, Hemingford
3200 Meters Varsity - Finals x
1, -, Emma Gonzalez, 11:54.42, Burns, 2, Paityn Homan, 12:57.55, Morrill; 3, Kierra Miller, 13:26.09, Bayard; 4, Britney Klein, 13:30.08, Sioux County; 5, Rebecca Reece, 13:54.52, Sioux County
100m Hurdles - 33" Varsity - Finals x
1, Rylee Ward, 17.55a, Burns, 2, Jaden Gipfert, 18.08a, Burns; 3, Emma Walker, 18.56, Lingle-Fort Laramie; 4, Brookelynn Warner, 19.52, Hemingford; 5, Jocelyn Varvel, 19.63, Hay Springs
300m Hurdles - 30" Varsity - Finals x
1, Karlee Juhnke, 51.41a, Sioux County, 2, Emma Walker, 54.24, Lingle-Fort Laramie; 3, Claire Watchorn, 56.07, Leyton; 4, Jocelyn Varvel, 56.09, Hay Springs; 5, Emma Norris, 56.74, Burns
4x100 Relay Varsity - Finals x
1, Crawford Skylar Summers, Dalli Anders, Natalie Barry, Morgan Jones, 54.01; 2, Bayard — Cambree Schmaltz, Danika Hassel, Dani Harter, Ashley Garza, 56.25; 3, Hemingford — Catherine Bryner, Destiny Hanson, Elizabeth Mayer, Brookelynn Warner, 56.62; 4, Morrill Jaiden Steiner, Brooke Hopkins, Lexis Gibson, Brooklin Hess, 57.04; 5, Potter-Dix — Mary Kasten, Lily Tabor, Kylie Fiehtner, Kallie Crossman, 57.07
4x400 Relay Varsity - Finals x
1, Crawford — Dalli Anders, Jillian Brennan, Morgan Jones, Kylah Vogel, 4:28.65; 2, Gordon-Rushville — Haley Johnson, Shawna Shadbolt, Reaghan Shultz, Jayla Brehmer, 4:34.82; 3, Sioux County Kailey Klein, Britney Klein, Kodie Rempp, Karlee Juhnke, 4:35.83; 4, Hemingford — Destiny Hanson, Elizabeth Mayer, Chloe Soester, Catherine Bryner, 4:40.11; 5, Burns Rylee Ward, Jaden Gipfert, Madison Thompson, Sienna Gallegos, 4:40.91
4x800 Relay Varsity - Finals x
1, Burns — Layne Burnett, Emma Gonzalez, Madison Thompson, Saria Eklund, 10:54.65; 2, Crawford — Jillian Brennan, Kiera Brennan, Halee Wasserburger, Cambrea Vogel, 11:03.35; 3, Gordon-Rushville — Bree Lovell, Brenna Bostock, Madie Peterson, Shawna Shadbolt, 11:45.74; 4, Hemingford Catherine Bryner, Carlye Kresl, Chloe Soester, Destiny Hanson, 12:04.76; 5, Potter-Dix — Madison Williamson, Lily Tabor, Mary Kasten, Jayden Shoemaker, 12:39.26
Shot Put - 4kg Varsity - Finals x
1, Shelby Ekwall, 33-05.00, Southeast, 2, Harper Boche, 31-05.00, Southeast; 3, Landrie Nelson, 30-00.50, Hemingford; 4, Jaiden Steiner, 29-09.00, Morrill; 5, Jena Spady, 29-08.00, Garden County
Discus - 1kg Varsity - Finals x
1, McKinley Grover, 98-10, Gordon-Rushville, 2, Lexi Fiscus, 95-04, Bayard; 3, Hallie Cochran, 87-06, Bayard; 4, Harper Boche, 87-02, Southeast; 5, Ashlynn Guzman, 86-02, Kimball
High Jump Varsity - Finals x
1, Maddie Heilbrun, 4-08.00, Lingle-Fort Laramie, 2, Katrina Kohel, 4-06.00, Morrill; 3, Jaden Gipfert, 4-06.00, Burns; 4, Jayden Shoemaker, 4-06.00, Potter-Dix Public; 5, Kylie Fiehtner, 4-06.00, Potter-Dix Public
Pole Vault Varsity - Finals x
1, Rylee Ward, 8-06.00, Burns, 2, Raven Johnson, 8-00.00, Kimball; 3, Kamber Clayson, 8-00.00, Burns; 4, Taya Kappen, 7-06.00, Bayard; 5, Brooke Hansen M, 6-06.00, Burns
Long Jump Varsity - Finals x
1, Raschelle Magdaleno, 15-09.00, Minatare, 2, Kaitlin Heeg, 14-08.00, Kimball; 3, Danika Hassel, 14-03.00, Bayard; 4, Destiny Hanson, 14-03.00, Hemingford; 5, Joslyn Hopkins, 14-02.50, Bayard
Triple Jump Varsity - Finals x
1, Kaitlin Heeg, 32-00.00, Kimball, 2, Joslyn Hopkins, 31-02.25, Bayard; 3, Raschelle Magdaleno, 31-01.50, Minatare; 4, Aubrey Evans, 29-10.00, Garden County; 5, Kyndall Sprague, 29-00.00, Morrill
---