Before Bobby Jackson, there was Sedric Toney, who was the first Western Nebraska Community College basketball player drafted by an NBA team.
Toney, who played for the Cougars in 1982-83 scored 612 points in his one year at WNCC, which is 17th best in a season. The team went 26-10 and lost in the Region IX finals to Southeast Community College and head coach Dana Altman, who went on to coach at Creighton and Oregon.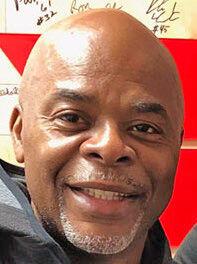 Toney said he originally went to play basketball at Phillips Junior College in Mississippi, which was a first-year program at the time. He was then placed at WNCC by the head coach at the University Dayton for his sophomore year. Toney played his final two seasons at the University of Dayton in his hometown of Dayton, Ohio. At Dayton, he averaged 12.2 points in 59 games and shot 49.2 percent from the field.
Toney said it was a big adjustment for him to come to the smaller community in western Nebraska.
"I remember, for me, it was a huge adjustment. Coming from Dayton, Ohio, Dayton wasn't a large city but certainly larger than Scottsbluff. I had never been to a small, small city like that," Toney said. "Then, for being an African American, being in a town that was (not culturally diverse), it was another adjustment for me. But it helped me to become more diverse. I know that for a fact I had to grow up and had to think about life in a different perspective. My mother and my dad told me — because I wanted to go home — that you can come home but when you come home we will have your application to the service waiting for you."
Toney said playing at WNCC was a life-changer.
"The whole situation in Scottsbluff changed my life," he said. "It really put me in a different mindset after I left there. I was a good basketball player, but going to Scottsbluff and playing there taught me a lot about other talented players in the world and country and made me realize I had to step up to be better. That is what I did; I did that and it was quite an experience. Met a lot of nice people out there. Once I settled in to making the adjustments to the culture, the school, and getting away from my family and home, once I made that adjustment, I was ready to roll. I really enjoyed it."
Toney learned the game and grew as a player and person because of head coach Ron Brillhart, who was the head coach of the Cougars at the time. And, knowing the fact that if he left school and knowing his mom and dad had military papers ready, changed Toney's outlook on an education.
"So, that right there changed everything," he said. "I wasn't going to the military. I am glad that I was able to stick it out. Coach Brillhart was a really good coach and really taught me a lot of mental toughness."
After a year at WNCC (when Toney played the college was called Nebraska Western College) Toney was ready to go on to play for the Flyers at Dayton University. Toney did say that he had other college's looking at him.
"I already committed to the University of Dayton and that was the reason I came out here," he said. "Schools that were coming after me, Brillhart would tell them, 'He is already taken.' I already knew I was going back to the University of Dayton. That was my dream, anyway, to play at home and play for the University of Dayton."
Toney said playing at Dayton was a dream come true.
"It was my hometown and growing up I watched them on TV all the time. I dreamed about what it would be like to play there," he said. "Then, getting an opportunity to do that, it was incredible. The fans got to see me play all the time and came to the games. For me, it was an opportunity. In high school, I was good but I didn't get the accolades I should have got in high school. So going to Dayton and having success there, for me it showed a lot of people they missed out on me. They didn't know how good I was going to be."
His career at Dayton got him noticed by NBA scouts.
"My other dream was to play in the NBA and how many guys get a chance to play in the NBA?" Toney said. "For me it was a bunch of dreams that I wanted to achieve and they came true and made me feel special."
After his two years at Dayton, Toney lived another dream, playing in the NBA.
Toney was selected in the third round of the 1985 draft by the Atlanta Hawks. Toney played with the Hawks on two different occasions during his NBA playing career. He also played for Phoenix, New York, Indiana, Sacramento, and Cleveland until 1994. He played in the playoffs when he was with the Knicks against the Celtics when the Celtics had Larry Bird, Robert Parrish, and Kevin McHale.
After his 9-year NBA career, Toney still stay involved in the NBA and college basketball.
Toney served as an NBA scout for the Grizzlies for four years. He then joined the New Knicks front office as Director of Player Personnel for four years. He worked in the NBA league office as an NBA observer for three years. He also joined ESPN as a color analyst for college basketball for four years. Toney also served as a trainer for NBA players such as Paul George, Norris Cole and others. He is also inducted into the University of Dayton Hall of Fame.
Today, Toney is a mentor for guys to help them get to the NBA.
"In some degree I am still with the NBA, but I am on the other side," he said from his home in Atlanta. "I help mentor guys that have a chance to make it in the NBA. I help mentor them and put them on the right track and working with sports agencies to put them on the right track."
When Toney played, college basketball was a totally different sport with no 3-point line, he said.
"College basketball has definitely changed," Toney said. "With the way things are now, it is all about scoring, it is all about freeloading, There is so much other stuff that comes into play now. With the NBA, it is about run up and down the court and score. Not a lot of defense being played until you get to the playoffs."
Toney was a scorer in college and the NBA, but he was the guy that loved to play defense as well. Now, Toney has given up his basketball playing, trying to preserve his 58-year-old body.
"I play golf now," he said. "I am 58 and I am trying to preserve this body as long as possible."
Toney has advice for youth basketball players.
"You have to take it real serious," he said. "You just have to listen to what the experts are saying and pay attention. You have to make sure you follow the guidelines of what they are telling you what to do."
Be the first to know
Get local news delivered to your inbox!