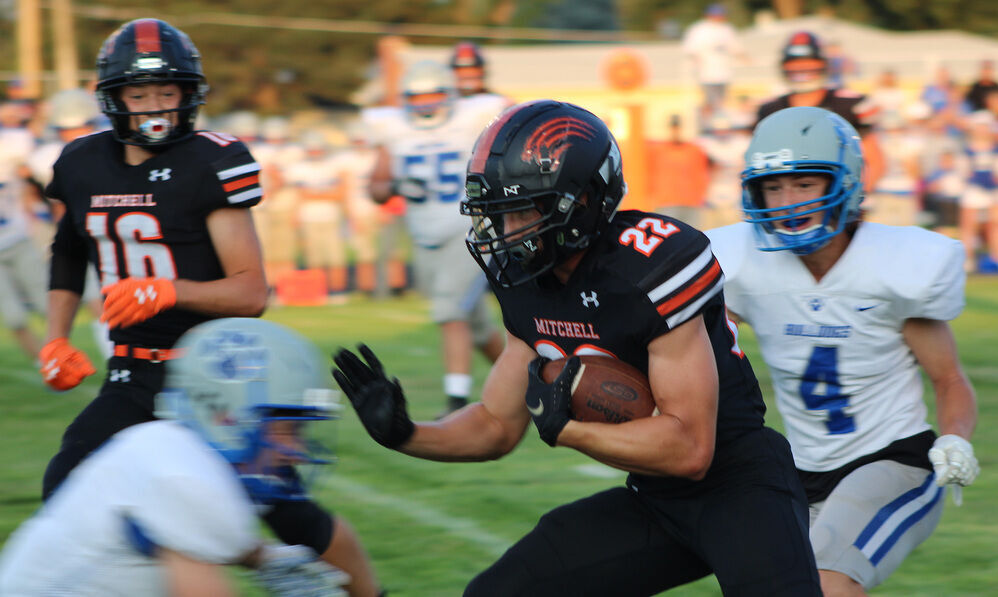 The Mitchell football team was handed its first loss of the season after Gordon-Rushville held off the Tigers 30-28 on Friday night at Mitchell High School.
The loss drops Mitchell to 2-1 on the season, while the Mustangs pick up their first win of the season.
Mitchell head coach Nick Kuxhausen credited Gordon-Rushville's ability to capitalize on Mitchell's mistakes.
"You have to give props to Gordon-Rushville. They came out and played a terrific football game," he said. "They were definitely ready to exploit weaknesses that we showed in week one and they did that. We were not ready to go. We have a lot of work to do going forward this year."
Gordon-Rushville's Carter Anderson used the opening drive wisely, moving the Mustangs down the field and converting a fourth-and-five situation with a completion to Will Costello before scampering in from nine yards out to put the visitors on the board 7-0 with 8:50 to go in the first quarter.
The Mustangs took advantage of a Mitchell fumble on the ensuing drive, moving the ball into range for kicker Michael Perez, who chipped in a 24-yard field goal to give Gordon-Rushville a 10-0 lead.
However, Mitchell quarterback Carter Reisig answered with a 20-yard pass to Jackson Allen to set up a 48-yard touchdown run by Reisig with 3:59 to go in the frame, cutting the deficit to 10-7 in favor of the Mustangs.
The majority of the damage was handed out in the second quarter when Anderson threw for two touchdowns of 72 yards and 53 yards on back-to-back possessions to extend the lead to 23-7 with 9:40 to go in the half. Anderson hit Jace Freeseman for 72 yards before throwing a strike to Beau Child for 53 yards, respectively.
Kuxhausen praised his team for fighting back after being down early on in the contest. However, he believes the bye week may have worked against the Tigers.
"That's one thing where I have to give our kids credit. They could have easily checked it in when we were down," he said. "We just weren't ready to go. We didn't play last week and it definitely showed this week. Whatever we did during the bye week didn't work. We didn't know how to respond from it. It was not the right formula. We were not ready to play football tonight."
Reisig answered again with 7:36 to play in the half on a 35-yard pass to Hayden Umble, pulling the Tigers to within nine points, 23-14.
Starting on his own 27, though, Anderson slammed his way for 50 yards to the Mitchell 23 before calling his own number on a four-yard scramble and put seven more on the board with 4:28 left in the half.
Mitchell stayed within striking distance just before the half when Cael Peters capped off a 76-yard drive with a 6-yard touchdown run with 22 seconds to play in the stanza to slice the lead to eight, 30-22.
Reisig added a 2-yard touchdown run with 7:54 to play in the third quarter, but the Tigers couldn't overcome the final outcome as Gordon-Rushville held on the win.
"I told them it's a long season. We have a lot of games left. We have to take a hard look in the mirror because we're not as good as we thought we were going into this game," Kuxhausen said. "We definitely have a lot of things to work on. We have the capability of being a good football team and there's a lot of quality football left to be played, but we're going to have to put some work in and get better."
The Tigers were led offensively by Reisig, who rushed for 89 yards and two touchdowns, while also throwing for a touchdown.
Peters finished the night with 17 carries for 86 yards and a touchdown, while Allen added 40 yards on the ground and Umble added 19 on the ground.
Mitchell finished with 224 rushing yards in the losing effort.
The Tigers will try to bounce back on Friday when they travel to Chase County. Gordon-Rushville hosts Bennett County, South Dakota.