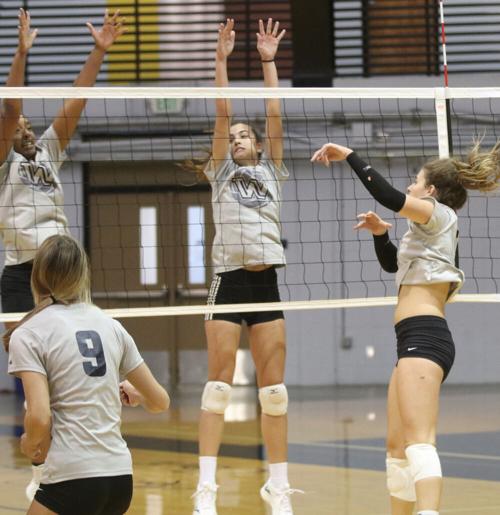 STERLING, Colo.. – The No. 20-ranked Western Nebraska Community College volleyball team battled the defending national champions in No. 1 Iowa Western Community College to the end, but the Reivers height was too much for the Cougars in falling 22-25, 23-25, 25-20, 17-25 to Iowa Western in the Sheila Worley Invitational in Sterling, Colorado.
The loss drops the Cougars to 7-7 while Iowa Western moves to 5-0 on the season. WNCC will have one more match on Saturday in the invite as they face Utah State-Eastern at 1:45 p.m.
Friday's contest saw WNCC lead Iowa Western 18-12 in the first game before letting the Reivers come storming back to take the 25-22 win.
The second set saw WNCC jump out to an 18-16 lead behind two Jenna Curtis points. Once again, WNCC couldn't hold the Reivers back as Iowa Western went up 20-19 and led 23-20 before winning 25-23.
The third set was a battle. Iowa Western raced out to an 11-6 lead only to watch the Cougars come back as Macey Boggs served six points for a 13-11 lead. WNCC went up 20-16 after two Julia Moccellin points. Iowa Western started a comeback, slicing the lead to 20-19 but a Curtis kill and then three Curtis points put WNCC up 24-19. WNCC won the third on an Erica Fava kill 25-20.
The fourth set saw WNCC go up 2-0 on two Boggs' points only to watch Iowa Western come back for a 7-5 lead. WNCC sliced the lead to 11-9, but the Reivers came back to lead 15-9 and went on to win 25-17.
Boggs had a triple-double in the contest with 13 digs, 10 points, 40 set assists, and three aces.
Ale Meoni led the team with 19 kills followed by Fava with 12 kills. Fava had a double-double, finishing with 18 digs, seven points, and three aces.
Also for the Cougars, Mariah Fukumoto had 19 digs and six points; Curtis had six points, four digs, 10 points, and two aces; Moccellin had six digs and two aces; Anakaren Chavez had six digs; Hyleigh Fornstrom had seven kills; and Angel Nahinu had seven assisted blocks.