Scottsbluff's Emily Krzyzanowski earned a thrilling playoff win in the Gering Golf Invitational on Tuesday, Sept. 15 at Monument Shadows Golf Course.
Krzyzanowski battled Gering's Madi Schlaepfer in a playoff after both finished atop the leaderboard with a 76.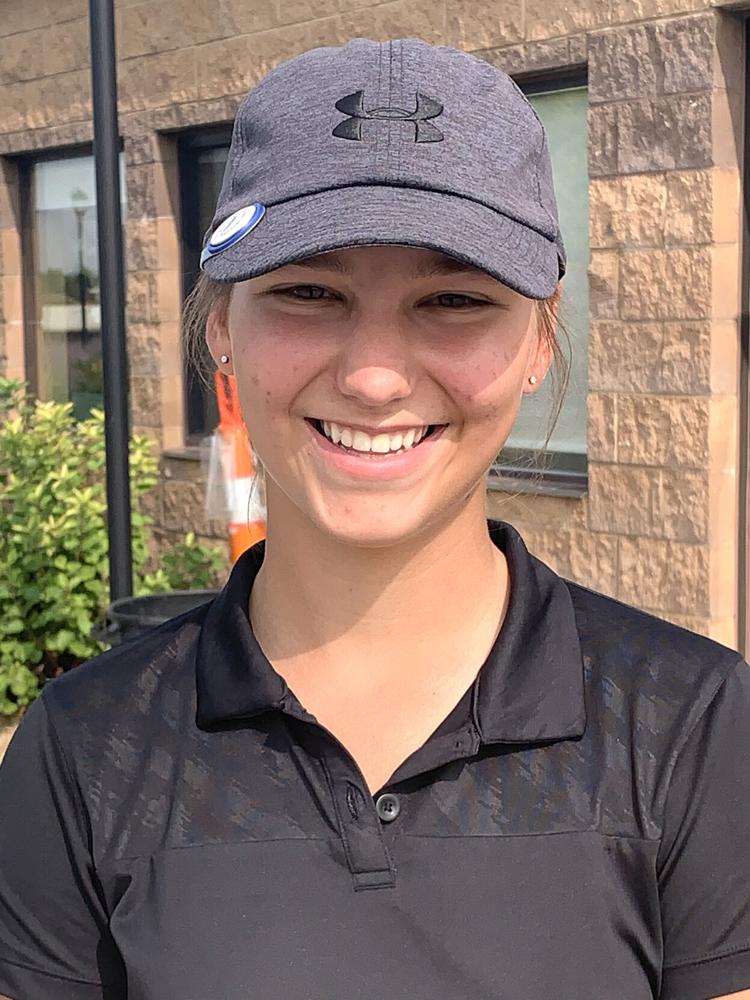 On the third hole of the playoff, Schlaepfer's putt went a little wide to the left before Krzyzanowski sunk her putt for the win.
Krzyzanowski said she was pleased with her round today.
"I felt like I could do better. It wasn't my best round, but it wasn't terrible," she said.
Krzyzanowski said there are a few things she needs to work on to get better as the season goes on.
"I need to work on my putting, for sure, my short game, and some chipping," she said.
Schlaepfer, who shot a 67 last week, said she could have played better as well.
"It's not a bad round, but it wasn't a great round," she said.
Schlaepfer said she was her own enemy out on the course.
"I had high expectations (coming into the tournament) and I think that was part of the problem," she said.
Schlaepfer said it came down to her short game.
"(When I scored a 67) I was just able to make birdies, and I had an eagle," she said. "Today, I was able to make those birdies. I struggled putting a little bit."
Bearcat teammates Anna Kelley and Nielle Heinold battled it out for third place after both carded a 77.
Heinold, a freshman for Scottsbluff, is quickly establishing herself as one of the best golfers in the Panhandle. Heinold took third, and Kelley finished fourth.
Also placing in the top 10 for Scottsbluff were Halle Shaddick ended sixth with an 87 and Haley Holzworth shot a 92 for 10th place.
With five golfers in the top 10, Scottsbluff ran away with the team title with a score of 317.
"It's just fun to play as a team and try to get the best score," Krzyzanowski said.
Kimball's Payton Wise took fifth with an 83. Wise helped the Longhorns finish second in the team standings with a 408.
Sidney's McKenzie Moore took seventh with an 88, Chadron's Maddi Pelton was eighth with an 89 and Ogallala's Dani Nolde rounded out the top 10 at ninth place with a 90.
1, Emily Krzyzanowski, Scottsbluff, 76; 2, Madi Schlaepfer, Gering, 76; 3, Nielle Heinold, Scottsbluff, 77; 4, Anna Kelley, Scottsbluff, 77; 5, Payton Wise, Kimball, 83; 6, Halle Shaddick, Scottsbluff, 87; 7, McKenzie Moore, Sidney, 88; 8, Maddi Pelton, Chadron, 89; 9, Dani Nolde, Ogallala, 90; 10, Haley Holzworth, Scottsbluff, 92.
1, Scottsbluff, 317; 2, Kimball, 408; 3, Gering, 416; 3, Chadron, 416; 5, Alliance, 426; 6, Mitchell, 432; 7, Gordon-Rushville, 472; 8, Bridgeport, 476; NS, Sidney; NS, Ogallala; NS, Bayard.
Be the first to know
Get local news delivered to your inbox!