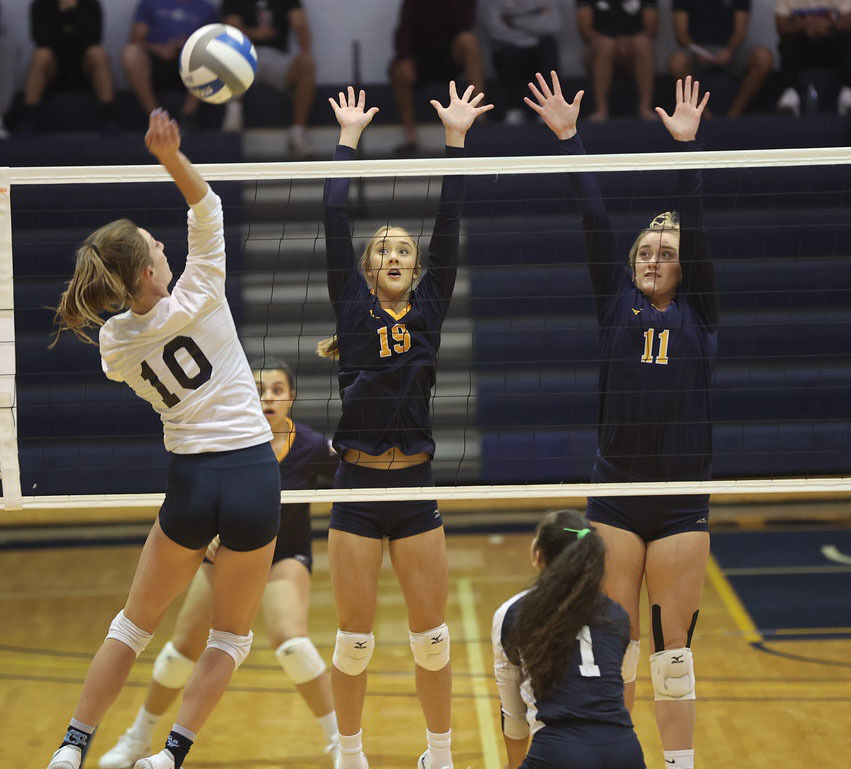 LaJunta, Colo. – Ale Meoni had a triple-double and the 20th-ranked Western Nebraska Community College volleyball team needed five sets to get by Otero College Friday afternoon in a Region IX South Conference contest 23-25, 25-18, 25-17, 25-27, 15-7.
The win moved the Cougars to 19-12 on the season. WNCC will look for season-win number 20 when they travel to face Trinidad State College Saturday.
The Cougars had trouble getting started in the opening set. After WNCC led 6-5 after three Meoni points, Otero came back to lead 17-15. WNCC retook the lead at 21-20, but saw the Rattlers go up 23-21 and win the first set 25-23.
WNCC rebounded in the second set, but it wasn't easy as both squads went tooth and nail early on. WNCC took a 12-9 lead in the second on a Hyleigh Fornstrom point, but the Rattlers came back to lead 14-13. After that the squads were tied at 14, 15, 16, 17 and 18. That was when WNCC decided to make a statement.
Erica Fava started the statement with a thundering kill and then Fornstrom had six straight service points, including the set-winning kill from Meoni to even the match at a set a piece.
WNCC carried Fornstrom's serving over to the third set as Jenna Curtis had a six-point service run to give WNCC the 9-2 lead. WNCC went up 15-5 on two Meoni points. Otero tried to come back at 16-10 and later at 18-13, but the Cougars kept control in earning the 25-17 third-set win.
The fourth set was a battle as well. WNCC started off well as Fornstrom had a four-point service run for a 7-2 lead. WNCC kept pushing away as Meoni had three service points on kills from Fava for an 11-4 lead. WNCC led 13-5 when Otero changed things as the Rattlers had eight unanswered points to tie the fourth set at 13. WNCC slowly came back and held a 22-20 lead on a Meoni kill and then two service points including an ace serve by Meoni .
Fava continued the Cougars fight as she had a kill and then a point for a 24-21 lead. Otero got a side out and tied the set at 24-24. Otero would earn the win 27-25 to force a fifth set.
In the fifth set, the score was tied at the first six numbers. WNCC finally took an 11-6 lead after AnaKaren Chavez had five service points. Boggs would finish off the match with three service points for the win.
Meoni led the Cougars with a double-double of 22 kills, 10 digs, and 12 points. She also had two solo blocks. Fava was next in hitting with 19 kills. Fava also had 23 digs and four points. Curtis had a double-double too with 15 kills and 10 points, including three digs and two aces.
Also for the Cougars, Fornstrom had three kills, six digs, and 16 points; Chavez had 21 digs and seven points; Boggs had 63 set assists, 20 digs, and seven points. Holleigh Jaime had two digs in the contest; while Mariah Fukumoto had 10 digs; while Angel Nahinu had seven kills and four digs.