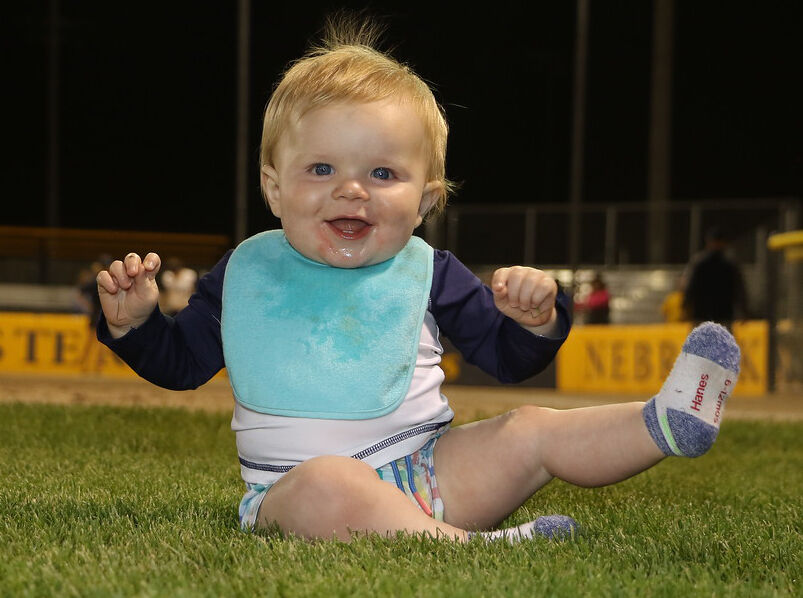 Western Nebraska Community College softball head coach Katelyn Groves had an idea to help 3-year-old Cooper Greene and his family with medical expenses. On Saturday, Sept. 11, Cooper's Crusade goes into effect.
The WNCC softball team will play a doubleheader on Saturday at Volunteer Field and it was originally against North Platte Community College to raise funds for Cooper, Groves' nephew. North Platte had to cancel, so to keep the benefit going, the 24-member softball team will put on a doubleheader Cougars Unlimited game for the fans. Cougars Unlimited is based off the Athletes Unlimited Softball that is being played.
The Cougars Unlimited will help with Cooper's medical expenses as the squad hits the field for action beginning at 2 p.m. at Volunteer Field in Scottsbluff. The Cougars competed in nine games last weekend in Salt Lake City and had impressive showings, finishing with 70 runs scored, 13 home runs, 15 doubles, and 22 stolen bases as they went 6-1-2 over the weekend.
Based on the player's performances in Utah last weekend, Lexi Butterfield would have earned 248 points and Bella Coffman 216 points with the point system that will be used for the Cougar players. The players will earn points for singles, doubles, triples, home runs, stolen bases, caught stealing, walks, sacrifices, along with winning the inning and winning the game. Pitchers will also get points.
Saturday's games will be a chance to meet the 24-member squad as they play for a worthy cause. The Cougars have two Scottsbluff High graduates on the team this season in Maddie Johnston and Taylor Klein.
"We have helped many different causes and people over the years and this one, it hits really close to home," Groves said. "My 3-year-old nephew was diagnosed with Rosai-Dorfman disease in July 2021 after a wild three months of ER visits, multiple appointments with doctors and specialists, and more tests than one could imagine. Cooper is currently taking 'super Cooper juice' (Chemo) for the next two years and does it with a big smile and flex to show us how strong he is, but we already know."
Cooper's grandma Richelle Mock Greene is appreciative to what the WNCC softball program is doing for Cooper. Cooper's grandparents will be in attendance for the games.
"We have been blessed with an outpouring of support by friends and family," Richelle said. "It makes my heart so happy that 24 girls, who have never met him, are willing to raise awareness and show how much they care for their coach and Cooper by doing this benefit game."
The Cougar softball team's softball fundraiser will have several ways for people to help out. Besides the $1 admission charge, donations will be accepted at the gate. The shirts the team wears during the game will be donated to Cooper's Crusade. Cooper's Crusade will be auctioning the shirts via 32Auctions at https://www.32auctions.com/CoopersCrusade_WNSoftball
So, what is Rosai-Dorfman? According to the National Organization for Rare Disorders (NORD), Rosai-Dorfman disease is characterized by the overproduction of a type of white blood cell. Symptoms vary greatly depending on what bodily systems are affected. It predominately affects children and young adults. The exact cause is unknown.
Groves said the disease affects everyone differently and in Cooper's case, this includes lumps in his neck, which is currently treated by daily chemotherapy for the next two years. His mom said that he calls chemo his Super Cooper juice.
"He's such an ornery, outgoing little boy who just loves life and wants to be like any other three-year-old. He takes his chemo (his Super Cooper juice) like a champ and then shows you his muscles each time he's done," Richelle said. "He's tolerating the chemo well so far and our good days far outweigh the bad. You can't help but love him and his zest for life. I honestly think this is what allows us to get through the days of having to put this horrible medicine into his body. His love for life just makes everyone around him smile. No one wants to hear that their grandchild has a rare disease, but this little guy is doing what he can so that other kids may not have to deal with the delays in treatment. Education and awareness mean so much."
Cooper is taking everything in stride with a heart of gold and plenty of humor. Cooper, who lives in Wichita, Kansas, is Coach Groves nephew and loves Scooby-Doo, Blue's Clues, toy trains, and playing outside.
To track Cooper's journey or to learn more, follow along on Facebook at "Cooper's Crusade (A fight with Histiocytosis/Rosai-Dorfman Disease).