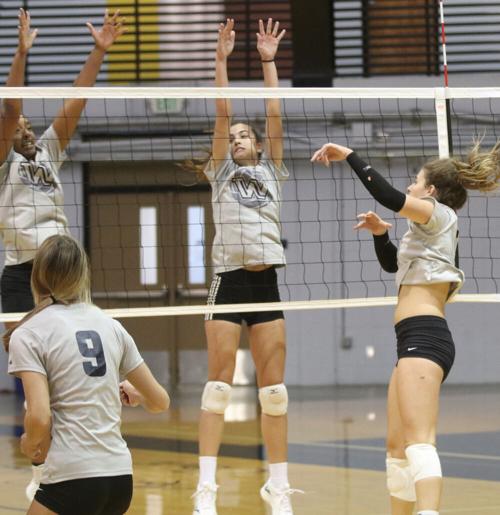 RIVERTON, Wyo. – The No. 8 Western Nebraska Community College volleyball team split a pair of contests on Saturday in the third day of the Midway Classic in Riverton, Wyoming.
The Cougars opened the day with a four-set loss to the host Central Wyoming College Rustlers, winning the first set 25-20 and then dropping the next three in thundering fashion 25-14, 25-17, 25-13.
WNCC rebounded in the match against Colby Community College, topping the Trojans 25-17, 25-15, 22-25, 25-21 to finish the Classic with a 2-3 record.
The win against Colby was huge for the volleyball team as it avoided the Cougars losing four straight. The last time the Cougars lost three straight was the final three games at the NJCAA national tournament in 2016.
WNCC, 4-5, will be back on the road next weekend at the Salt Lake Classic. They will face more top competition when they face Arizona Western and New Mexico Military on Friday and College of Southern Idaho and Salt Lake on Saturday.
Saturday's contests were Jackal and Hyde type of matches. Against Central Wyoming, the Cougars dominated the first set, never trailing and winning 25-20.
Central Wyoming made the right adjustments because they controlled the Cougars after that, especially with their serving. The second set saw the Rustlers jump out to an 8-1 lead before watching WNCC cut the lead to 14-11 on three straight Erica Fava service points. Central Wyoming responded with nine unanswered points to lead 23-11 and won 25-14.
The third set was much of the same as strong serving from the Rustlers baffled the Cougars' defense as Central Wyoming led 11-3 at one point. WNCC came back to trail 17-11 on three Fava points, but Central Wyoming won the third set 25-17.
The fourth set saw the score tied at 4-4 until Central Wyoming had seven unanswered for an 11-4 lead. Central led 17-7 and cruised to the 25-13 win.
Fava led the Cougars with a triple-double with 17 kills, 11 digs, and 13 points. Ale Meoni also had a strong contest with eight kills, 10 digs, and seven points. Jenna Curtis tallied seven kills with three digs and four points.
Also for the Cougars, Macey Boggs had four digs, eight points, and 29 set assists; Julia Moccellin had four set assists; Jayla Brehmer had three points; Anakaren Chavez had 18 digs and four points; Angel Nahinu had two kills and seven assisted blocks; Hyleigh Fornstrom had three kills and four assisted blocks; and Mariah Fukumoto had three digs.
While the Central Wyoming loss stung, the Cougars picked up the pace against Colby and showed just how they could be. WNCC dominated the first set against the Trojans, leading 12-7 before Boggs served five straight for an 18-7 lead. WNCC won the first set 25-17 on a Fava kill.
WNCC was strong in the second set as well. Colby led early at 9-8 but Curtis had a kill and then served three points for a 12-9 lead. WNCC kept inching away as the Cougars won 25-15.
The third set was back and forth as WNCC took a 9-8 and pushed it to 18-14. WNCC extended the lead to 21-17 and seemed as if they would get the sweep. The Trojans had other ideas as they had six unanswered to take a 23-21 lead and won 25-22.
The fourth set saw Colby lead 14-8 before Boggs and Fava served the Cougars to a 15-15 tied. WNCC took a 3-point lead at 21-18 and led 25-20 after two Curtis points before winning the match 25-21.
Three Cougars finished with double-digit kills. Meoni had a double-double of 16 kills and 12 digs. She also had seven points with two aces. Curtis also had a double-double of 14 kills and 15 digs. The Ogallala product also had eight points.
Fava tallied 17 kills with six digs and eight points while Fornstrom had six kills and three assisted blocks. Nahinu had four kills with four assisted blocks.
Also for the Cougars, Boggs had a triple-double of 47 set assists, 13 digs, 10 points, two aces, and two assisted blocks. Fukumoto finished with two points and two digs, while Chavez had 16 digs, nine points, and four set assists. Brehmer had an ace and a point in the win.