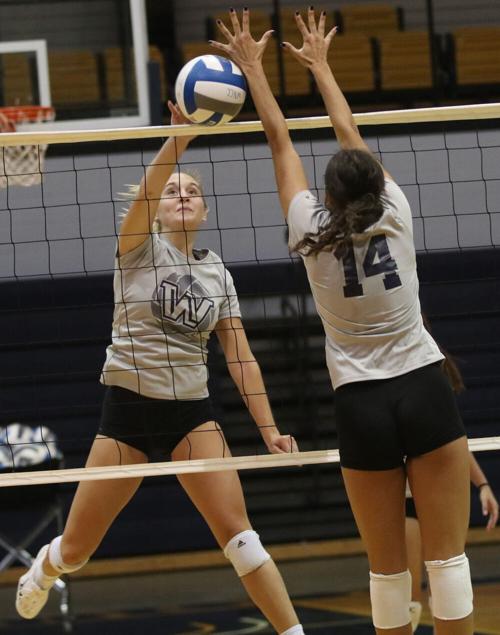 STERLING, Colo. – The No. 20 Western Nebraska Community College volleyball team came back from a 2-0 deficit to hand No. 6 Utah State-Eastern a five-set loss in the final game of the Sheila Worley Invitational in Sterling, Colorado, on Saturday.
The Cougars dropped the first two sets 17-25, 18-25, but came back to win the final three 25-23, 25-22, and 15-6 to move to 8-7 on the year.
WNCC freshman Jenna Curtis of Ogallala said the energy they showed in the final three sets was the difference in the match.
"Our energy was the big difference from the first two sets to the last three," Curtis said. "Our energy was low and we gave them a lot of points with our errors. Set three we turned that around with more energy and smarter plays on the court."
The win was huge for a Cougar team that was playing their 15th match on the road with a majority of those opponents against teams ranked in the top 20. So, to get a win over No. 6 Utah State-Eastern, after taking No. 1 Iowa Western Community College to four sets on Friday before losing, was huge.
"The win was huge especially after being behind two sets," Curtis said. "We knew we needed to beat them and we fought hard to take the match to five sets."
Dropping the first two sets put the Cougars into a pickle where they needed to win the third to keep the match going. WNCC bolted to a 16-11 lead only to watch Utah State-Eastern come back to tie the game at 16-16. WNCC went back in front 21-18 and led 24-21 before taking the third 25-23.
The fourth set was one where Utah State-Eastern came out ready to play as they led 8-5 and later 11-6 before WNCC started to make a run. WNCC trailed 12-8 when Hyleigh Fornstrom served four points to put the Cougars in front 13-12.
Utah State-Eastern came back to lead 16-15 only to watch WNCC's Erica Fava serve two points for an 18-16 lead. WNCC led 22-19 on a Curtis kill and won the set 25-22 on a Macey Boggs service point and Ale Meoni kill, setting up the fifth set.
Early on in the fifth, it was back and forth. WNCC finally took a 7-4 lead and pushed it to 10-5 on two Boggs service points. Fava finished off the fifth with four straight service points for the win.
Fava led the Cougars with a triple-double of 17 kills, 16 digs, 17 points, and four aces. Curtis finished with 15 kills, eight digs, and seven points, while Meoni had 12 kills, five digs, and four assisted blocks.
Also for the Cougars, Boggs finished with 12 digs, 28 set assists, and five points; Mariah Fukumoto had 20 digs; Juliana Oliveira had five kills; Julia Moccellin had five digs and seven assists; Fornstrom had two kills, seven digs, and seven points; AnaKaren Chavez had seven digs; and Angel Nahinu had five kills and four assisted blocks.
After playing 15 matches on the road, the Cougars will be at home next weekend when they host the Wyo-Braska Invite on Friday and Saturday. WNCC will face Colorado Northwestern at 12:30 p.m. on Friday before wrapping up the first day at 8 p.m. against Central Wyoming College. Saturday's opponents will be Casper College at 11:30 a.m. and Western Wyoming Community College at 7 p.m.