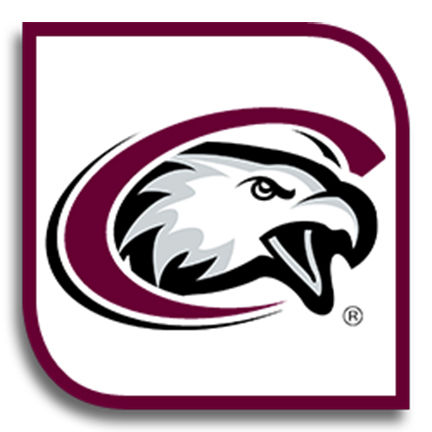 CHADRON — Forty players, including one transfer, inked scholarship letters to play for the Chadron State College football team in 2018 on National Signing Day on Wednesday.
"I feel great about the class of young men who made the choice today to be an Eagle," CSC head coach Jay Long said. "We think this may be one of our best academic classes ever. When you have those kind of kids in your program, they're also the kids who stay in school and succeed, and that means they can stay on the football field for us as well. Not only is this class talented in the classroom, but it's an extremely talented group of football players."
Unsurprisingly, 32 of the 40 are from what the coaching staff considers its four "core" recruiting states — Nebraska, Colorado, Wyoming, and South Dakota.
Nine Nebraskans have signed, so far. They include Curtis Freeze of Bridgeport, Chadron's Sam Rischling and Logan Tiensvold, Trent Grizzle of Fairbury, Mason Lofquist of West Holt High in Atkinson, Ogallala's Jordan Orr, Riley Schliep of Grand Island Northwest, Valentine's DJ Stephen, and Hershey's McKade Smith. Smith is the son of CSC's 1995 All-RMAC cornerback Ryan Smith.
The class includes seven players from Wyoming. They are Brady Fullmer of Yoder's Southeast High, Max Gallagher of Powell, Casper's Joey Geil, who joins his brother Jake from Kelly Walsh High, Greybull's Riley Hill, Buffalo's Isaac Nicholson, Riverton's Brodie Roden, and Noah Schwalbe of Thermopolis's Hot Springs County High.
This year, with several offers still extended, the biggest catch came from the Rocky Mountain State. The 10 Coloradans who signed are TJ Blazon III of Silver Creek High in Longmont; Tayven Bray of ThunderRidge High in Highlands Ranch; Michael DeCamillis of Broomfield; Juan Estrada-Sanchez of Denver's Lincoln High; Coronado High's Jordan Evans, Pine Creek's Christion Louis, and Widefield's Sam Reed of Colorado Springs; Dylan Koretko of Johntown's Roosevelt High; Loveland High's Kyle Levault; and Chris Ringus of nearby Thompson Valley High.
There are also six South Dakota players, four of whom all matriculate from St. Thomas More High in Rapid City. The quartet of Cavaliers are Ryan Ahrenstorff, Jacob Larson, Thomas Rafferty, and Kobe Whipple. The remaining two are Joel Carpenter of Sturgis and Justen Zbranek of Douglas.
The Eagles plucked two from Washington state. Jaeden Pritchard and Aksel Turk will continue as teammates at CSC after playing for Mercer Island High, both as linemen.
Two from the southeastern United States are Tayondric Crowder of Blanche Ely High in Pompano Beach, Florida, and Thomar Smith of Wayne County High in Jesup, Georgia.
A pair from the southwestern region of the country are Kael Juelfs of Lee Williams High in Kingman, Arizona, and Brooks Pavlic from Robertson High in Las Vegas, New Mexico. The former is the son of CSC Hall of Famer Joe Juelfs.
The final state represented by the class is Idaho, where Sam Cafferty of Kuna High will arrive from in the fall.
The 40th member of the signing day class is Riku Kitamura, a transfer from Santa Monica College. The junior defensive lineman is a rare football-playing international student, originally from Hiroshima, Japan.
In addition to the 40 players signed on Wednesday, walk-on players and other transfers are expected to add to the incoming player roster in the following days and weeks.
The complete incoming player roster as of Wednesday is below:
NAME POS HT WT HOMETOWN PREV SCHOOL
Ryan Ahrenstorff RUSH 6-0 215 Rapid City, S.D. St. Thomas More HS
TJ Blazon III WR 5-9 165 Longmont, Colo. Silver Creek HS
Tayven Bray DE 6-1 205 Highlands Ranch, Colo. Thunder Ridge HS
Sam Cafferty OT 6-4 310 Kuna, Idaho Kuna HS
Joel Carpenter DT 6-1 230 Sturgis, S.D. Sturgis Brown HS
Tayondric Crowder DB 5-11 165 Pompano Beach, Fla. Blanche Ely HS
Michael DeCamillis OG 6-3 270 Broomfield, Colo. Broomfield HS
Juan Estrada-Sanchez OT 6-4 245 Denver, Colo. Lincoln HS
Jordan Evans RB 5-10 195 Colorado Springs, Colo. Coronado HS
Curtis Freeze OG 6-2 260 Bridgeport, Neb. Bridgeport HS
Brady Fullmer QB 6-2 180 Yoder, Wyo. Southeast HS
Max Gallagher DT 6-2 265 Powell, Wyo. Powell HS
Joey Geil LB 6-1 215 Casper, Wyo. Kelly Walsh HS
Trent Grizzle OG 6-3 240 Fairbury, Neb. Fairbury HS
Riley Hill QB 6-3 220 Greybull, Wyo. Greybull HS
Kael Juelfs LB 5-10 195 Kingman, Ariz. Lee Williams HS
Riku Kitamura DT 6-0 290 Hiroshima, Japan Santa Monica College
Dylan Koretko DE 5-11 226 Johnstown, Colo. Roosevelt HS
Jacob Larson RB 6-1 190 Rapid City, S.D. St. Thomas More HS
Kyle Levault DT 6-2 240 Loveland, Colo. Loveland HS
Mason Lofquist DE 6-2 220 Atkinson, Neb. West Holt HS
Christion Louis DT 6-3 285 Colorado Springs, Colo. Pine Creek HS
Isaac Nicholson RUSH 6-3 210 Buffalo, Wyo. Buffalo HS
Jordan Orr LB 6-4 190 Ogallala, Neb. Ogallala HS
Brooks Pavlic OG 6-2 270 Las Vegas, N.M. Robertson HS
Jaeden Pritchard RUSH 6-0 255 Mercer Island, Wa. Mercer Island HS
Thomas Rafferty WR 6-0 185 Rapid City, S.D. St. Thomas More HS
Sam Reed DT 6-2 230 Colorado Springs, Colo. Widefield HS
Chris Ringus DE 6-2 220 Loveland, Colo. Thompson Valley HS
Sam Rischling TE 6-2 215 Chadron, Neb. Chadron HS
Brodie Roden WR 6-0 170 Riverton, Wyo. Riverton HS
Riley Schliep TE 6-5 205 Grand Island, Neb. Grand Island Northwest HS
Noah Schwalbe RUSH 6-2 200 Thermopolis, Wyo. Hot Springs County HS
McKade Smith WR 6-4 172 Hershey, Neb. Hershey HS
Thomar Smith DB 6-2 165 Jesup, Ga. Wayne County HS
DJ Stephen LB/LS 6-0 195 Valentine, Neb. Valentine HS
Logan Tiensvold LB 6-0 190 Chadron, Neb. Chadron HS
Aksel Turk OT 6-6 245 Mercer Island, Wash. Mercer Island HS
Kobe Whipple DT 6-1 255 Rapid City, S.D. St. Thomas More HS
Justen Zbranek WR 6-1 185 Douglas, S.D. Douglas HS
Be the first to know
Get local news delivered to your inbox!