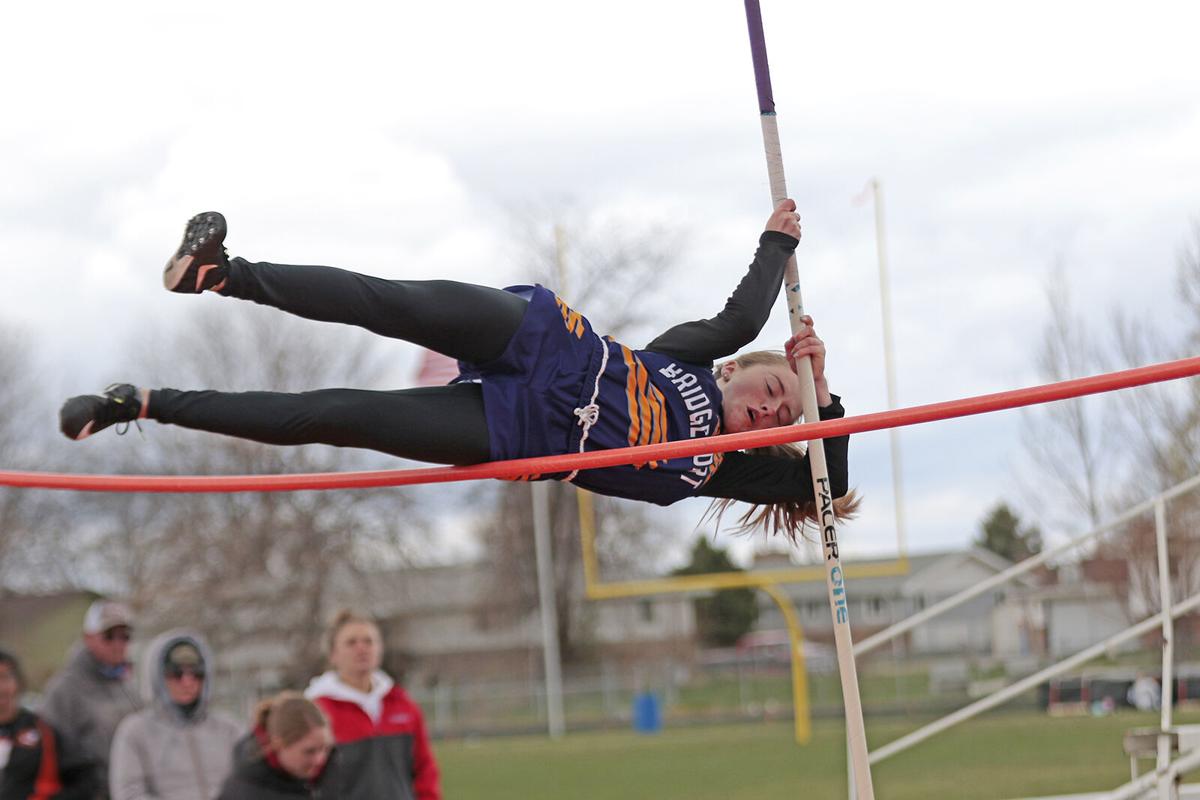 MITCHELL — The Mitchell boys and Bayard girls ran away with the team titles at the Western Trails Conference Track and Field meet on Monday.
Seth Wilfred took first in both throwing events for Mitchell.
The Tigers' Wilfred won the shout put with a throw of 44-feet, 11-1/4 inches, and teammate Brock Knutson finished third in the event with a toss of 41-1. Morrill's Michael Morgan ended second with a toss of 42-3
Wilfred threw the discus 140-4 to finish in front of Morrill's Isaiah Guerue, who had a throw of 136-2.
Mitchell's Rylan Aguallo sat out the long jump competition, but still picked up a gold medal in the 100-meter Run with a time of 11.38. Carmelo Ayala claimed 800-meter gold with a time of 2:08.83 for the Tigers, and Jackson Allen ended on top in the pole vault clearing 12-8.
For the Bayard girls, Dani Harter dominated the sprints taking gold in the 100 with a time of 13.45, and winning the 200 with a time of 27.74.
Bayard's Kierra Miller picked up the win in the 1,600 with a time of 6:02.85. The Tigers' Joslyn Hopkins took first in the 300 Hurdles with a time of 51.25, and jumped 16-3 1/2 to win the long jump title.
Bayard also had the top 4x100 relay team. The relay team of Cambree Schmaltz, Danika Hassel, Harter and Ashley Garza ran a 53.88 to claim first over Hemingford's team of Catherine Bryner, Brookelynn Warner, Elizabeth Mayer and Destiny Hanson.
WESTERN TRAILS CONFERENCE TRACK AND FIELD
1, Mitchell, 298; 2, Gordon-Rushville, 274; 3, Bridgeport, 146; 4, Morrill, 128; 5, Bayard, 104; 6, Hemingford, 62; 7, Kimball, 34.
1, Bayard, 254; 2, Bridgeport, 174; 3, Gordon-Rushville, 170; 4, Mitchell, 152; 5, Morrill, 110; 6, Hemingford, 106; 7, Kimball, 96.
100 Meters Varsity - Finals x
1, Rylan Aguallo, 11.38a, Mitchell; 2, Daemon Avilez, 11.76a, Bayard; 3, Christian Allen-Van Pelt, 11.83a, Kimball; 4, Caden Lewis, 11.87a, Morrill; 5, Dillon Metz, 12.08a, Bridgeport
200 Meters Varsity - Finals x
1, Brian Turek, 23.78a, Hemingford; 2, Francisco Alvizar, 24.59a, Mitchell; 3, Ellis Livingston, 24.97a, Gordon-Rushville; 4, Donovan Fillmore, 25.56a, Gordon-Rushville; 5, John Ansley, 26.00a, Hemingford
400 Meters Varsity - Finals x
1, Jace Freeseman, 53.18aPR, Gordon-Rushville; 2, Elijah Jackson, 54.35a, Gordon-Rushville; 3, Paul Lynch, 54.91aPR, Gordon-Rushville; 4, Francisco Alvizar, 55.09a, Mitchell; 5, Ethan Specht, 57.34a, Hemingford
800 Meters Varsity - Finals x
1, Carmelo Ayala, 2:08.83a, Mitchell; 2, Jace Freeseman, 2:13.30a, Gordon-Rushville; 3, Paul Lynch, 2:16.19aPR, Gordon-Rushville; 4, Robert Reina, 2:18.36a, Gordon-Rushville; 5, Ryal Baldwin, 2:28.30a, Mitchell
1600 Meters Varsity - Finals x
1, Elijah Conley, 5:16.02a, Bridgeport; 2, Carmelo Ayala, 5:18.96a, Mitchell; 3, Gregory Johns, 5:31.20aPR, Gordon-Rushville; 4, Hunter Miller, 5:31.84aPR, Bayard; 5, William Costello, 5:33.98aPR, Gordon-Rushville
3200 Meters Varsity - Finals x
1, Elijah Conley, 11:34.53a, Bridgeport; 2, Easton Anderson, 11:34.58a, Mitchell; 3, Hunter Miller, 11:52.70a, Bayard; 4, Luke Ott, 12:06.68a, Morrill; 5, Frankie Johns, 12:36.80aPR, Gordon-Rushville
110m Hurdles - 39" Varsity - Finals x
1, Bryce Seier, 17.00a, Morrill; 2, Aydon McDonald, 17.87a, Gordon-Rushville; 3, Wyatt Hayward, 18.29aPR, Mitchell; 4, Karter Winter, 18.81aPR, Bayard; 5, William Costello, 19.27a, Gordon-Rushville
300m Hurdles - 36" Varsity - Finals x
1, Aydon McDonald, 44.77aPR, Gordon-Rushville; 2, Wyatt Hayward, 45.24a, Mitchell; 3, Jace Phillips, 45.30a, Bridgeport; 4, Bryce Seier, 46.38a, Morrill; 5, Karter Winter, 47.93aPR, Bayard
4x100 Relay Varsity - Finals x
1, GORDON-RUSHVILLE — Ellis Livingston, Donovan Fillmore, Mac Ballard, Elijah Jackson, 46.61a; 2, MITCHELL — Rylan Aguallo, Hayden Umble, Francisco Alvizar, Santiago Castillo, 46.97a; 3, BRIDGEPORT — Adrian Torres, Jace Phillips, Luis Garza, Dillon Metz, 47.24a; 4, MORRILL — Michael Morgan, Mark Bartlett, Cody Johnson, Caden Lewis, 47.79a; 5, HEMINGFORD — Cody Rathjen, Brian Turek, John Ansley, Ethan Specht, 47.99a; 6, BAYARD — Quintin Hassel, Christian Leonard, Jack Kildow, Daemon Avilez, 48.80a
4x400 Relay Varsity - Finals x
1, GORDON-RUSHVILLE —Mac Ballard, Jace Freeseman, Logan Daringer, Elijah Jackson, 3:43.30a; 2, MITCHELL — Francisco Alvizar, Santiago Castillo, Wyatt Hayward, Carmelo Ayala, 3:58.63a; 3, MORRILL —Michael Morgan, Luke Ott, Daniel Kohel, Bryce Seier, 4:07.63a; 4, BAYARD — Zach Araujo, Brock Burry, Trenton Carrizales, Kolby Houchin, 4:11.33a
4x800 Relay Varsity - Finals x
1, GORDON-RUSHVILLE — Robert Reina, Paul Lynch, Gregory Johns, Jace Freeseman, 9:07.72a; 2, BAYARD — Trenton Carrizales, Brock Burry, Zach Araujo, Warlance Eagle Hawk, 9:56.28a; 3, BRIDGEPORT — Elijah Conley, Evan Hill, Luis Garza, Edgar Perez, 9:56.39a; 4, MITCHELL — Ryal Baldwin, Jacob Middledorf, Ben Gibbons, Brody Blome, 10:30.00a; 5, KIMBALL — Braylon Miller, Xavier Thomas-Lewis, Joseph Bremer, Corey Gardner, 10:56.72a
Shot Put - 12lb Varsity - Finals x
1, Seth Wilfred, 44-11.25, Mitchell; 2, Michael Morgan, 42-03.00, Morrill; 3, Brock Knutson, 41-01.00, Mitchell; 4, Isaiah Guerue, 39-02.00, Morrill; 5, Theron Miller, 38-09.00PR, Bayard
Discus - 1.6kg Varsity - Finals x
1, Seth Wilfred, 140-04, Mitchell; 2, Isaiah Guerue, 136-02, Morrill; 3, Kenneth Wyland, 131-04PR, Hemingford; 4, Bryce Seier, 124-06PR, Morrill; 5, Hunter Wyland, 124-02PR, Hemingford
High Jump Varsity - Finals x
1, Daemon Avilez, 5-09.00, Bayard; 2, Francisco Barrios, 5-07.00, Mitchell; 3, William Costello, 5-03.00PR, Gordon-Rushville; 3, Shawn Francescato, 5-03.00, Mitchell; 5, Wyatt Hayward, 5-03.00, Mitchell
Pole Vault Varsity - Finals x
1, Jackson Allen, 12-08.00PR, Mitchell; 2, Bryce Hodsden, 11-11.00PR, Mitchell; 3, Evan Hill, 11-05.00PR, Bridgeport; 4, Ethan Specht, 10-11.00, Hemingford; 5, James McGinnis, 10-05.00PR, Kimball
Long Jump Varsity - Finals x
1, Dillon Metz, 20-10.25PR, Bridgeport; 2, Donovan Fillmore, 19-05.50PR, Gordon-Rushville; 3, Christian Allen-Van Pelt, 19-00.50, Kimball; 4, Adrian Torres, 18-10.00, Bridgeport; 5, Luis Garza, 18-08.00PR, Bridgeport
Triple Jump Varsity - Finals x
1, Elijah Jackson, 41-08.25PR, Gordon-Rushville; 2, Luis Garza, 39-01.00PR, Bridgeport; 3, Cody Johnson, 37-10.00, Morrill; 4, Brody Blome, 37-06.00, Mitchell; 5, Adrian Torres, 37-00.00PR, Bridgeport
100 Meters Varsity - Finals x
1, Dani Harter, 13.45a, Bayard; 2, Sydney Nein, 13.62a, Bridgeport; 3, Brooklin Hess, 13.73a, Morrill; 4, Cambree Schmaltz, 13.92a, Bayard; 5, Elizabeth Mayer, 14.07aSR, Hemingford
200 Meters Varsity - Finals x
1, Dani Harter, 27.74a, Bayard; 2, Brooklin Hess, 28.08a, Morrill; 3, Sydney Nein, 28.32aPR, Bridgeport; 4, Elizabeth Mayer, 28.43aPR, Hemingford; 5, Cambree Schmaltz, 28.73a, Bayard
400 Meters Varsity - Finals x
1, Jayla Brehmer, 1:05.28a, Gordon-Rushville; 2, Cambree Schmaltz, 1:06.84a, Bayard; 3, Caani Banks, 1:07.64aPR, Mitchell; 4, Brooke Hopkins, 1:11.75a, Morrill; 5, Ashley Garza, 1:12.20a, Bayard
800 Meters Varsity - Finals x
1, Haley Johnson, 2:40.24a, Gordon-Rushville; 2, Kierra Miller, 2:44.47a, Bayard; 3, Destiny Hanson, 2:45.60aPR, Hemingford; 4, Skye Tausan, 2:51.14aPR, Gordon-Rushville; 5, Anna Cheek, 2:53.59aPR, Mitchell
1600 Meters Varsity - Finals x
1, Kierra Miller, 6:02.85a, Bayard; 2, Paityn Homan, 6:21.81a, Morrill; 3, Brenna Bostock, 6:32.93aPR, Gordon-Rushville; 4, Tyrah American Horse, 6:37.93a, Gordon-Rushville; 5, Madie Peterson, 6:37.99aPR, Gordon-Rushville
3200 Meters Varsity - Finals x
1, Paityn Homan, 12:44.30aPR, Morrill; 2, Kierra Miller, 12:53.08aPR, Bayard; 3, Carlye Kresl, 13:45.79aPR, Hemingford; 4, Sarah Lang, 14:12.58a, Bridgeport; 5, Lillian Golden, 14:30.98a, Mitchell
100m Hurdles - 33" Varsity - Finals x
1, Kaitlin Heeg, 17.07a, Kimball; 2, Trinity Penn, 18.29a, Mitchell; 3, Marjie Schmitt, 18.66aPR, Mitchell; 4, Brooklyn Bates, 19.11aPR, Bridgeport; 5, Brookelynn Warner, 19.15a, Hemingford
300m Hurdles - 30" Varsity - Finals x
1, Joslyn Hopkins, 51.25aPR, Bayard; 2, Marjie Schmitt, 51.99a, Mitchell; 3, Kaitlin Heeg, 52.59aPR, Kimball; 4, Shawna Shadbolt, 55.64aPR, Gordon-Rushville; 5, Trinity Penn, 56.12aPR, Mitchell
4x100 Relay Varsity - Finals x
1, BAYARD —Cambree Schmaltz, Danika Hassel, Dani Harter, Ashley Garza, 53.88a; 2, HEMINGFORD — Catherine Bryner, Brookelynn Warner, Elizabeth Mayer, Destiny Hanson, 55.63a; 3, MITCHELL — Marjie Schmitt, Dionicia Rodriguez, Caani Banks, Jayden Kanno, 55.83a; 4, BRIDGEPORT — Alexis Hill, Brooklyn Mohrman, Lindsie Leithead, Sydney Nein, 56.33a; 5, KIMBALL — Tianna Stierwalt, Charlotte Hargreaves, Julia Winstrom, Raven Johnson, 57.58a; 6, MORRILL — Jaiden Steiner, Brooke Hopkins, Lexis Gibson, Brooklin Hess, 57.78a
7, GORDON-RUSHVILLE — Shelby Hurlburt, Reaghan Shultz, Brenna Haag, Trinity Taylor, 58.92a
4x400 Relay Varsity - Finals x
1, GORDON-RUSHVILLE — Haley Johnson, Shawna Shadbolt, Reaghan Shultz, Jayla Brehmer, 4:34.68a; 2, MITCHELL — Marjie Schmitt, Caani Banks, Emma Robbins, Dionicia Rodriguez, 4:37.47a; 3, HEMINGFORD — Destiny Hanson, Elizabeth Mayer, Lauren Garner, Catherine Bryner, 4:41.33a; 4, BRIDGEPORT — Brooklyn Mohrman, Mackenzie Liakos, Lindsie Leithead, Alexis Hill, 4:52.99a; 5, MORRILL — Paris Frias, Madison Mendoza, Brooke Hopkins, Ilycia Guerue, 5:07.25a; 6, BAYARD — Zoie Clause, TruLee White, Sharon Garza, Madi Oliverius, 5:23.52a
4x800 Relay Varsity - Finals x
1, GORDON-RUSHVILLE — Haley Johnson, Skye Tausan, Brenna Bostock, Jayla Brehmer, 11:14.59a; 2, MITCHELL Anna Cheek, Lillian Golden, Makayla Jackson, Makayla Suttles, 11:55.86a; 3, BRIDGEPORT — Sarah Lang, Claire Linders, Bethany Nichols, Brooklyn Mohrman, 11:58.14a; 4, HEMINGFORD — Lauren Garner, Brinna Phillips, Madisen Meek, Karissa Christopherson, 13:32.07a; 5, MORRILL — Paris Frias, Madison Mendoza, Elizabeth Henderson, Jessica Wilkinson, 13:35.98a
Shot Put - 4kg Varsity - Finals x
1, Grace Dean, 32-00.00, Bridgeport; 2, Lexi Fiscus, 31-05.00, Bayard; 3, McKinley Grover, 30-10.00, Gordon-Rushville; 4, Jaiden Steiner, 30-08.00, Morrill; 5, Caitlyn Blackstone, 30-02.00, Mitchell
Discus - 1kg Varsity - Finals x
1, Ruthie Loomis-Goltl, 115-03, Bridgeport; 2, McKinley Grover, 113-03, Gordon-Rushville; 3, Landrie Nelson, 96-08PR, Hemingford; 4, Teresa Santoyo, 92-02, Bridgeport; 5, Lexi Fiscus, 88-03, Bayard
High Jump Varsity - Finals x
1, Ruthie Loomis-Goltl, 4-09.00, Bridgeport; 2, Dani Harter, 4-09.00PR, Bayard; 2, Margaret Clinger, 4-09.00PR, Bridgeport; 4, Tianna Stierwalt, 4-09.00PR, Kimball; 5, Hayley Blackstone, 4-05.00, Mitchell
Pole Vault Varsity - Finals x
1, Raven Johnson, 8-04.00, Kimball; 2, Catherine Bryner, 7-10.00, Hemingford; 3, Emma Robbins, 7-04.00, Mitchell; 4, Alexis Hill, 6-10.00PR, Bridgeport; 5, Aspyn Kiefer, 6-04.00, Kimball
Long Jump Varsity - Finals x
1, Joslyn Hopkins, 16-03.50PR, Bayard; 2, Jayla Brehmer, 15-01.50PR, Gordon-Rushville; 3, Danika Hassel, 14-08.50PR, Bayard; 4, Kaitlin Heeg, 14-08.00, Kimball; 5, Brooklyn Mohrman, 14-05.00PR, Bridgeport
Triple Jump Varsity - Finals x
1, Kaitlin Heeg, 32-03.00, Kimball; 2, Paris Frias, 31-10.00PR, Morrill; 3, Joslyn Hopkins, 31-09.00, Bayard; 4, Danika Hassel, 30-03.50, Bayard; 5, Caani Banks, 30-03.00PR, Mitchell