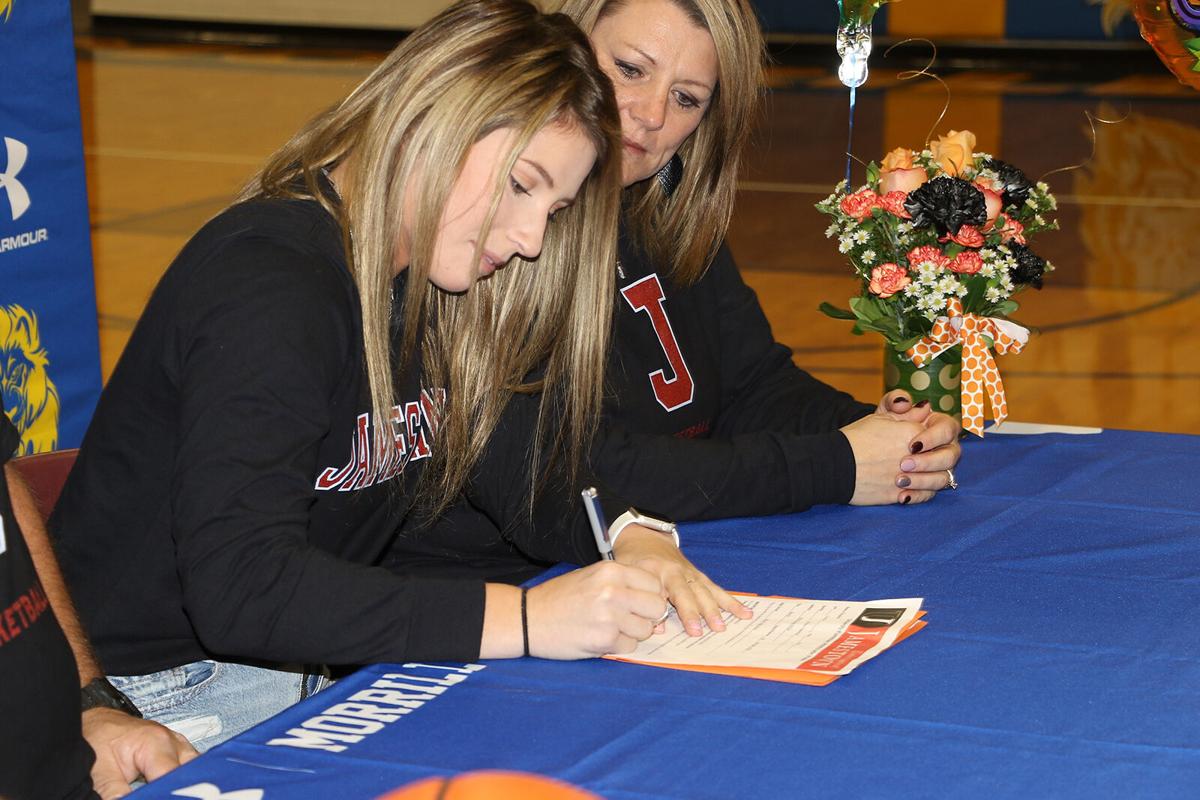 Morrill's Ilycia Guerue will be taking her basketball talents to the next level after signing with the University of Jamestown on Wednesday, Nov. 11.
Guerue said the decision to sign with the North Dakota school was an easy one to make.
"The first reason I decided I wanted to go there was visiting them," the Morrill senior said. "When I first stepped on their campus and started talking to their coaches, they were really welcoming and inviting. They just talked to me a lot about their school and described everything so well to me. You could tell that everybody at that school really cared about you and wanted you to succeed. When we walked down the hallways, professors would come out and talk to us when they weren't scheduled to. That is what pushed me to go there because they really cared about me even though they didn't know me."
It was the only college she visited.
"They ended up finding me and contacting me. I spoke to multiple coaches over the phone and we ended up setting up a time for me to come and see them, which is great especially with everything going on," Guerue said. "There were a lot of schools I wasn't able to visit just because of everything. It is crazy. So, I was really blessed to go down there."
Jamestown is a NAIA program that plays in the GPAC conference and plays teams such as Hastings, Midland, Doane and Briar Cliff.
Guerue said she had dreamed of playing college basketball since watching her sister, Kiley, sign to play college basketball and the tons of other athletes that achieved the same thing.
"I have dreamed about this for I don't know how long," she said. "I remember being little and watching people sign and loving to play this game, I knew this was something I wanted to do. Just being here today, living out that dream that I had when I was little, is just special for me because I had that for so long and dreamt it for so long and now I am living it."
Morrill coach Josh Guerue said Ilycia will bring some scoring to the Jimmies program, but it is her defense that stands out the most. She holds the most steals and made free throws in school history.
"You could tell from early on that she was a little different. She had the intensity and aggressiveness about her," Josh Guerue said. "I think what she will bring that to the college level. She is just a defensive terror. She can score and she will score a lot but, defensively, she is a problem. That is something that will be beneficial for Jamestown and they will like that when she shows up."
Guerue has played 60 games in her three years at Morrill. She suffered a knee injury her sophomore season after playing eight games. She came back her junior year and scored 494 points. Guerue is 35 points from scoring her 1,000 career point. Guerue is averaging 16.1 points, three assists, 6.4 rebounds, and 6.4 assists in her basketball career.
Ilycia Guerue credits Kiley with helping to stoke her passion for basketball.
"Unfortunately, we never got to play against each other and I know she is watching me right now so I should say nice things," she said. "I know we both are competitive a lot and I wish we could have grown up being able to play against each other, but with the age difference we weren't able to do that.
"I remember being little and always being at the games. Of course, I would always run around and sometimes I wouldn't pay attention, but I definitely was around it, especially when I started managing. I was just around it all the time and she really opened my eyes of what I wanted to do and taught me so many things, too."
This year, her senior year at Morrill, Guerue has some goals and that is to win some titles and try to get to the state tournament. She said the team is starting to bond together and that should be a positive.
"For our team, we are really starting to bond together, even at the start of this week, I could see the shift with each other, like the chemistry and I want to just keep building off that," she said. "Last year we just were runner-up and I want to be able to finish first this year. I think that is possible. At the end of the day, everything we do I want to make it to Lincoln. I really hope that all the time we are putting in now, it pays off in the end."
Be the first to know
Get local news delivered to your inbox!