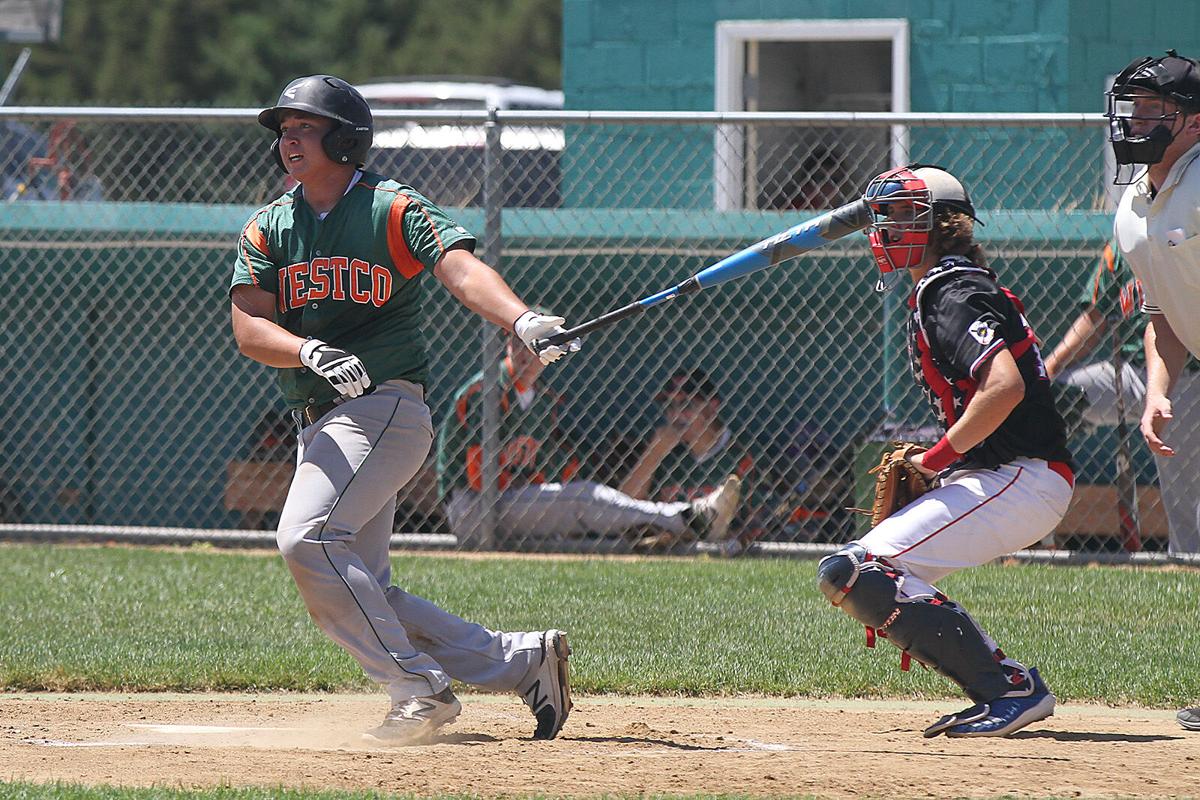 The North Platte FNBO Nationals and the Scottsbluff WESTCO Zephyrs traded wins in a doubleheader on Saturday in North Platte.
The Nationals took the first game 10-6 after collecting 15 hits and limiting Scottsbluff's run production until late in the game. The Zephyrs won the second game 7-3 behind a huge second inning and a great pitching performance from Tate Carson to spread out North Platte's offense through different innings.
North Platte will have a week off before traveling to Scottsbluff to play both the Zephyrs and Cheyenne. Scottsbluff hosts Alliance on Tuesday and Chadron on Wednesday.
WESTCO 6, North Platte 10
Jaylan Ruffin's fly ball in the fifth inning fell just out of the reach of Scottsbluff right fielder KJ Hartline. Tate Janas, who was on third base, easily jogged home once the ball touched the ground.
Ruffin's single was the seventh of the inning for North Platte, and the five runs it put up helped the Nationals take the first game over the Zephyrs 10-6.
"Some of those hits were falling that first game," North Platte coach Andy Butler said. "We were unfortunate to only put up 10 because there's a few chances we could have put up a few more with how well we were hitting the ball."
Derrick Kuhlmann led North Platte with three hits, and the team had 15 hits in the game.
Will Coe got the start and went 5 2/3 innings, allowing six runs (one earned) on seven hits and three walks. He was replaced by Carter Kelley, who only let up one hit in 1 1/3 innings of work.
Scottsbluff didn't have a player get more than one hit, but had eight hits total. Porter Robbins led the team with two RBIs.
Jace Heimerman was on the mound first and pitched until the fifth inning, when Robbins relieved him. Heimerman gave up eight runs (four earned) on 12 hits, and Robbins allowed two runs on three hits.
It took time for both teams to settle into a groove offensively. North Platte struck first in the second inning after Seamann scored on a passed ball.
Scottsbluff took its only lead of the game in the top of the fourth. Hartline doubled to bring in Creighton Dike, then an error at first base allowed Hartline to score and make it a 2-1 game. The Nationals got those runs back in the bottom of the inning on a single from Janas and a sacrifice groundout.
North Platte extended its lead in the fifth inning with a five-run rally. Back-to-back singles from Seamann and Kuhlmann scored two. Coe and Ruffin had consecutive singles later in the inning with two outs to score two more runs, and Coe later scored on a throwing error on a steal to put the score at 8-2.
Scottsbluff quickly made it an 8-6 game off back-to-back North Platte errors and an RBI single to left field from Robbins. The Nationals responded in the bottom of the inning with an RBI double from Cody Wright and an RBI single from Butterfield.
The Zephyrs' offense was on top of North Platte starting pitcher Tyler Tobey in the second inning. An error put Andon Pittman on base, before three consecutive hits from Keegan Nation, Robbins and Jerod Balthazor put four runs on the board with no outs.
That six-run inning, mixed with strong pitching from Carson, gave Scottsbluff the 7-1 win and split the doubleheader.
"One inning killed us that second game," Butler said. "I don't want to say we gave up, because we sure as heck didn't. All of our good hits were right at people."
Carson pitched a complete game, allowing three runs on nine hits. The Zephyrs were led offensively by Dike and Heimerman, who had two hits apiece.
Tobey went four innings, letting up six runs (two earned) on six hits. Ruffin entered the game in the fifth inning, allowing one run on two hits. Trey Barker led the team offensively with three hits, and Butterfield had two hits.
Scottsbluff scored first with that six-run second inning. After the three singles made the score 4-0, the Zephyrs' scored two more runs on sacrifice flyouts from Dike and Carson.
North Platte scored a run in the bottom of the second after an error allowed Seamann to score from third. Its next run came in the third inning when Butterfield's single to center field scored Tobey.
Scottsbluff added its final run in the sixth inning when Balthazor scored on Dike's single. North Platte scored its final run in the seventh inning, when Wright scored on a ground out.
"When you're facing the metro teams, sometimes the slower pitchers are the tougher ones to hit just because the trajectory of the ball changes a little bit and you got time to think about a pitch," Butler said. "Sadly, that's sometimes the tougher part."