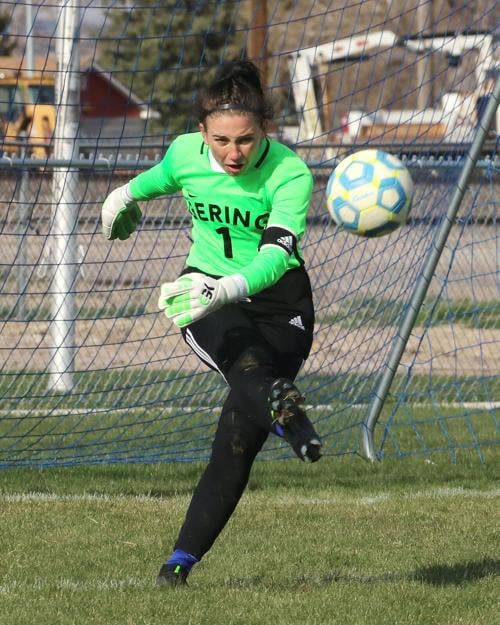 North Platte's Gracie Haneborg set a school record with six goals Tuesday night against Gering as the North Platte girls topped Gering 10-0 on senior recognition night for the Gering seniors.
On the boys' side, it was senior night at North Platte and the eastern Bulldog team topped Gering 10-0 Tuesday night.
Action in Gering was competitive as Gering tried its best to hold down a talented North Platte squad. The Bulldog girls played strong defense as Gering made North Platte work hard for their goals.
Chelsie Hennings, one of the seniors that was recognized before the match, said they played hard until the end.
"I think, as a team, we came out strong as we could have," Hennings said. "We played till the very end, overall we did not give up."
It was hard match for a Gering squad that has a lot of youngness compared to North Platte, who has plenty of soccer talent. Gering did play a lot better in the second half.
"In the second half we began to talk more as a team," Hennings said. "This caused our offense to have the ball more often than the first half."
Gering recognized five seniors that got to play one last year as a Bulldog after having their junior year canceled because of the COVID pandemic. The five seniors included Hennings, Aspen Shields, Aubrey Clement, Lilian West, and Anais Barraza.
Hennings is glad she got to play her senior year of soccer.
"As it being my last year playing, I'm very sad to let it all go, Hennings, who is planning on attending Fullen Hair of Design for her cosmetology certificate, said. "I have been playing since I was a little girl and it's hard seeing it come to an end. I'm very thankful for all the opportunities I have had throughout the years. With COVID, I am grateful I got one last year to play."
Haneborg scored four of her school-record goals in the first half.
North Platte got on the scoreboard first just a little over two minutes into the contest when Brooklyn Ayres scored an unassisted goal.
After that, it was the Haneborg show as the senior scored four times. The first game with 24:18 left in the half when she took a pass from freshman Sydney Letourneau. Haneborg followed that up scoring her second and third goals on unassisted shots. The second goal came with 23:23 to play and the third came with 19:07 to play in the half.
The Gering defense then stepped up as they held the high-scoring North Platte offense scoreless for nearly 16 minutes. With 2:57 left in the half, Haneborg took a pass from freshman Lauren Horne and scored her fourth goal of the match as North Platte led 5-0.
Gering had one shot on goal in the first half and it was a shot that Sophia McAndrews had a wide open shot on goal as North Platte goalkeeper senior Abby Orr came out too far for a save and McAndrews just missed wide.
The second half saw North Platte score five more times. Haneborg had two goals while Ayres added a second goal. Horne and Kaitlyn Evans each added a goal for the North Platte in the second half.
Lenourneau had three assists for North Platte.
Gering finished the game with seven shots as Orr had six saves in net. North Platte had 16 shots in the first half and a number more in the second half.
The boy's contest, which was played in North Platte, saw the North Platte boys score seven goals in the first half for a 7-0 lead. North Platte added three more goals, the third coming less than 20 minutes into the second half for the 10-0 win that stopped the game.
North Platte had six different players score a goal. Jaylan Ruffin had three goals while Ty Hilderbrand and Ryan Kaminski each had two. Netting one goal for North Platte were Tyler Lana, Eli Kempke, and Landon Morrissey-Klasna.
North Platte had 11 shots on goal while Gering had one shot on goal.
Gering will be back in action this weekend when they face Kearney Catholic and Holdrege in matches at the Landers Soccer Complex.