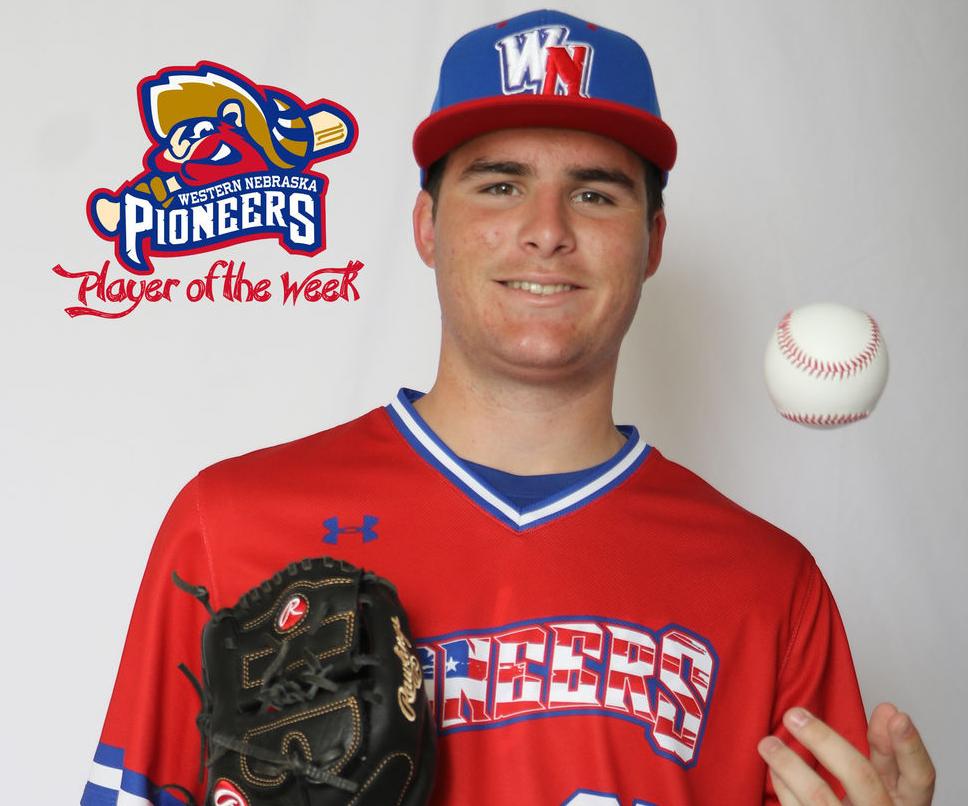 So far this summer, Western Nebraska Pioneers pitcher Bradley Mullan is turning in a masterful performance from the mound.
Mullan, a redshirt freshman at Gonzaga University, has pitched in four games recording 20 strikeouts with an ERA of just .66.
Mullan doesn't pay too close attention to the stats, though, he said.
"At the end of the day, it's just a number," he said. "Strikeouts don't really mean much. I just want to help my team win the best way I can. It's been working out, but I can't predict the future. I might have a rough patch or something. As long as I pitch my best, I'm fine with that."
Mullan said he is just happy to be able to get some live game action after the college season was shut down because of the COVID-19 pandemic, he said. Mullan, though, said he was able to gain strength through the pandemic.
"I bought a weight set. If anything, I feel like I got stronger," he said. "I was fortunate to have that available. i was throwing every day. I live in California. It's not the best area to be at this point (in the pandemic), but I was able to get the job done."
Mullan said he expects that everybody will be rusty for the first few weeks of the season.
"I think, these first few weeks, there are probably going to be more errors, more walks and fewer hits," he said. "The first game felt fine, but I've got to know mentally that these hitters are probably just as uncomfortable batting as I am throwing. You have to take that to your advantage. Attack the zone and stuff like that."
Mullan said he has been impressed with the level of competition he has faced this summer.
"There's definitely competition here," he said. "You can't just throw a fastball down the middle and strike everyone out. You have to mix it up. It's a college league for a reason."
The hectic schedule has taken some getting used to, but he is settling in for the summer, Mullan said. He said he is grateful that his pitching coach at Gonzaga helped him land here on the Pioneers' roster to get more time on the mound.
Mullan said he wasn't sure what to expect when he arrived in the Scottsbluff-Gering area.
"I knew it was going to be a small town. I thought there would be less here than there is. I've been finding that there's a lot that is offered here."
The fan support also got him off guard, he said.
"I heard about (the fan support from past players)," he said. "When you get here and see it, it's shocking. So far, it's been really fun. People are really passionate and this is really kind of neat, especially since we're not really from here. We didn't grow up here, so that makes (the fan support) even more impressive."
Mullan said it has been a blessing to play the sport he has loved since he was young. Growing up in Chino Hills, California, Mullan said the only two sports he played were baseball and basketball.
Mullan, though, said he wasn't particularly fast nor a good shooter, so he chose to stick with baseball.
Mullan said his love for baseball doesn't extend to offense.
"I don't hit at all. I'm really bad at that, so I'm glad I don't have to" he said. "I don't bring a bat with me anywhere, so I'm kind of lucky with that. It makes things easier."
The Pioneers will be back at home on Monday, July 13 when they take on the Pierre Trappers at 6:35 p.m.
Be the first to know
Get local news delivered to your inbox!