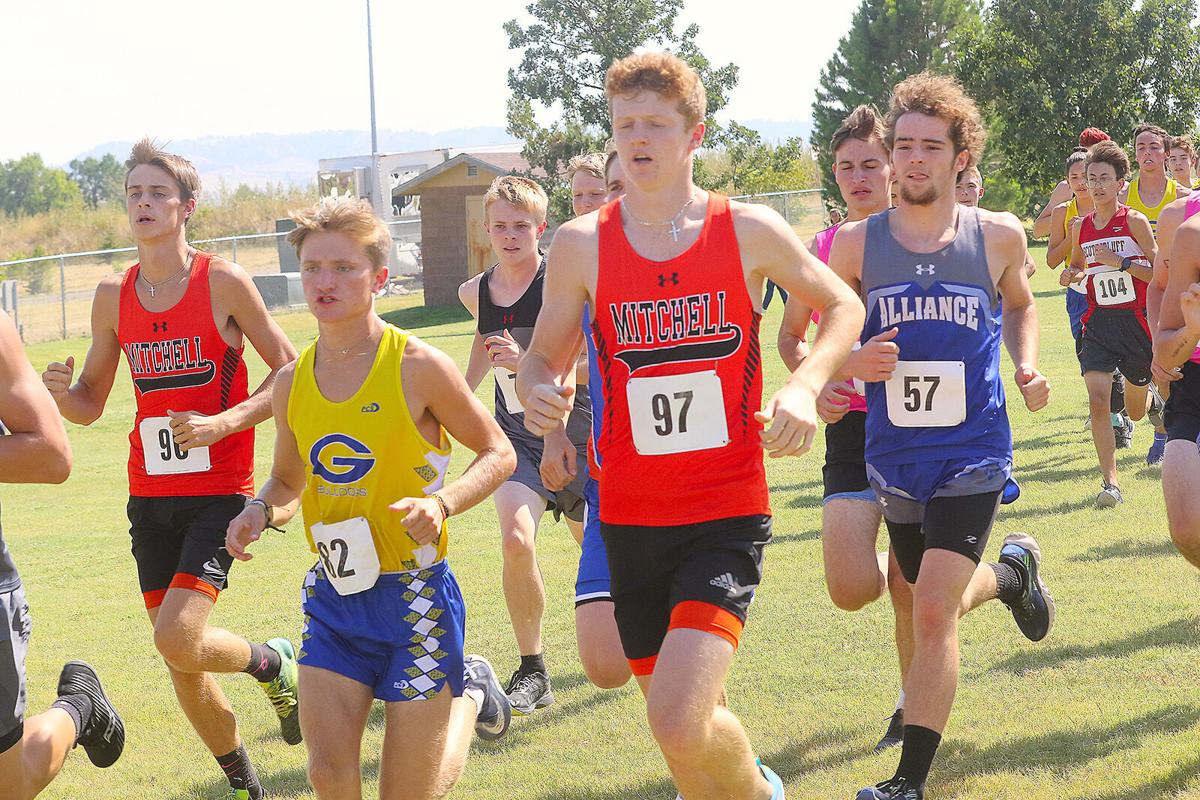 Scottsbluff's Brooke Holzworth captured her third straight Gering Invite individual title as the Bearcats put three runners in the Top 10.
The Chadron girls, however, dominated the team race, running away with the team title with 16 points ahead of Scottsbluff's 27 and Gering's 61. Chadron's domination in the team race was due to the Cardinals placing five runners in the Top 10, led by freshman Grace Pyle, who finished second overall in 21:50.71.
The boy's division saw a Gering domination as Peyton Seiler won the individual title while the Gering boys captured the overall team title with 27 points over Mitchell's 34 points and Scottsbluff's 45 points.
Holzworth opened a close race and ran to victory in an amazing 21:10.04 time. Holzworth said her goal coming in was to do better than what she did at the Panhandle Classic at Riverview golf Course.
"I was pretty confident with the course. I knew most of it but they did change it up a little bit but it was mostly the same. Last week was pretty rough for me so I think I just wanted to go out there with confidence of my summer training and everything and go out there and try to get the win and do the best that I can."
Holzworth's time was OK, but she wasn't worried about the time, she just wanted to compete well.
"My time wasn't the best but honestly on this course, it doesn't matter because of all the factors of the heat and the hills," she said. "This is the third year of winning this and I just wanted to finish out strong on this course. "
She has dominated the Gering Invite finishing fourth in her freshman year before winning the next three.
Besides Holzworth, her teammates Jamisyn Howard finished seventh in 23:56.37, Kaylee Charbonneau took eighth in 23:08.92, and Sunny Edens took 10th (24:13.61).
Chadron, though, was the big winner in the girl's division, putting five runners in the Top 10. After Grace Pyle's second-place finish, teammate Makinley Fuller took third in 21:57.14 followed by Micaiah Fuller in fifth (22:46.88), Emma Witte in sixth (22:48.16) and Leila Tewahade in ninth (23:57.43).
The rest of the Top 10 saw Gering's Madison Seiler take fourth (22:05.03). Gering's Madison Herbel just finished out of the Top 10 of Division I runners at 11th with a time of 24:21.09.
The girl's Division II individual winner was Morrill's Paityn Homan in 23:16.92 followed by Bridgeport's Sarah Lang (23:17.57).
The boy's overall boy's race was also tight. Peyton Seiler won the overall title over his best friend from Mitchell Ashtyn Martin, who took second. Seiler ran a 17:51.71 time while Martin clocked in at 17:58.75.
"It is all God and that is who I run for," Seiler said. "I felt like I was picturing this race in my mind all week long, just different scenarios. I just wanted to be up with Ashtyn Martin, one of my best friends, and I just wanted to run with him for a few miles in our senior year. I just wanted to run with him and couldn't ask for a better race."
Those two were neck-and-neck and Seiler said after a couple miles he knew he had to make a surge.
"Me and Ashtyn were going down Devil's Dip and I knew that was where I needed to start surging," he said. "I kind of had that as a scenario in my head this week."
The win was special for Seiler in his senior year knowing that at any time, the season could be called off.
"I am running every race like it is my last race because we don't know when it will be canceled," he said. "It is so grateful to be here running every race like it is my last."
Gering had four runners finish in the Top 10 of the Division I race. Tyler Nagel took second in Division I (18:43.55) while Eli Marez (19:28.88(was sixth and Aiden Narvais was ninth (19:36.01). Scottsbluff had three runners in the Top 10 of Division I with Hans Bastron finishing third (18:43.68), Michael West taking seventh (19:29.29), and James Adams finishing 10th (19:44.27).
Mitchell had five runners in the Top 10 of Division II led by Martin who won Division II followed by Kuntson in second (18:23.85). Easton Anderson took third for the Tigers (19:22.29), Carmelo Ayala took sixth (20:27.70), and Kalem Jackson took eighth (21:21.15).
Overall Girls Team Scores
1, Chadron 16; 2, Scottsbluff 27; 3, Gering 61; 4, Gordon-Rushville 80; 5, Bridgeport 87; 6, Bayard 94; 7, Alliance 102.
1, Brooke Holzworth, Scottsbluff, 21:10.04; 2, Grace Pyle, Chadron, 21:50.71; 3, Makinley Fuller, Chadron, 21:57.14; 4, Madison Seiler, Gering, 22:05.03; 5, Micaiah Fuller, Chadron, 22:46.88; 6, Emma Witte, Chadron, 22:48.16; 7, Jamisyn Howard, Scottsbluff, 22:56.37; 8, Kaylee Charbonneau, Scottsbluff, 23:08.92; 9, Leila Tewahade, Chadron, 23:57.43; 10, Sunny Edens, Scottsbluff, 24:13.61.
1, Paityn Homan, Morrill, 23:16.92; 2, Sarah Lang, Bridgeport, 23:17.57; 3, Jillian Brennan, Crawford, 23:27.70; 4, Carlye Kresl, Hemingford, 24:06.56; 5, Cambree Schmaltz, Bayard, 24:23.87; 6, Brenna Bostock, Gordon-Rushville, 24:40.54; 7, Tyrah American Horse, Gordon-Rushville, 24:40.73; 8, Alexis Hill, Bridgeport, 25:00.55; 9, Laisha Garza, Bayard, 25:25.10; 10, Destiny Hanson, Hemingford, 25:53.33.
1, Gering 27; 2, Mitchell 34; 3, Scottsbluff 45; 4, Chadron 56; 5, Alliance 98; 6, Bridgeport 110; 7, Bayard 130; Hemingford 141.
1, Peyton Seiler, Gering, 17:51.71; 2, Tyler Nagel, Gering, 18:43.55; 3, Hans Bastron, Scottsbluff, 18:43.68; 4, Carter Ryan, Chadron, 18:56.84; 5, Alec Garcia, Alliance, 19:05.95; 6, Eli Marez, Gering, 19:28.88; 7, Michael West, Scottsbluff, 19:29.29; 8, Nathan Burch, Chadron, 19:29.50; 9, Aiden Narvais, Gering, 19"36.01; 10, James Adams, Scottsbluff, 19:44.27.
1, Ashtyn Martin, Mitchell, 17:58.75; 2, Caden Knutson, Mitchell; 18:23.85; 3, Easton Anderson, Mitchell; 19:22.29; 4, Elijah Conley, Bridgeport, 19:29.58; 5, Jace Freeseman, Gordon-Rushville, 19:31.25; 6, Carmedo Ayala, Mitchell, 20:27.70; 7, Hunter Miller, Bayard, 20:41.23; 8, Kalem Jackson, Mitchell, 21:21.15; 9, Aydon McDonald, Gordon-Rushville, 21:23.30; 10, Zeth Douglas, Bridgeport, 21:35.49.
Be the first to know
Get local news delivered to your inbox!