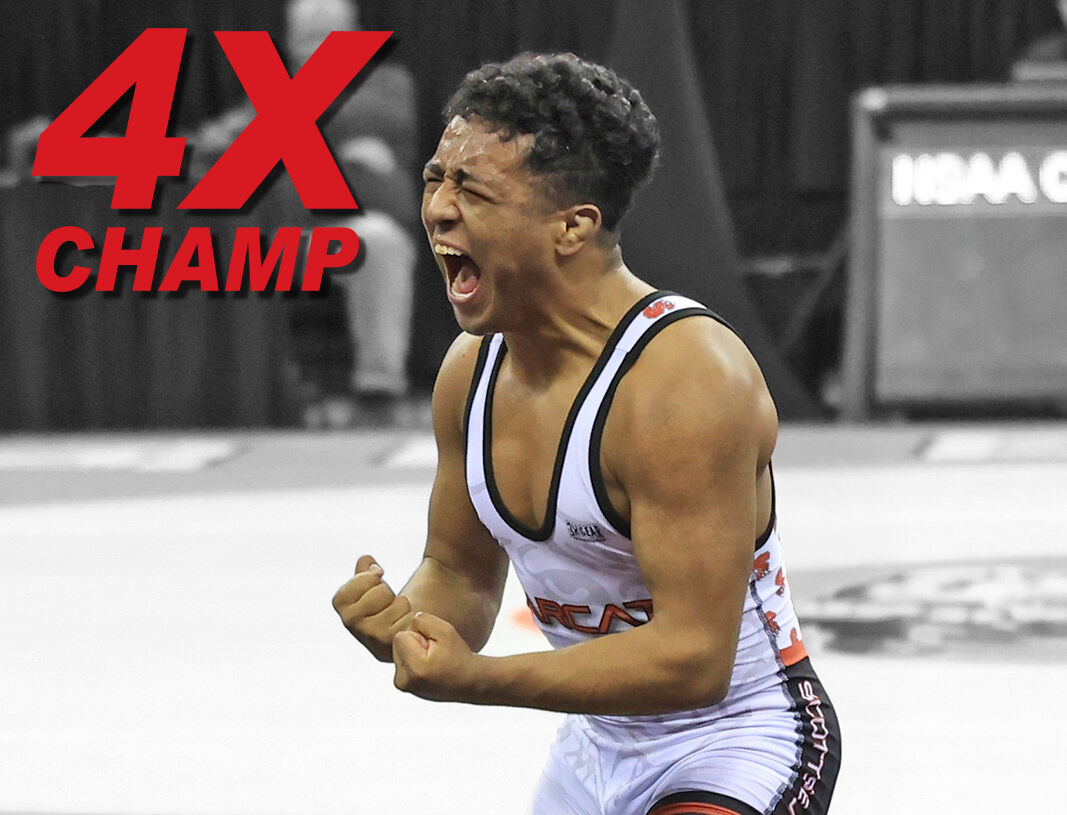 On Saturday, Feb 20, Scottsbluff's Paul Garcia accomplished something very few wrestlers can boast about when he claimed his fourth state championship.
Garcia is just the 34th wrestler to achieve the feat, and the second Bearcat. Scottsbluff assistant wrestling coach Colton Adams won four titles from 2011 to 2014. Though, Garcia likes pointing out that he has the edge because he also won four district titles.
Garcia said it doesn't get any easier to win a championship after you get your first under your belt.
"I definitely felt the most pressure I've ever felt the past four years. There's been a lot of hype going around. That's probably the most pressure I've felt just going (into the tournament)," he said.
Garcia, though, said it was easy to tune out all of the distractions going into the tournament.
"Social media doesn't really bother me. I've been going in the past three years as an underdog. Then, this year, everybody thought something wild was going to happen, which it kind of did."
What happened was Garcia won the match 1-0 after Gering's Paul Ruff was given a caution for improper placement of his knee after a restart.
Garcia said he didn't go into the match thinking it would end the way it did.
"I thought it was gonna come down like how matches usually do with me getting a score on a take down. The match went a different way. It just is what it is," he said.
Scottsbluff coach Dustin Stodola said it is hard to score on a wrestler as skilled as Ruff.
"With great wrestlers, it's always hard to find points," he said. "Ruff is just really hard to score on. He stays in good position. We had some shots but we were out of balance. He chose top in the second. He's tough on top and was expecting to get a turn. When a guy throws legs it's really hard to get out.
"Paulie showed up and he wrestled another great state tournament. Becoming a four timer, that's quite an achievement. When you become a coach, that's something that's on your bucket list."
Stodola said Garcia may be a better person than he is a wrestler.
"It has been great to coach and to see what he does outside of just wrestling. He just won a title on Saturday, and he's at the club practice right now helping all the little kids. He's giving back to the community right now. That's awesome. He's a very special kid and he does a lot behind the scenes that a lot of people don't see. It was a pleasure and a lot of fun coaching him."
Of the four-time state champions, Garcia has the smallest margin of victory. He took a 3-1 win over Gabe Grice, of Omaha Gross Catholic, in 2018 at 106 pounds.
Garcia bumped up to 113 for his sophomore campaign. That year, he picked up a 5-2 decision over Cozad's Jace Russman in the Class B title match.
Last year, Garcia faced Ruff for the first time with the state championship on the line. Garcia won the 120 pound title with a 4-2 win in sudden victory.
Of the four titles, Garcia this year's mean the most to him.
"It is kind of like I'm trading in (past tournaments) with smaller crowds for my family and (my teammates who qualified for) state this year," he said. "Usually, it's just my mom and dad and some of my family members. I had a bunch of my family members (there this year). A lot of people that came down to watch their kids. It was just a great experience to have all those people with me cheering me. The crowd was awesome."
Garcia said he hasn't fully processed being a four-time state champion.
"I felt a big relief after I won," he said. "It still really hasn't hit me. It's slowly hitting me. I kind of teared up, but I haven't really cried. It just feels surreal, right now."
Garcia said it was great for the Panhandle that he and Ruff wrestled twice for a state title.
"I think it's amazing for the Panhandle just to have that rivalry between (Ruff) and me, and Gering winning this year. It's starting to show that the Panhandle could become one of the powerhouses in Class B," he said. "I do expect Scottsbluff to be a powerhouse coming in to next year. It's really exciting to see, and it's not only Scottsbluff and Gering, but Sidney as well. It's awesome to see a team from the Panhandle come out on top this year."
"Everybody out West represented the Panhandle well," Stodola said. "Chadron had some kids place. Alliance had some kids place. Gering had a bunch of kids place and they won the team title. That was awesome for the Panhandle. We had a lot of young guys that showed up to the tournament and got a lot of experience. I think it's a lot more motivation and a lot more fuel for their fire in the next couple years to continue improve."
Now that he has his fourth state title behind him, Garcia has his sights set on college where he will be wrestling for the University of Wyoming.
"It's always tough coming out of high school, and being the man to having a lot of success right away (in college). A lot of guys redshirt as freshmen, so they get that learning curve in there. I was a college wrestler and he's got some learning to do to prepare for college, but I do see him having success, for sure."
---