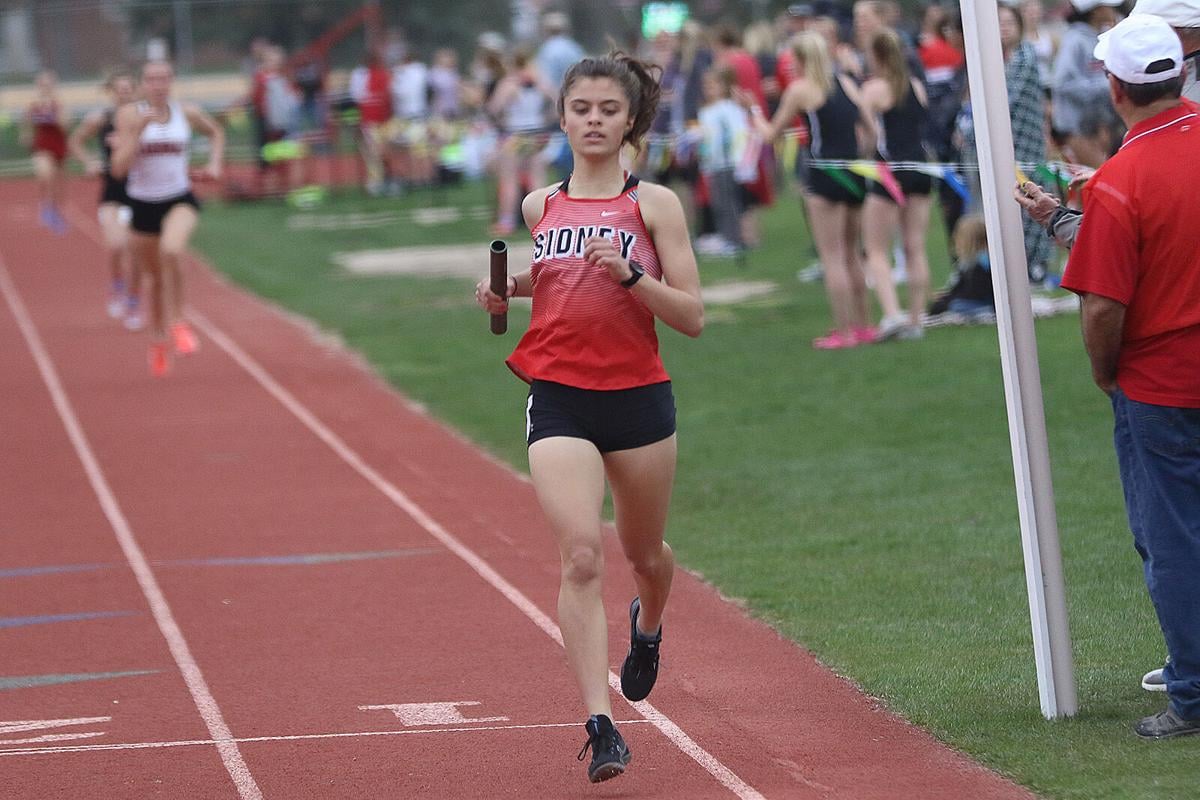 Sidney freshman Talissa Tanquary captured two individual golds and was part of the winning 4x400 relay team as the Red Raider surprised herself in capturing the Star-Herald Best In the West Female Most Valuable Performer recipient.
"Yes, I was surprised about getting the MVP," Tanquary said. "Pretty surprised because there are a lot of teams here competing. I am pretty happy about it."
Her performance was one of many that highlighted the Best In the West meet that was held at Scottsbluff's Bearcat Stadium.
Tanquary said her first Best in the West went well.
"I think I did pretty good," she said. "The 400 was really exciting because I went under a minute and I am a second away from the school record."
The meet record in the 400 was set back in 2008 by Candace Wollert of 57.84. Tanquary went under a minute for the first time this season. Her previous best was 1:00.79.
Tanquary also captured the 800 in a time of 2:24.93, topping second place Sera Glass of Torrington, who ran a PR time of 2:25.02.
Tanquary's third gold came in the 4x800 when she teamed up with Morgan Jaggers, Lydia Peters, and Gabrielle to run a 10:21.28 to top a talented Chadron team, who ran a 10:27.72.
Tanquary also took a silver medal as the Sidney 4x400 team took second in a time of 4:13.90 and was just edged by Alliance. Alliance ran a 4:12.06 while Sidney ran a 4:13.90.
The Sidney freshman said her success was due to her teammates.
"My team and the PR [was the key to the meet]," she said. "I PRed in the 400. I won the 800 and the 4x800. I think the meet was pretty awesome."
Sidney's Karly Sylvester was also a double winner, capturing the shot put with a toss of 40 feet, 5 ½ inches and also capturing the discus with a toss of 128-6 to outthrow Bridgeport's Ruthie Loomis-Golti, who tossed a personal best throw of 115-11 ½.
Southeast's Jordan Stoddard was also a double winner. Stoddard, a junior who won the Female MVP honor as a freshman in 2019, won the high jump in a meet record and a personal best height of 5-8. Stoddard also won the long jump with another personal best leap of 17-11 ¾, which was two inches from the meet record of 18-1 set by Jordan Hooper in 2010.
Scottsbluff's Paige Horne was also a double winner, running a personal best time of 15.33 in the 100 hurdles and then also winning the 300 hurdles in 48.11 seconds.
Gering's Madison Seiler was also a double winner. The Gering long-distance ace won the 1,600 in a personal best time of 15:25.29, which was eight seconds faster than her previous personal best. Seiler than won the 3,200 in a blistering 11:47.30. Seiler said that was about 30 seconds faster than she has ever ran in the 3,200. She added it was only the second time she has run the 3,200.
Sidney's Logan Holly as also a double winner. The senior won the 100 meters in 13.39, which was a season best. Holly also teamed up with Chloe Ahrens, Karsyn Leeling, Gabrielle Fortner to win the 4x100 relay in a time of 51.90.
Fortner also had two golds as a member of Sidney's 4x100 and 4x400 winning relay teams.
Other winners on the day included Bayard's Dani Harter, who won the 200 meters over Sidney's Karsyn Leeling. Harter ran a personal best time in 27.68 while Leeling also PRed with a time of 27.78.