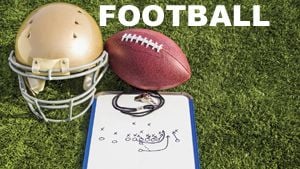 Scottsbluff Bearcat Football camp kicks off July 27
The Scottsbluff Bearcat Football camp kicks off July 27 for students who will be freshman through seniors in the fall.
The camp runs Monday, July 27 to Thursday, July 30 from 7 to 9:30 a.m. on the Scottsbluff High School practice field on the north side of the high school.
The football camp is important for those students wishing to play football for the Bearcats. The camp instills offensive and defensive philosophies of the coaching staff. For freshman, it is a chance to meet the coaching staff and understand their expectations. Fundamentals will be taught in offense, defensive and special teams segments.
The Bluffs Middle School Football camp, for incoming sixth through eighth graders, will be held Aug. 3 to Aug. 6 from 5 to 6 p.m. at Bearcat Stadium.
The fee for the BMS camp is $30 and includes a T-shirt.
There will also be a Scottsbluff High School and Bluffs Middle School conditioning camp for students in sixth through 12th grade. The conditioning camp will run from Aug 3 to Aug. 6 from 6 to 7 p.m. at Bearcat Stadium.
The conditioning camp is free to attend.
Panhandle Senior Women's Golf Association results for July 13
The Panhandle Senior Women's Golf Association teed off at the Cottonwood Golf Course in Torrington on July 13. Forty one ladies were up for the challenge and had a great time.
Taking first place with a score of 73/60.28 net and two birdies was Grace Brisby, Connie Booth and Julie Eaton. Second place with a score of 71/60.4 net and four birdies was Tracy Smith, Connie Schwab, Connie Rasmussen and Kris DeVries. Taking third place with a score of 75/61.67 net and one birdie was Peggy Wagner, Becky Mikel, Joy Eberhardt and Norma Perkins. Fourth place with a score of 74/61.72 net and two birdies was the team of Sandy Huckfeldt, Sue Williams, Jolene McGinnis and Jane Holecheck.
Flag prizes were awarded as follows: Longest Drive "A" Player – Gina Briggs, Longest Drive "B" Player – Dee Vogel, Longest Drive "C" Player – Tami Pierce, Longest Drive "D" Player – Audrey Nelson. Tracy Smith and Kris DeVries won Longest Putts flags. Claudia Benda and Julie Eaton won Closest to the Pin on the Drive flags. Sally Plover was Closest to the Pin 2nd Shot and Connie Schwab was Closest to the Water without going in.
The next outing will be July 27 at Courthouse and Jail Rock Golf Course in Bridgeport. Please use the website to register: https://pswga7.wixsite.com/2018.
UNK delays beginning of fall sports season
KEARNEY – The University of Nebraska at Kearney is delaying the start of fall sports competition to Sept. 28 due to the coronavirus pandemic.
UNK and Mid-America Intercollegiate Athletics Association officials announced the decision today. It was approved unanimously by chancellors and presidents of the conference's 14 schools.
Football, volleyball, cross country, women's golf, women's soccer and women's tennis will all start about one month later than anticipated. Student-athletes at UNK and all MIAA schools will report for fall camp and begin practices Aug. 31. UNK has 420 student-athletes.
"This is very challenging and creates some difficulties, but delaying the start of our seasons gives us hope that there will be games this fall," said UNK Athletic Director Marc Bauer. "We need sports on this campus and in our community because it pulls us together. It's been an empty feeling the last four months with no practices or games. At the same time, we know we have to move forward in a way that's safe and protects the health of everybody."
The NCAA has approved a new rule that fall sports may have split seasons, with teams playing a portion of their schedules one semester and competing for championships in another. The MIAA is not canceling early-season games, but rather starting the season later. The MIAA will address scheduling of conference championships at a later date, after the NCAA Division II Administrative Council determines regional and championship dates, said Bauer.
Well-tied knots important for any new angler
Nebraska Game and Parks Commission
A well-tied fishing knot can make the difference between a great day and heartbreak.
For a new angler, landing a nice fish knowing the hook is secured by a strong knot is a satisfying feeling. On the other hand, losing that same fish with a subpar knot is disappointing – and unnecessary.
Beginner anglers only need to learn how to tie a few knots, but they need to know how and why to tie them correctly.
"Tying a good knot is arguably the most important skill the angler can learn," said Larry Pape, aquatic education specialist with the Nebraska Game and Parks Commission. "The knot is the weakest part of the line and, if poorly tied, could result in a lost lure or fish. A bad knot will either pull loose when pressure is put on it or cinch down tight and sever the line."
Pape says the key to good knots is to practice tying them at home – often – using materials simulating fishing line and a hook eye in a larger scale. Tie a large rope, such as a clothesline, to a key ring, watching the knot develop.
Perfecting your skills at home will allow you to quickly and confidently tie a strong knot at the lake.
For the beginning angler, there are three essential knots:
• Arbor knot – This is used to attached the line to the fishing reel's spool.
• Improved clinch knot – This is used to tie monofilament fishing line to a hook or lure. It works well for smaller hooks.
• Palomar knot – This is used to tie braiding fishing line to a hook or lure. An improved clinch knot will slip loose on braided line.
Key things to remember when tying fishing knots:
• Don't rush pulling the knot tight. The goal is to get even wraps of line at the knot, so slowly pull tight and adjust the wraps as you go. Uneven wraps can weaken a knot.
• Once a knot is tied and before you pull it tight, wet the knot. Pulling tight a dry knot creates friction and heat, which weakens the knot.
• Avoid developing knots that pinch and weaken themselves, such as an overhand knot.
• When fishing with the same hook or lure for extended periods of time, occasionally cut the line and retie the knot. Over time, knots can get nicked by rocks, fish and hook-removal tools.
• Every angler should have tools to remove hooks from fish and to cut line. For monofilament line, nail clippers work well.
To learn how to tie fishing knots, or if you are just getting into fishing, a helpful resource is Game and Parks' Going Fishing Guide, available at OutdoorNebraska.gov/howtofish.
If you want to take a new angler fishing and become eligible to win prizes, register for the Take 'em Fishing Challenge at OutdoorNebraska.gov.
Be the first to know
Get local news delivered to your inbox!