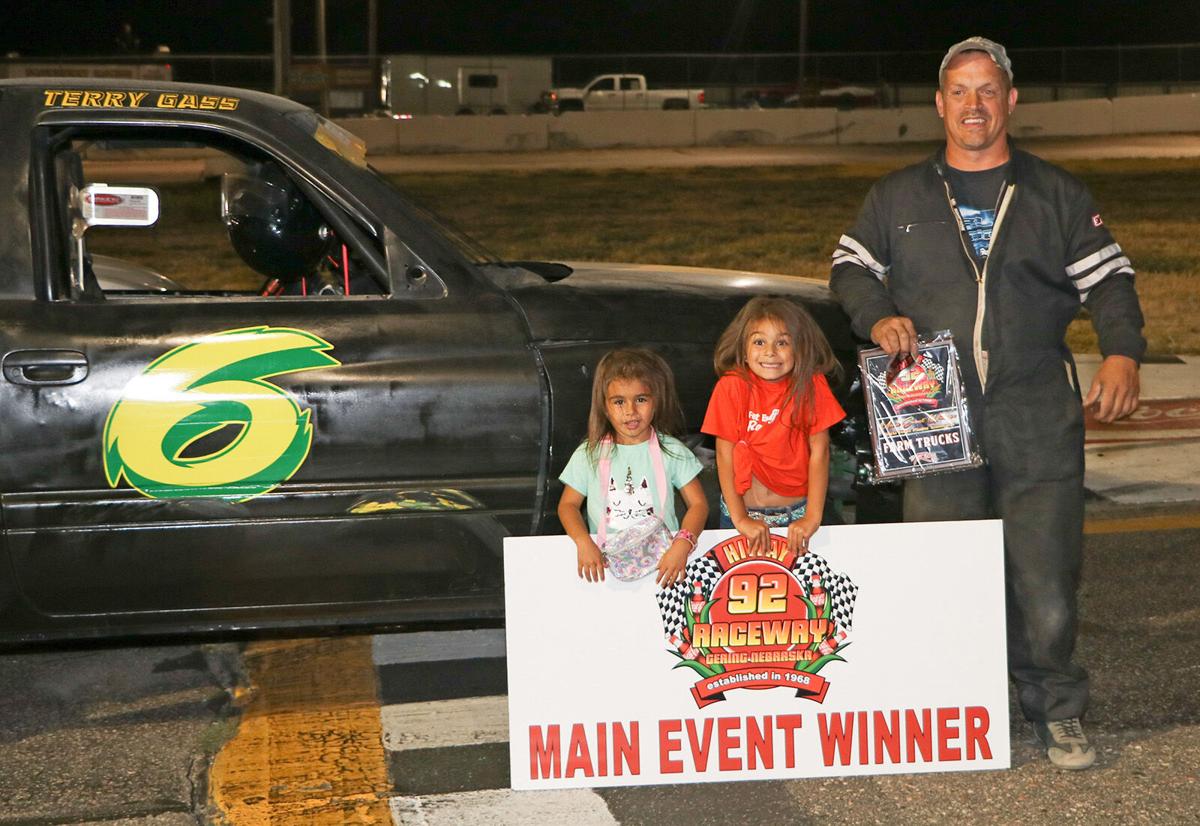 Terry Gass, of Scottsbluff, has made his success on the racetrack into a charitable cause.
Gass first became interest in auto racing in high school, but never thought it would turn into a hobby.
"I've been a big race fan since high school, but never seriously considered building or purchasing a car. This pickup (that I race) had been built and raced for two years, and then came up for sale online, so I went and bought it. I thought, "what the heck, it's a beginner class. I'll go have some fun."
After purchasing the truck, Hiway 92 Raceway Park owner John Ulander allowed Gass to practice at nights after signing a liability waiver.
"After those practices, I'd haul it home and work on it constantly improving it based on what we learned practicing," Gass said. "Once the season started, I ran about 3/4 of the races that first year. I didn't win any races that first year, but I learned something every time I went on the track."
Gass, who also races at Colorado National Speedway in Dacono, Colorado, said Hiway 92 Raceway Park was a great place to break into auto racing.
"Both venues have a good mix of beginner, intermediate and more advanced classes that compete," he said. "What's nice at these local tracks is that most any of the competitors and their crews will help you. It's a great group of people who are fierce competitors, but they truly want everyone out there to be competitive so they're willing to help each other. Being one of the new guys, that meant a lot and certainly helped me."
In his second season of racing at Hiway 92, Gass started to find success
"At HiWay 92, I race in what they call the "Farm Truck" class. There is usually 5-7 competitors in these events. I actually won the championship in that class in 2020," he said.
Gass, though, races in a different class at Colorado National Speedway.
"They don't have a class specifically for pickups, so I race with the stock cars in the "Pure Stock" class. There are typically 20 to 25 competitors in these races," he said. "This fall, we bought a stock car that we'll run at both tracks in 2021."
Gass said the stock car should help him be more competitive at Colorado National Speedway.
"We finished four times in the top 10 at CNS with the pickup this year, but it's heavier and has a smaller motor than most of the stock cars we compete against, so it's hard to compete for wins down there," he said. "The main reason we bought the stock car is so we can be more competitive at CNS. We will probably race it some at HiWay 92 in 2021 as well, but that would be on nights we're not competing with the pickup."
Since the beginning, Gass has donated any winnings to the Special Olympics, a cause that means a lot to him.
"Stock car racing was never meant to be a money maker. It's a hobby," he said. "In fact, it costs way more to race than you could make, even if you won every race. My wife, Lisa, and I have helped coach and volunteer for Special Olympics for Scotts Bluff County since we moved here in 2016."
Gass volunteered with Special Olympics prior to moving to the Scottsbluff area.
"Prior to that, we volunteered for Special Olympics in Murray, Kentucky," he said. "In addition to our participation, we find ourselves naturally being ambassadors for the Special Olympics organization and the athletes. We thought, what a great way to draw attention to the volunteers, athletes and donors to Special Olympics."
Gass shows his love for the Special Olympics every night he races at Hiway 92 Raceway.
"We had big 'Special Olympics Nebraska' decals made, and put them on both rear quarter panels of the pickup," he said. "Instead of having sponsors, we donate everything we win. We're not opposed to having sponsors, but have never solicited any."
So far, Gass said they have been able to donate a decent amount of money.
"Last year, we donated $500 because that's all we won. This year, we are donating the $1,480 that we won competing," he said. "We still have 1 race left, a 300 lap race at Colorado National Speedway on Nov. 21."
It will take some luck to earn any money at that race, Gass said.
"It will be tough to win any money in this race because there will be 50-75 cars trying to take the green flag, and it's very competitive. We finished 20th in it last year, and only the top 17 earned any money," he said.
Be the first to know
Get local news delivered to your inbox!