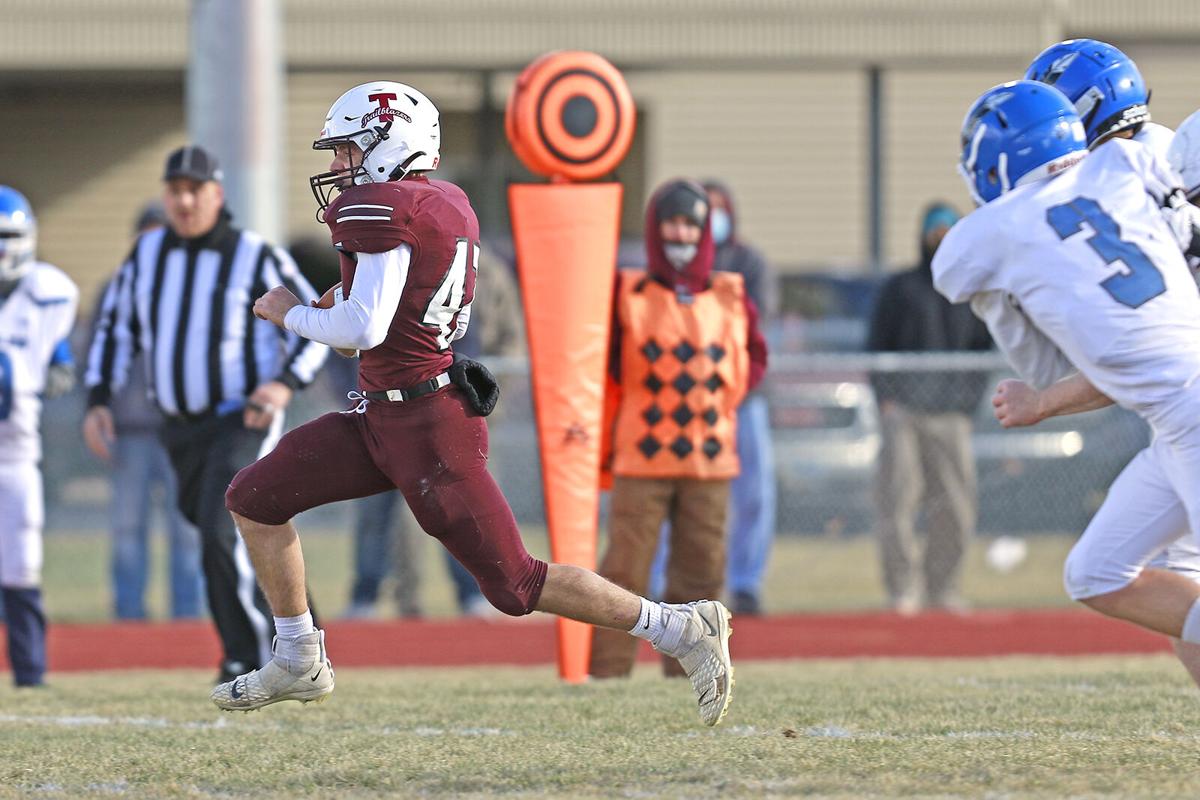 TORRINGTON, Wyo. — Lyman had two late scores to win a tough defensive battle 14-3 against Torrington on Saturday, Nov. 14 in the Wyoming 2A state championship game.
Both teams had huge plays but had a hard time capitalizing on scoring opportunities on a cold, blustery day.
The winds were so strong one of the goal posts lost an arm in the wind earlier in the day. Thanks to a spot welding job, the goal posts ready to go for game time although a little bent.
Lyman and Torrington struggled with turnovers in the first. The first came on an interception by Torrington with 42.7 left in the first quarter, but that drive stalled. The Trailblazers turned the ball over on downs.
With 5:42 left in the second, Torrington picked off another pass and drove down to the 13-yard line. Unable to punch the ball into the end zone, Torrington kicked a field goal with a little under a minute to go in the second.
The Trailblazers went into the half with a slim 3-0 lead after drilling the field goal.
It was a seesaw battle in the third, with neither team able to sustain a drive. Lyman and Torrington traded turnovers most of the quarter.
Lyman got the ball at the start of the fourth quarter after Torrington turned the ball over on downs. Lyman grabbed the momentum on the opening drive of the final quarter.
Preston Brewer scored the first of Lyman's touchdowns with 9:26 left in the fourth quarter.
On the next possession, Torrington got the ball at the 28 after the kickoff by the Eagles. The Trailblazers, though, coughed up the ball with Lyman recovering on Torrington's 24-yard line.
Torrington's defense held Lyman through the first three downs of the series, but the Eagles picked up a first down on the fourth-down conversion.With 4:42 left in the game, Carter Smith scored Lyman's final touchdown to put his team up 14-3.
On their next possession, Torrington drove the ball to their own 35-yard line, but tossed a third-down interception.
Lyman took over at their 35-yard line, but went three and out. On third and three, Torrington again had an interception picked off by Lyman.
Lyman chewed up the clock before turning the ball over on downs to Torrington with under a minute to play.
Torrington couldn't get anything going on its final possession giving Lyman the 14-3 win.
Be the first to know
Get local news delivered to your inbox!