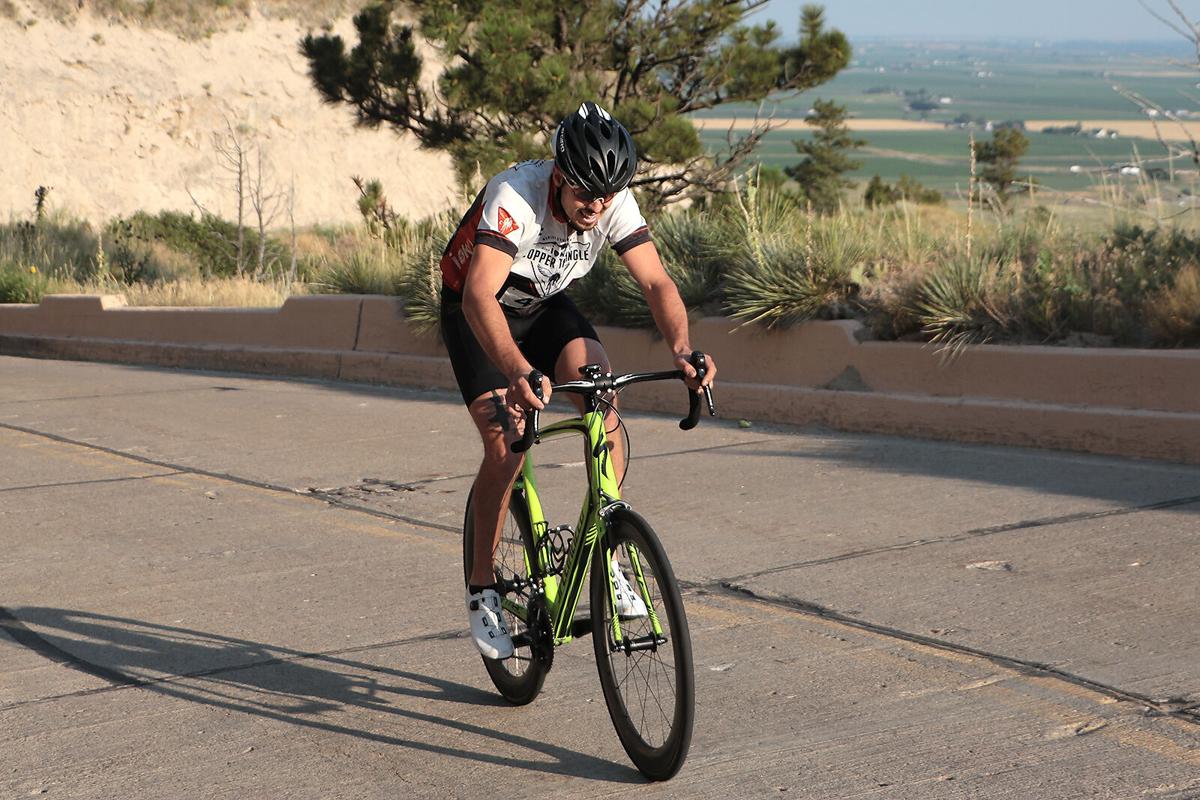 Cameron Wagner made quick work of the course to claim the overall title at the Oregon Trail Days Hill Climb on Saturday.
Wagner made it to the top of the Scotts Bluff National Monument in 7 minutes and 20 seconds.
"I think this is probably my fastest that I've done it at 7:20. It's definitely one of my fastest times," he said. "It's a hard ride. You really have to pace yourself just right or you're putting yourself out and then you slow down."
This wasn't the only time Wagner has finished on top.
"I've gotten first place. The last three times that I did this race. And so I knew, I know there's a lot of guys out around town that are faster than me. Yeah, it just depends on who shows up how much training do you do for this," he said. "I don't really train for this specifically I just ride a lot yeah and then I'm, I'm gonna do mountain Evans hill climb here in two weeks."
Race organizer Daryl Payne, who finished third in the 70 and over age group, said he was happy with the turnout.
There were 21 racers and two people riding a tandem bike for 23 total at the hill climb. Before the pandemic, Payne said they were up to around 30 riders.
"Coming off of the COVID (pandemic), people have put off vacations and they just want to hit the road. We always get a few out-of-towners, but there weren't quite as many of those as usual."
This was the first year they didn't have categories for road bikes and gravel bikes. Everybody competed in one class.
Payne said he is optimistic the numbers will climb back up to where they were pre-COVID.
"Once it gets back to normal, you'll probably see those numbers go back up. We had some pretty good times here and there's a lot of really good riders out there who might say, 'Oh, I could do it that fast," Payne said.
Finish in first in the women's division and the 50-59 age group is Angie Hilbert with a time of 13:11. Allison Wagner finished first in the 30-39 age group and second overall. Wagner finished in 14:45.
Also in the 50-59 age group, Amy Dykstra took second with a time of 14:47 and Gale Whitman ended in third at 17:21.
In the men's division, Truman Butcher finished first in the 14 and under age group. Butcher had a time of 19:35. Jaron Anderson finished in 15:46 to take first in the 15-19 age group.
Justin Brester turned in a blistering time of 7:42 for first place for 20-29 year olds. Conrad Sibal was second in 15:22 and in third was Gideon Fink with a time of 21:56.
Doug Whitman, Todd Deaver and Greg Lacy took first, second and third in the 50-59 category.
Doug Vance finished in first at 60-69. Tom Smith took second and Dean Sobel finished third in that age bracket.