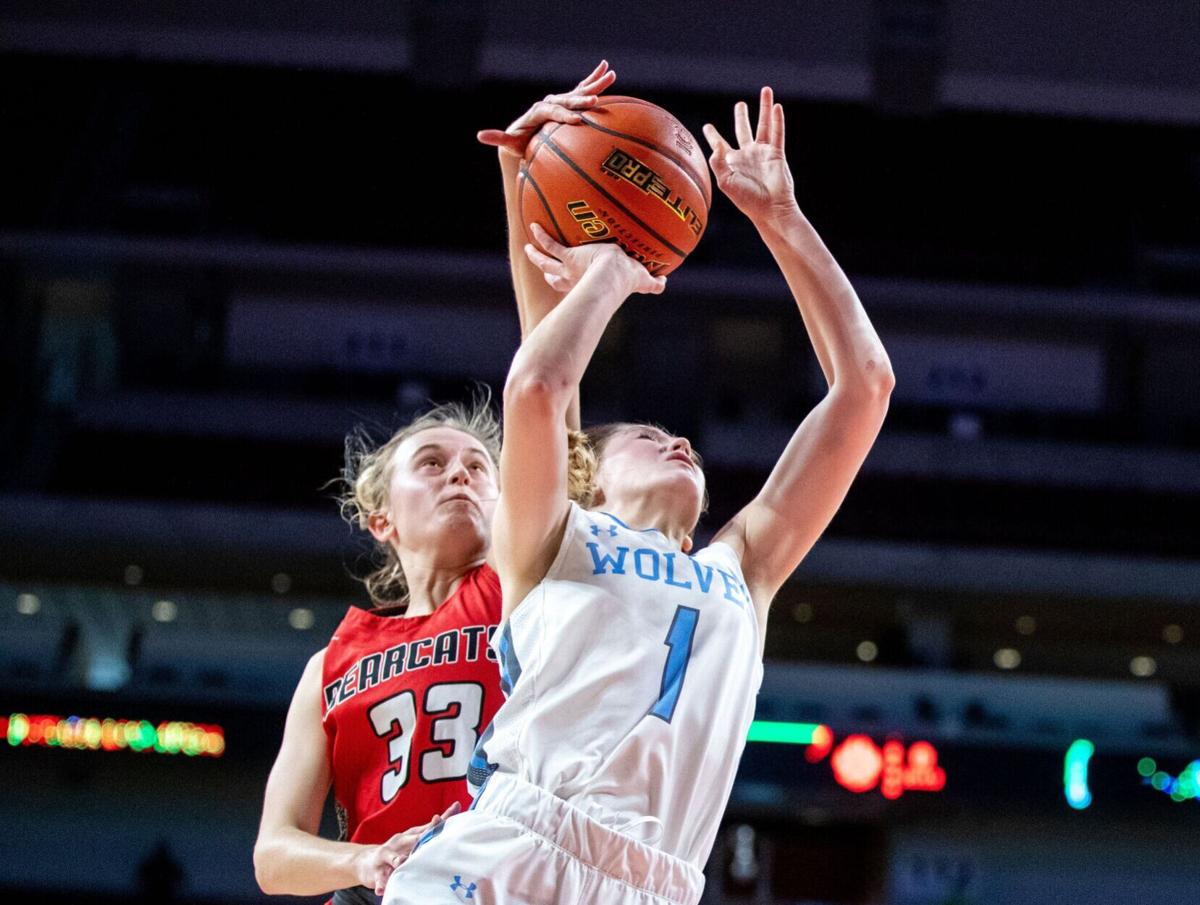 The Scottsbluff girls basketball team wrapped up its season on March 5 after making another memorable run in the postseason.
After picking up its first-ever win in the NSAA State Basketball Championships in March 2020, the Bearcats had their sights set on making some noise again this season.
Scottsbluff delivered again. The Bearcats claimed its second-ever win at state with a 34-20 win over Crete in the first round on March 3.
The score doesn't indicate really how dominant the Bearcats were in that game.
Crete tried, as many other teams before them, to slow the fast-paced Scottsbluff offense. The Cardinals, though, underestimated the Bearcats' half-court attack.
"It is our weakness you know and we've had to spend time developing that," Bollish said. "I think (Chadron coach) Jonn McLain, and I think (Sidney coach) Tyler Shaw would tell you that they try to slow us down. That's kind of their game plan. It puts us out of our comfort zone. If you're able to do that and control the tempo on us, that puts us at a disadvantage."
The game against Crete put other teams on notice that it isn't always an effective strategy. The Cardinals had a couple of 6-footers that gave a lot of teams fits during the season.
"When you look at their defense and when we've watched it, they had two unbelievable guards at the top and tons of size. They funneled everything through that 6-4 freshmen. What I noticed is that most teams tried to stay away from her. We wanted to go right at her. We felt really strongly that if we could get the ball below the volleyball line to the baseline that we could be successful. The girls did an unbelievable job of executing our game plan. We used to tell Yara (Garcia) and we just told Sabrina (Harsh) and Mariyah (Avila) and we used to tell (Aubrey) Krentz to go right after those kids. Even if they block your first three shots we want to go right at them. We want to put them in foul trouble. That changed the game a little bit for us."
What Crete didn't contend for was 6-2 sophomore Sabrina Harsh, who the Cardinals couldn't find a way to contain.
After that game, Bollish said it was a complete team effort to pick up that win
"(Harsh is) unreal," he said. "We've been able to watch that all year. I think that what's really helped her is that she has such great leadership around her who has helped motivate her and get her focused. (They've gotten) her to really buy in and be as special as she can be. They've seen it in her, they've trusted it in her, and they demand it of her. She's got great leaders who are bringing out the best in her, and we're just really happy that she's on our team."
That game was one of the few times all season that teams were able to slow them down. Scottsbluff, though, was 5-0 in games where they were held to under 50 points.
Bollish said the team's run-oriented offense all begins with defense.
"That's part of why we use so much pressure defense and trapping defensively to try to create chaos. We like chaos," he said, "We think that if we can get teams tired and frantic, that if we practice that so much that we will have it to our advantage. I think that teams are not always prepared for us to come down and execute. I think that's something we did a much better job of this year and last year is controlling the basketball with a four or five point lead. You know we learned some tough lessons against GI Northwest in 2019 and the year before."
Other than Harsh, Scottsbluff is often finds itself at a height disadvantage. Bollish said the team's lack of height doesn't hurt them, though.
"I think with our lack of size, we also bring a ton of skill. You get kids like you Cali Wright or Emma Foote who touch the ball at 1o-12 feet where most people think they're not a threat. They're still attacking. That's something I think Cali and Emma did a really good job of using their skill from inside the 3-point line against bigger players. That's something that you're usually not looking for. I was really proud of the way that they attacked."
Scottsbluff's depth also played a big factor in the team's success. Earlier in the season, Bollish told me that every single one of his players from one to 18 are highly skilled competitors.
"I think the number one thing is we have to have a bench because of how fast we are, but also because of how aggressive we play in terms of we're going to foul. We're going to get into some situations where we do have some fouls against us. It takes some of the pressure off of kids, but, most importantly, I think the biggest thing is that it makes our practices better. This year our 'JV' team would have been a heck of a varsity team for a lot of schools in this area. Every single day we're getting pushed and tested and that definitely makes you better. We only get to play two games a week, but we had to play ourselves every day. And so I think that's where the advantage of the bench comes in."
Bollish said his seniors have also played a big role in the program's success.
"I think that been a huge key piece for us, he said. "They have done such a good job, I think, honoring what we value, which is being tough and being loyal and being all in. They also bring their own unique personality to the way that they teach and the way that they kind of keep the culture going. We've just been fortunate with all those kids. That's our foundation. Our foundation is the seniors. Every year, when we talk about what your legacy is, it's the kids that come right after you. We've challenged all the kids with that. We've broken records as teams. Pretty much every record in scoring was broken ... They've also left something to chase, and I think that's important."