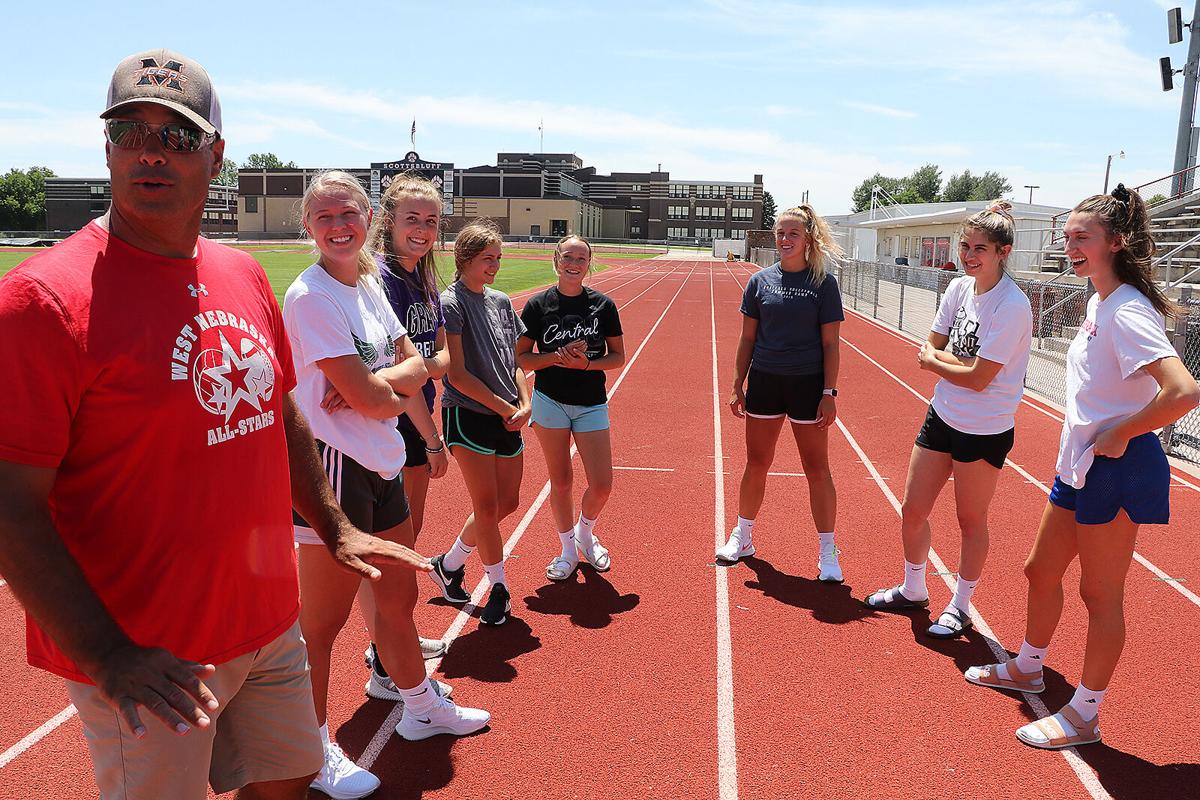 After months of uncertainty and roster changes, the players on the West Nebraska All-Star volleyball teams will be anxious to get on the court on Friday.
First serve for the 36th annual event is set for 4 p.m. at Western Nebraska Community College's Cougar Palace.
The West All-stars are looking to keep their mastery over the East when the teams hit the court. The West topped the East a year ago 4-1 25-20, 25-14, 27-29, 25-20, 15-8 as Alliance's Emerson Cyza and Cody-Kilgore's Addison Johnson were named MVPs.
The West has beat the East in five of the last six meetings and 12 of the last 14.
West head coach Blakelee Hoffman, who is the head coach at Chadron High School, said this is a match that is for the players especially since all the seniors had a rather unusual and unpredictable senior season.
"I am just excited that we are able to have this and the girls will have experiences from this," Hoffman said. "It is a lot of fun. One of the members this morning was reminding us of how they form a lot of friendships here so it is exciting for the girls that get to play."
East head coach Katie Hoblyn of Anselmo-Merna said just getting back to some normalcy is what these players need.
"It is really exciting and we are excited they are getting to host it," Hoblyn said. "I think the kids are excited to get back to something that is normal. This is my first year coaching in an all-star game so it is really exciting for me. I think it will be lots of fun."
There has been plenty of flipping of the rosters since May with players coming and going. But, the rosters are set and the players are ready to put their best foot forward when first serve comes Friday afternoon.
Hoblyn thinks once the three days of practices finishes, her team will be ready.
"I think we will do pretty good," she said. "We had quite a few cancellations and it will be interesting. It will be fun."
Hoffman said the big thing is for the players to come together as a unit and with just three days together, there will be special friendships made.
"A lot of these girls played against each other for years and years so it is fun to come together as one team," she said. "Out here in the Panhandle, we kind of feel like a big family especially when it comes to district and state time. It is kind of their last hurray together."
For many of the athletes it will be either their final time playing volleyball or sports in general when they head off to college. For some, this all-star game is just the beginning of playing collegiately.
"For some of them it might be a little bit more emotional just because it is the last time," Hoffman said. "For some of them it is that in between stage of where they go from high school to the transition to college. That is the next chapter."
The 36th chapter of the West Nebraska All-star Volleyball match will be written Friday night and who comes out on top is unknown. The one thing that is guaranteed is that both teams will battle their hearts out.
"I think it is one day short of what they have done in the past got practice, but I think three days will be enough to get our team together," she said. "It takes a while to learn each new player but it will come together."
For Hoffman and Hoblyn, they will get the chance to coach two of their players one last time. Hoblyn will get the chance to coach Alexis Zimmer at 5-foot-3 and MaShayla Burnett, a 5-9 hitter.
Hoffman will get to coach Allie Ferguson at 5-8 and Tyleigh Strotheide at 5-7. Hoffman said it will be special to coach Ferguson and Strotheide one more time. Ferguson is signed to play volleyball at Chadron State College
"Especially this year it is more special because I've coached Tyleigh and Allie since they were in the seventh grade so this will be a tough one," she said. "It was tough last year when they were seniors but it will be fun to be able to coach them one more time."
The West seems to have the height advantage over the East with three players 5-10 or taller. The West will be led by 6-0 hitters Mattie Johnson of Sidney, who is headed to the University of South Dakota to play volleyball, and Madelyn Watchorn of Leyton, who is headed to Concordia University.
Chloe Stupka of Creek Valley is the other big person for the West.
The West also had the two Chadron players while a pair from Chase County is also on the team in Sopphie Spady and Mallie McNair. Joining Johnson on the team is her high school teammate Nicole Birner, a 5-7 hitter.
The East's tallest player is Avery Johnson from Maywood-Hayes Center at 5-10. The next tallest is Burnett of Anselmo-Merna followed by a trio of players that are 5-8 in South Loup's Kali Glendy, North Platte St. Pats' Kinsey Skillstad, and Wauneta-Palisade's Michaela Dukes.
As much as both teams want to win, Hoblyn said having fun is the big thing they need to worry about.
"We are going to focus on having fun and then the winning comes hopefully," she said. "I think in this situation where we had so many cancellations that we need to focus on making this fun for our kids and making this a positive experience for them."
NOTES: The All-star volleyball match will be played Friday at 4 p.m. at Cougar Palace with the football game slated for 7 p.m. at Scottsbluff High School's Bearcat Stadium. Spectator's temperatures will be checked before entering the playing arenas. Also, it is asked that if any spectator is feeling ill, they are asked to stay home. There will also be a capacity limit for attendance and once reached, gates will be closed. Tickets can only be purchased at the gates. Seating will use social distancing.
Brianna Glendy, Sargent; Avery Johnson, Maywood/Hayes Center; Taylor Conroy, South Loup; Michaela Dukes, Wauneta-Palisade; Kinsey Skillstad, North Platte St. Pats; Kali Glendy, South Loup; Alexis Zimmer, Anselmo-Merna; MaShayla Burnett, Anselmo-Merna. Coaches Katie Hoblyn, Anselmo-Merna, and Kory Rohde, Maywood-Hayes Center.
Sophie Spady, Chase County; Mallie McNair, Chase County; Chloe Stupka, Creek Valley; Sierra Garrett, Gordon-Rushville; Mattie Johnson, Sidney; Jaedy Commins, Ogallala; Allie Ferguson, Chadron; Nicole Birner, Sidney; Tyleigh Strotheide, Chadron; Madelyn Watchorn, Leyton. Coaches: Blakelee Hoffman, Chadron, and Jolene Dodge, Garden County.
Be the first to know
Get local news delivered to your inbox!