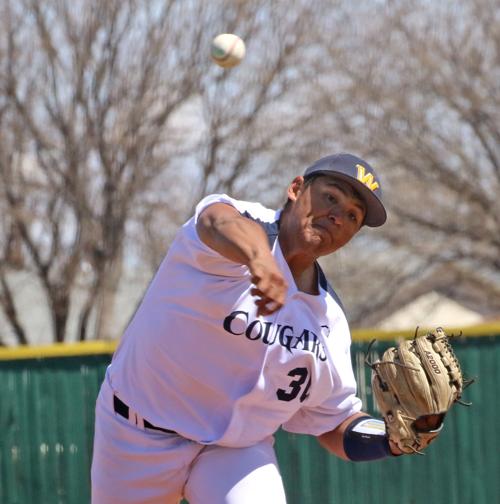 MCCOOK – The Western Nebraska Community College baseball team split a doubleheader with McCook Community College on Saturday in Empire Conference action in McCook.
McCook scored six early runs in the first game and then ran to a 14-4, six-inning win.
The second game saw WNCC score eight late runs to earn the 9-8, 9-inning win behind a stellar pitching performance from Paul Panduro, who struck out seven in five innings of work while Owen Vanthillo picked up the save.
The split doubleheader Saturday means WNCC will be on the road for first-round playoff games next weekend. WNCC needed to win all three games with McCook and hope for a Northeastern Junior College loss to Southeast Community College to host a first-round game. Southeast did part of what WNCC needed, defeating NJC in all three games Friday and Saturday.
The first game saw McCook score six runs early and then they added seven runs in the fifth and sixth to get the 14-4 win.
WNCC did not get an extra base hit in the first game with just seven hits. McCafferty had two singles in the loss.
The second game was a lot better contest for the Cougars. Panduro gave the team plenty of support on the hill followed by excellent relief pitching from Chandler Young, Noah Baumann, and Owen Vanthillo.
WNCC captured the second game with eight runs in the fifth, sixth, and seventh inning.
McCook led 4-1 after four innings. Gering's lone run came as Jordan Rollins homered to open the second.
WNCC cut the lead to 4-3 with two runs in the fifth. Fabricus started things with a single and then Luis Alcantara and Rollins each walked. Fabricus scored on a wild pitch for one run and then Alcantara came in to score on a balk call to slice the lead.
McCook added one run in the fifth to go up 5-3, but WNCC plated four runs in the sixth to grab their first lead of the game. Joe Kinneberg and Quinn McCafferty each walked and then Jack Jones launched a 3-4un home run to take the lead 6-5. WNCC added another run as Rollins singled in Caleb Coats to go up 7-5.
McCook added one run in the sixth to trail 7-6, but WNCC added two runs in the seventh to go up 9-6. Fabricus hit a 2-out double to score McCafferty and Jones.
McCook scored a run in the seventh and eighth, but that was all they could get.
Gering finished with eight hits. Fabricus led the way with three hits, including two RBIs, a run scored and a double. Rollins and Jack Jones each had two hits. Jones had a home run with three RBIs and two runs scored while Rollins had a home run with two RBIs and a run scored.
Panduro went five innings to get the win, allowing five runs, six hits, and walking three and striking out seven. Young allowed one run while Bauman allowed a run and struck out one. Vanthillo, who got the save, allowed two hits and one run while striking out one.
WNCC and McCook will wrap up the regular season with one 9-inning game on Sunday beginning at 11 a.m. MST.
---