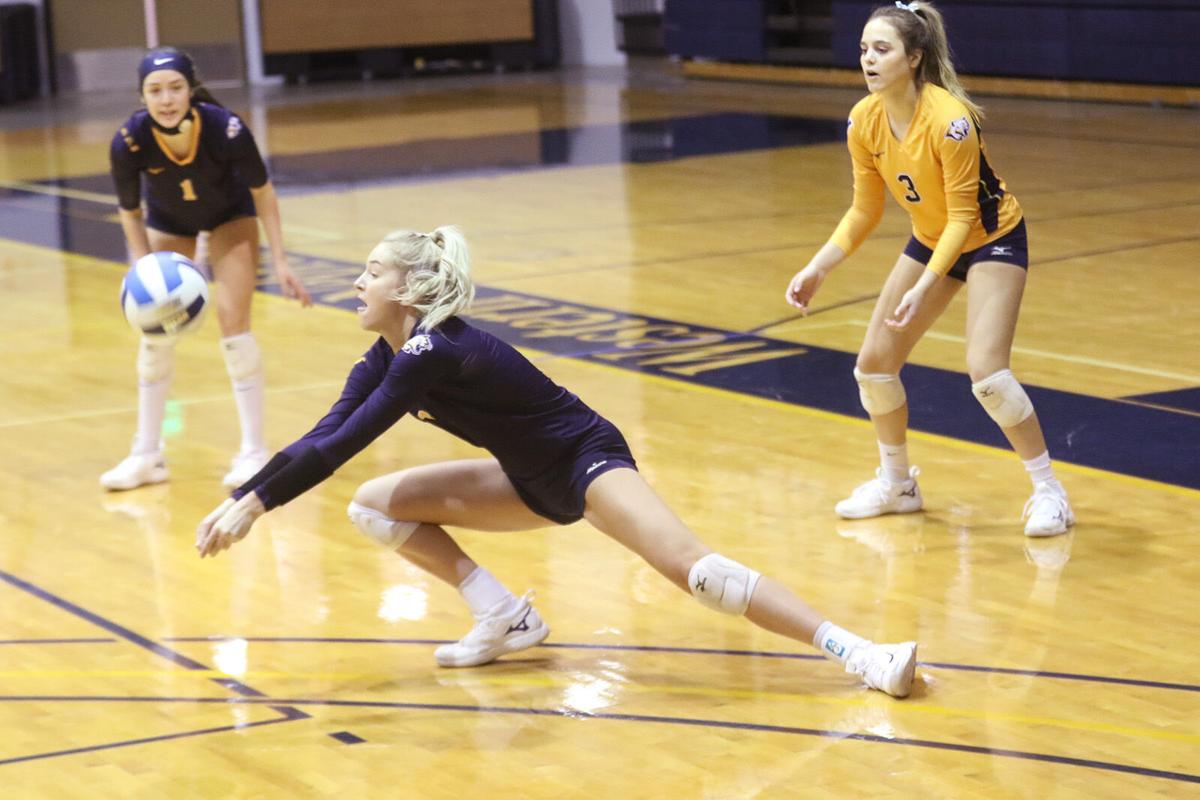 WEST PLAINS, Mo. — The Western Nebraska Community College volleyball team had three players finish with double-digit kills, but the Blinn College Buccaneers pulled out the three-set win in the first round of the national tournament 25-17, 25-23, 25-23.
WNCC was led by Karen Cordero and Anuhea Kaohi with 15 kills each while Olivia Schaub had 14 kills. Blinn had just one with double digits in Jayde Shelton with 11. The difference in the match was Blinn hit .272 for the match while WNCC hit .141. WNCC committed 27 hitting errors to just 10 for Blinn.
Despite the hitting errors, WNCC hung with the 25-2 Buccaneers in sets two and three, where they were on the brink of winning.
Andrea Tsvetanova, who finished with 44 set assists said the team got more comfortable playing the second and third sets.
"I feel like we got more comfortable and the nervousness went away," the sophomore setter said. "But at the same time, something was missing at the end of the sets and that's why we couldn't close the sets even when we had a lead."
Cordero, who had a double-double with 10 digs to go with her 15 kills, said they tried to win, but just came up short.
"We definitely could have played better," she said. "We really didn't want to lose. We tried to fight for those sets to win."
WNCC won't have a chance for a national title, but they can battle back through the consolation bracket and get ninth place. And, if they do that, they will end the season on a 3-game win streak. Consolation action for the Cougars will start at 10:30 a.m. Friday when they face Lawson State College, who fell to No. 1 Miami Dade College in four sets.
A win Friday morning would put the Cougars into a Friday afternoon contest against the winner of the Wallace State and Missouri State-West Plains match.
Tsvetanova said they just need to put today's game behind them and come out stronger Friday.
"We need to come out stronger than ever and shake off our heads from today's loss because it won't do us any good," she said. "We need way more energy and we need to fight and fight for everything."
Cordero echos the same sentiment as Tsvetanova that they need energy.
"To win tomorrow (Friday) each one of us has to have the mentality of winning and fighting for each point of the game and playing as we know how to play and have fun," she said. "Each one of us has to do their part and do their job."
Thursday's match was a battle, especially in the second and third sets. Like Cordero said earlier, they tried coming back, but just fell short.
The first set was close for a good portion. WNCC had the match tied at 6-6 and trailed 8-7. That was when Blinn went on a 3-point service run to lead 12-7. WNCC came back on a kill by Schaub and a service point by Anabelle Gillen to cut the lead to 12-9, but Blinn went up 18-12. Blinn won the firs tset 25-17.
The second set was a different story. WNCC went in front 4-2 on two Cordero points. Blinn tied the set at 5-5, but WNCC went up 8-5 on two Mariah Fukumoto points and then led 10-6 on a point from Gillen.
WNCC led 15-10 on a Cordero kill and an Alex Hernandez point. Blinn came back and went on a 5-point service run to lead 16-15. WNCC would lead 18-17 and tied the set at 21-21 on back-to-back Cordero kills. Blinn went up 24-22 before Kaohi downed a kill to bring the score to 24-23. Blinn won the second set 25-23.
The third set really showed the fight in the Cougars as they didn't want to lose. Blinn went up 6-1 and led 11-7 at one time. Things changed after that as Tsvetanova had a big solo block and Fukumoto had two points to bring the score to 11-10.
Blinn went back up to 15-11. WNCC got the serve back and Tsvetanova had three points to tie the third set at 15-15. WNCC took its first lead of the set at 18-17 on two Hernandez points. Blinn came back to lead 20-19, but Kaohi hammered down a kill and Macey Boggs served two points to put WNCC up 22-20 on two Schaub kills. WNCC led 23-21 on a Schaub kill, but Blinn got a sideout and served out the set for the 25-23 win.
Blocking was a big thing in the win for Blinn. The Buccaneers had 21 blocks to WNCC's six. The Cougars had two blocks from Angel Nahinu.
Hitting-wise, only five players had kills. Besides the three with double-digit kills, Tsvetanova and Hernandez each had one.
Hernandez also had five points and 11 digs, while Cordero tallied 10 digs and six points. Fukumoto had eight digs while Tsvetanova had four, Gillen with three, and two each from Nahinu and Schaub.
This is the Cougars first trip to nationals in over two years. And, with COVID limiting big tournaments, the Cougars didn't compete in many tournaments with top schools like past years when they went to Iowa Western and Salt Lake City.
Still, the players are taking in the atmosphere and getting a taste of the big-tournament feel.
Tsvetanova said this tournament is going to help her as well as the freshman as they move on.
"The experience will be definitely a good one even though we lost the first game," she said. "We still have the chance to be in the top 10 teams and It means a lot. For me, it feels like playing for the national team of your country because every team here is really good and everyone is here for just one thing, to win."
So far, action in the tournament has been fierce. First round results include Iowa Western topping Wallace State 25-21, 25-7, 25-12; Utah State-Eastern beating Missouri State-West Plains 25-22, 26-24, 25-19; Miami Dade topping Lawson State 25-20, 23-25, 25-13, 25-16; Tyler beating Northeastern Junior College 25-11, 25-23, 25-15; Odessa topping Yavapai 25-10, 25-19, 21-25, 25-23; Snow beating Barton 25-14, 25-21, 23-25, 25-12; and Florida Southwestern advancing over Navarro who had to drop out of the tournament.
Winner's bracket quarterfinals saw Snow College top Florida Southwestern State 25-21, 25-20, 25-22, and Tyler College taking down Odessa in five sets 25-18, 25-16, 19-25, 20-25, 15-12. The late matches have Blinn facing Miami Dade and Iowa Western meeting Utah State-Eastern.
Cordero said the teams here are all good and you can't let up.
"Coming to the nationals is a beautiful experience," she said. "The teams that are here are strong and each team fights to play in the finals. I liked this experience because we played with high-level teams."
---