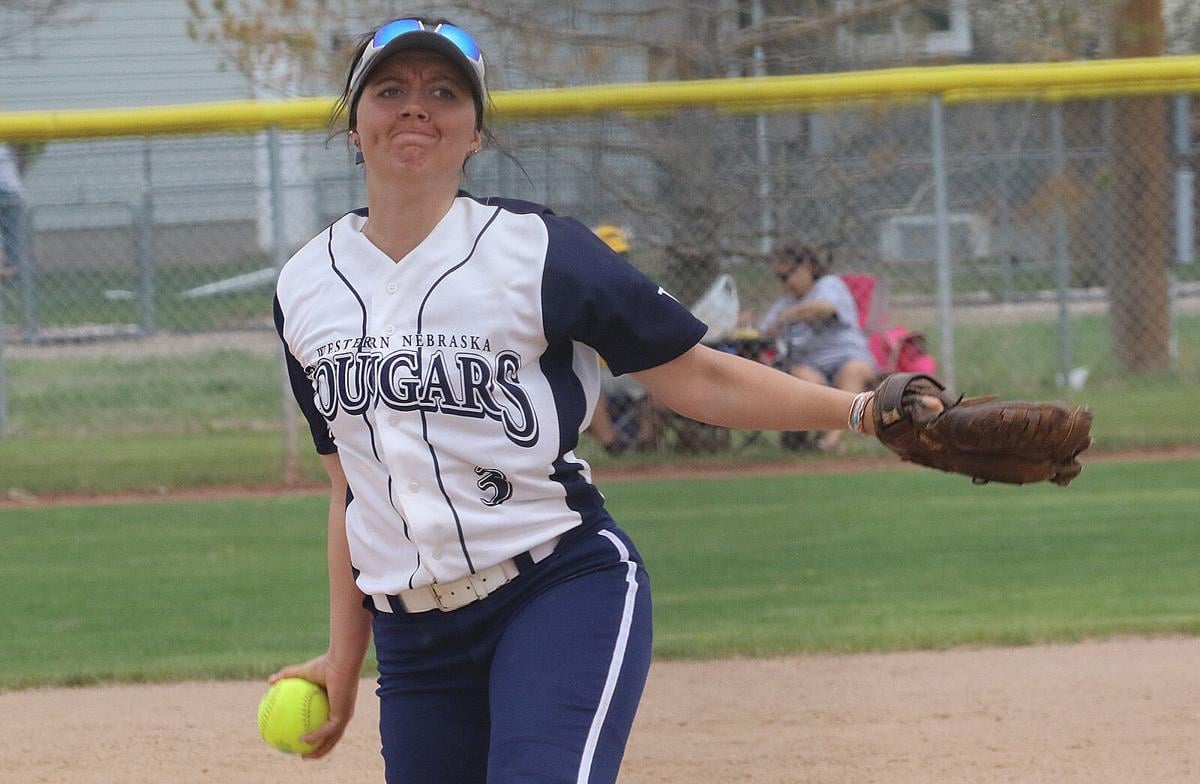 The Western Nebraska Community College softball team had special May Day baskets Saturday as the Lady Cougars put together solid defense and got two big home runs to capture two wins over Lamar Community College on the day at Volunteer Field.
The opening game saw Lexi Butterfield go the distance in getting the pitching win and Erin Hanafin hit a fifth-inning grand slam to power the Cougars to a 4-3 win.
The second contest saw Chayden Chong get the pitching win and the Cougars offense ignited for 12 hits, including Butterfield getting a walk-off 3-run inside-the-park home run by Butterfield for the 10-2 5-inning win.
Butterfield said they played well and they really needed these two wins.
"I think the team played really good. We played together and we knew we wanted to win and we just played together," Butterfield said. "[The wins today were] extremely important for us because really this season has been a struggle for all of us," Butterfield said. "but, getting these two wins shows what we can do and we put it all together as a team. It helped us get our confidence back up and helped us grow."
A big reason for the wins was the team's defense where WNCC limited big innings by Lamar.
The first game, especially, was good defense by both teams. WNCC left eight runners on base while Lamar left nine runners on base.
Butterfield, who was the winning pitcher in game one, allowed six hits and struck out two in seven innings of work. She was extremely proud of her team's defense in both games.
"Our defense played extremely well," Butterfield said. "I think what helped us is when we did make an error, we came together and talked about it and we pulled through together. I was extremely proud of our defense today and how we played as a team."
The first game neither team scored in the first four innings. WNCC had big plays all game to get out of jams.
It wasn't until the fifth when WNCC finally scored. WNCC loaded the bases as Bailey Blanchard, Chong, and Bella Coffman loaded the bases with just one out. Hanafin then had the big hit of the game, blasting a grand slam for the 4-0 lead. It was Hanafin's seventh career grand slam and first at WNCC.
Lamar came back with two in the sixth to slice the lead in half and had the bases loaded when Chong caught a fly ball in right field to stop the threat.
WNCC didn't score in the sixth. The seventh saw Lamar score one on a double, but the Lopes left the tying run on second as Butterfield got the third out swinging for the win.
WNCC managed just three hits in the game. Coffman and Mackenzie Bakel each had doubles while Hanafin had the home run.
The second game saw WNCC score in four of the five innings while Chong tossed a 5-inning three hitter.
WNCC opened the scoring with a single run in the first Chong had a single that scored Blanchard with the first run.
The Cougars went up 2-0 with another run in the second. Hanafin earned a walk and scored on a Briana Henson single.
WNCC added four more runs in the third. Butterfield led off with a single that that she ended up on third after the outfielder misplayed the ball. Chong then earned a walk and both Butterfield and Chong scored on a Coffman single. Hanafin then walked to put two on. Bakel singled home Coffman and then Henson singled home Hanafin for the 6-0 lead.
Lamar came back with two runs in the third on just one hit to slice the led to 6-2.
WNCC didn't score in the fourth. It was the fifth inning that WNCC put the game away as Henson led off with a single to shallow right field. Schweitzer followed with a double to score Henson. Blanchard reached base after being plucked by a pitch. Butterfield then hit a shot to outfield that the outfielder made a diving attempt but missed the ball all together and the ball rolled to the fence for the 3-run inside-the-park home to end the game on the 8-run rule.
WNCC finished with 12 hits. Schweitzer went f-for-4 with two doubles, two RBIs, and a run scored. Henson went 3-for-3 with three singles, 2 RBIs, and a run scored. Butterfield had three hits with three RBIs and two runs scored. Hanafin walked all three plate appearances and scored two runs.
WNCC and Lamar will face each other in another doubleheader Sunday at Volunteer Field beginning at 11 a.m. It will be WNCC's final home and regular season game of the season.
Butterfield said the two wins were needed for confidence as they finish out the season.
"It just helped us know what we need to do to compete and what we need to do to help us win tomorrow, too," she said. "It just helped us with our energy and knowing what we can do, the confidence will be good and go from there."
2B – Mackenzie Bakel, Bella Coffman.